'These are our neighbors': US airmen who survived catastrophic floods help German villages recover
by
Jennifer H. Svan and Marcus Kloeckner
Stars and Stripes
August 2, 2021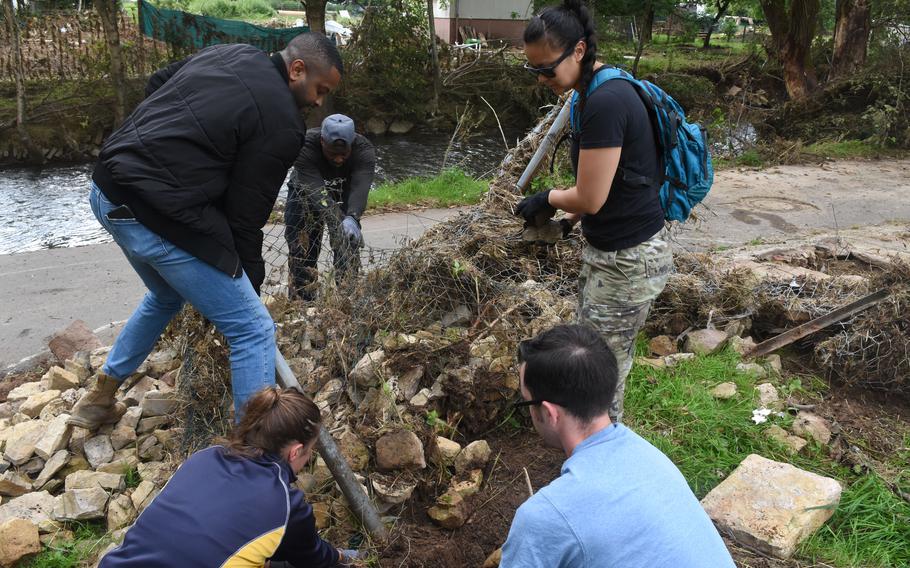 RITTERSDORF, Germany — The Nims River flows through the heart of this village in the rural Eifel region, skirting a moated castle that has stood since medieval times.
On Saturday, the waterlogged stone fortress was the meeting point for more than two dozen U.S. military personnel, who volunteered to help the town of about 1,400 clean up in the aftermath of Europe's severe flooding last month.
Rittersdorf was spared the deaths and the worst of the destruction caused by the floods, which killed about 180 people in western Germany and left thousands homeless.
But a water line above the castle's first floor windows shows where the Nims crested at over 6 feet on July 14 and 15, pouring into the castle and homes along the banks.
The river uprooted trees, fences, street signs and anything else in its path in the worst flooding longtime residents say they have ever seen.
Village leaders last week reached out to the U.S. military community, asking for help in cleaning up debris still scattered in the basin.
"We know that they are (our) friends in hard times," Otmar Koch, the deputy mayor of Rittersdorf, said of the Americans. "We need a lot of help here."
No one in the village was hurt, but Koch said about two dozen families in the area lost their homes.
About 25 people at Spangdahlem Air Base answered the call for help, base officials said, as did a few airmen from Ramstein Air Base. About 20 military families at Spangdahlem living off base were displaced by the floods, base officials have said.
"I got lucky. I had a stream of water going through my basement," said Rachael Kohlwey, a civilian aircraft mechanic at Spangdahlem. "But my neighbors were dealing with a meter and a half, 2 meters of water, and they've lost everything. It makes you want to cry.
"These are our neighbors, our friends, we're embedded in these communities," Kohlwey said, "so when you see a catastrophe like this, you can't help but want to help."
Senior Airman Calixto Rodriguez, 24, an aircraft maintainer with the 52nd Aircraft Maintenance Squadron, said he helped clean up last month in Ehrang, a village near Trier that was flooded by the Kyll River.
"It was bad," he said. "After I went there, I told everybody that I knew, the people there are struggling. All the streets were just covered in filth and glass and dirt. I wanted to come back and help out."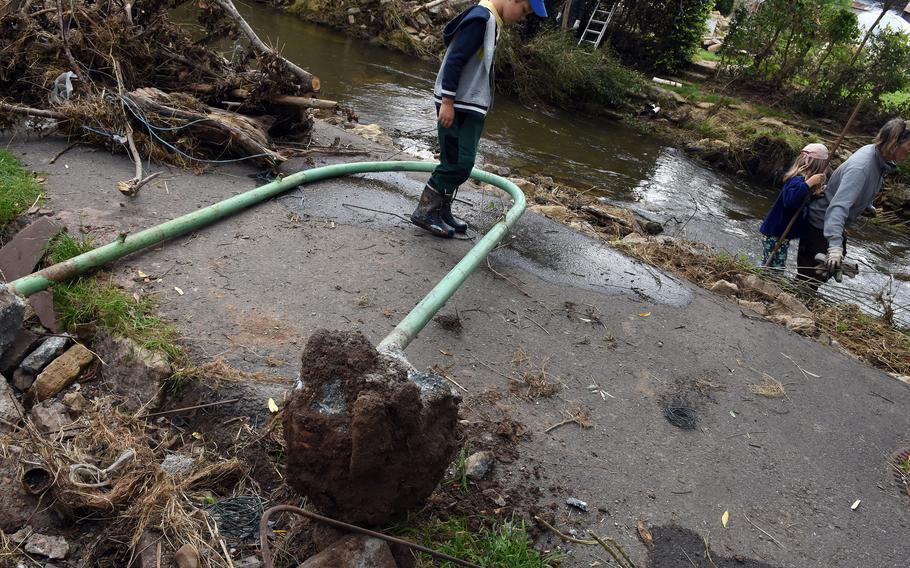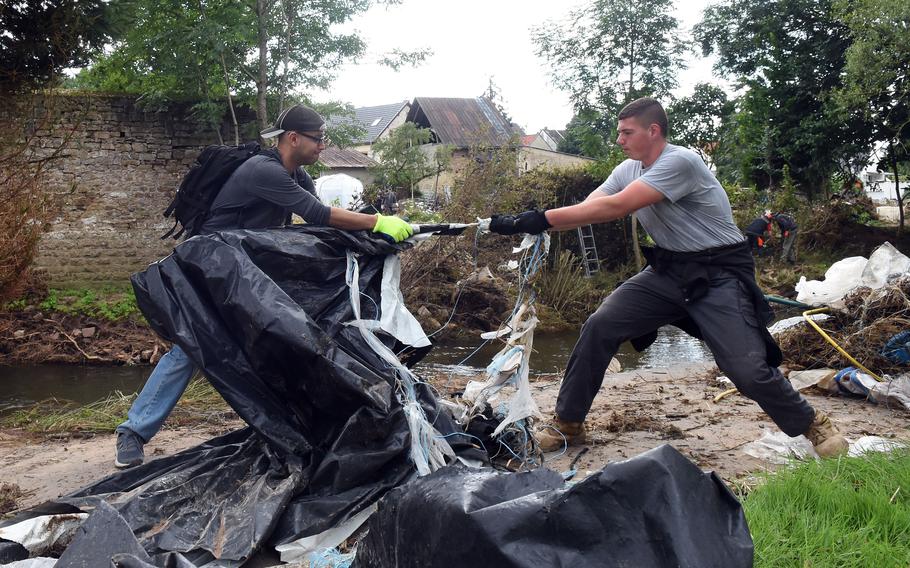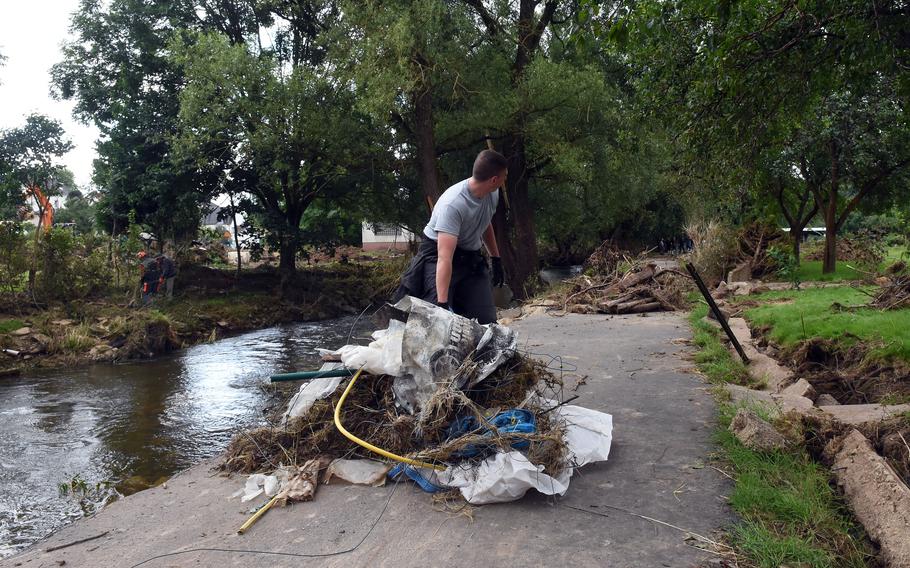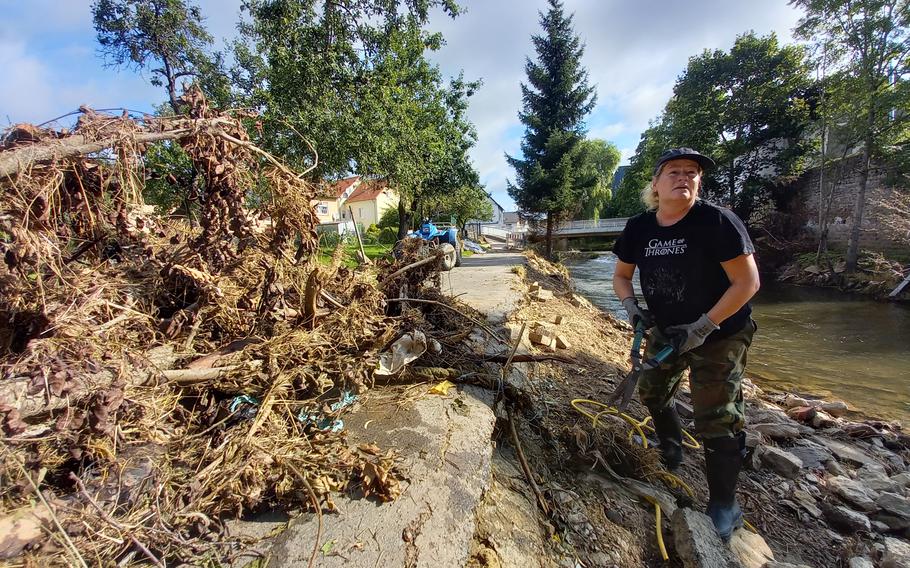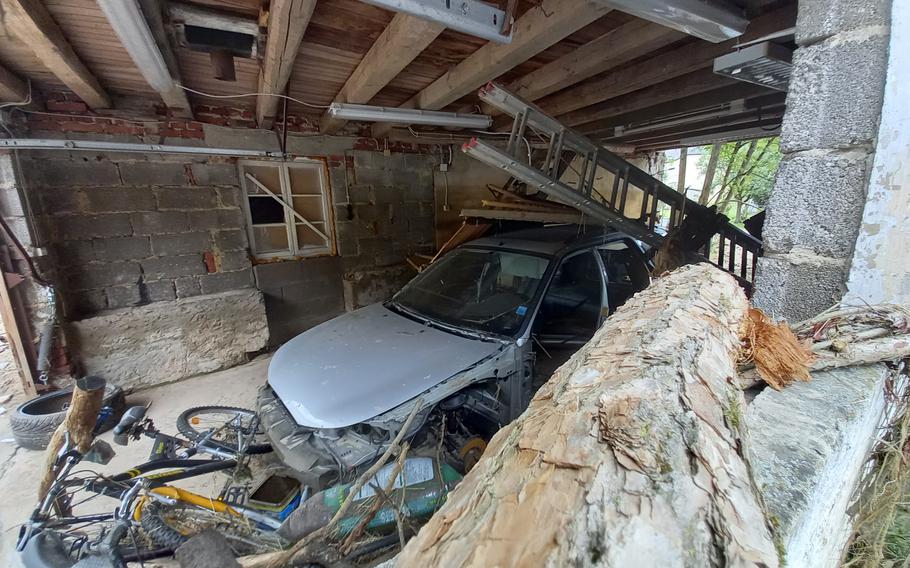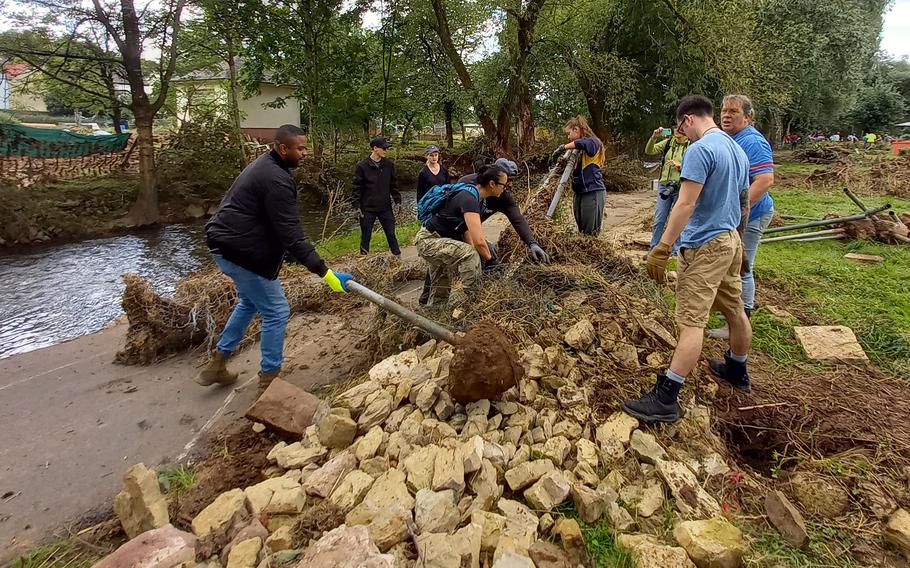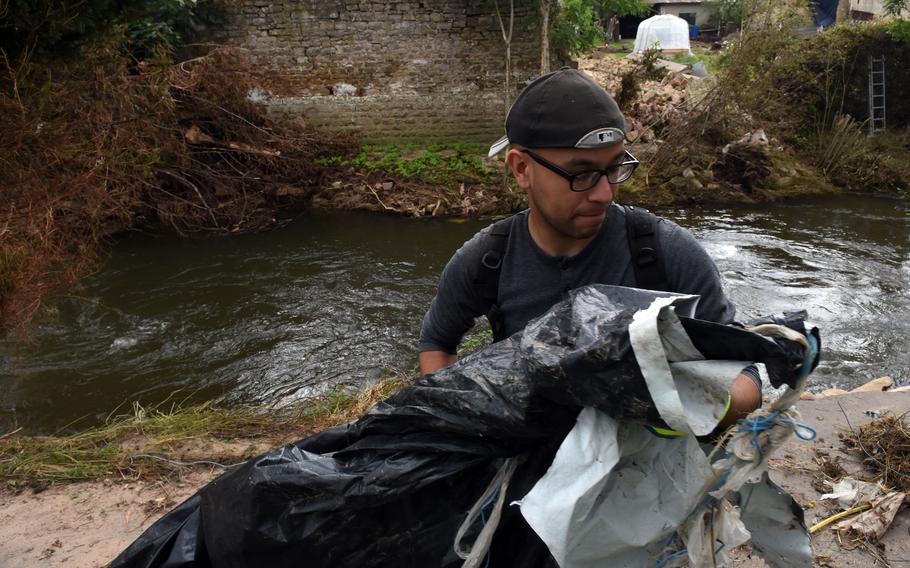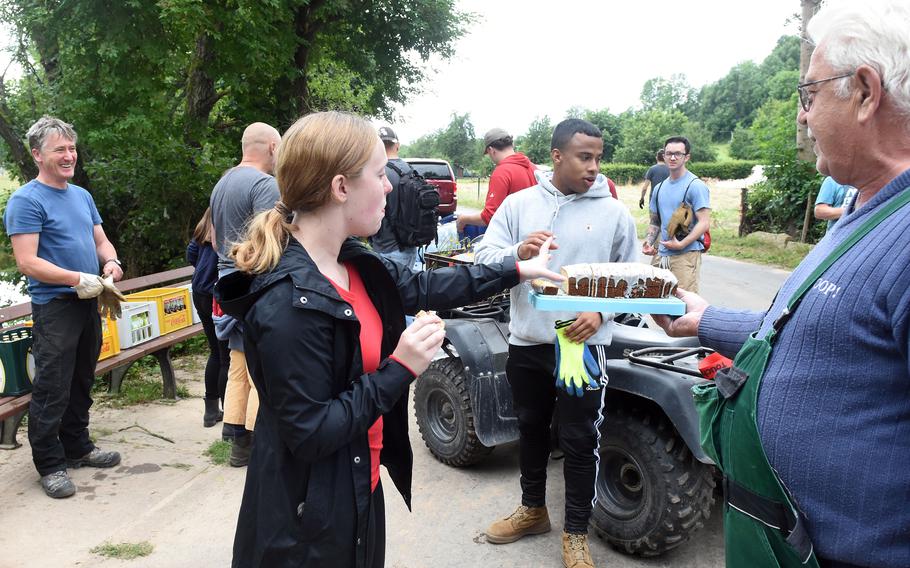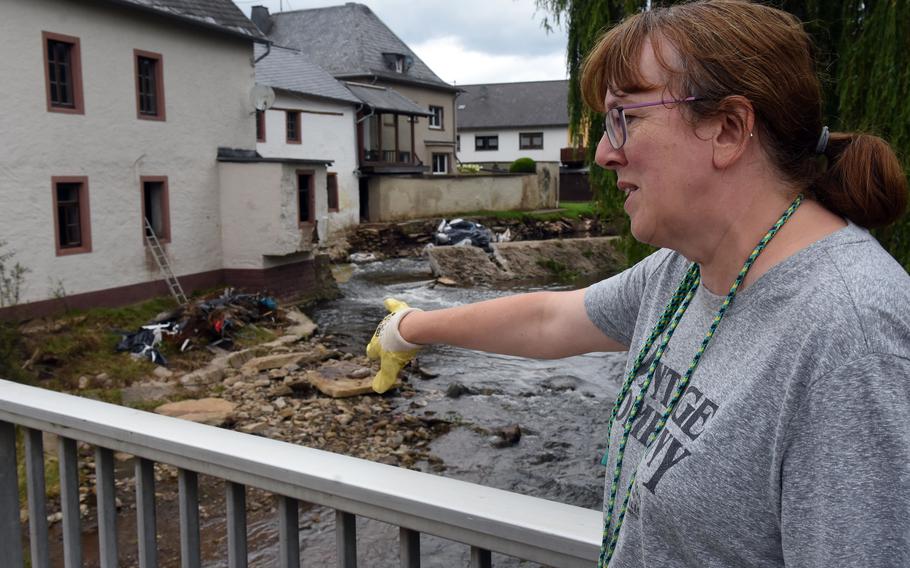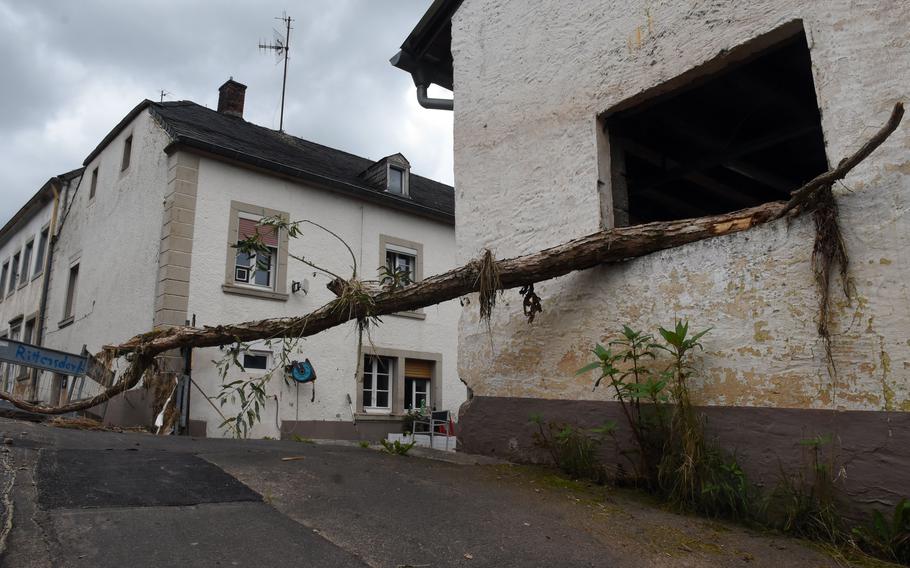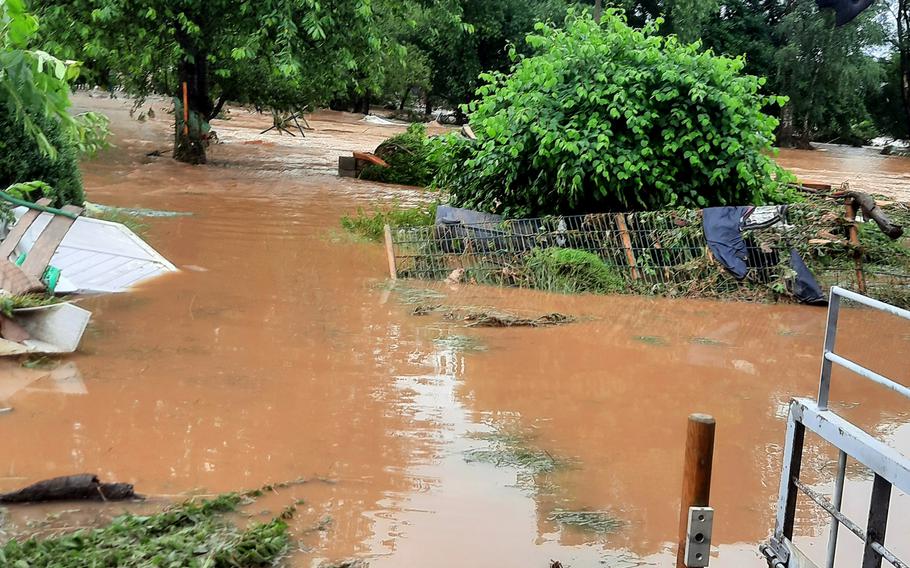 The mud along the Nims' banks had dried by Saturday. Airmen sorted the debris into wood, metal and other garbage, piles which the Germans loaded into trailers hitched to tractors to be dumped or burned.
"I've just been jumping in wherever I'm needed, moving stuff, loading up trailers," said Airman Kyle Koury of the 52nd Health Care Operations Squadron at Spangdahlem. "It always feels like a good day's work when it's needed."
Many residents were also out cleaning up Saturday. The Americans' help allowed them more time to work on their yards and their homes, some of which were still full of mud and debris, they said.
The flood came quickly, recalled Pascal Schoenhofen, who lives near the Nims. Sandbags couldn't hold back the water, which started pouring into his house from two sides. 
"Then it was too late," he said. "Even the firefighters were helpless at this point."
Patrik Aubart, who lives close to Schoenhofen, said the water first came through the yard. "More and more water came," he said. "Then we realized that we had to get out."
The state will provide $3,000 in direct help, "but that is nothing compared to the damage," he said. 
From a bridge overlooking the Nims, Doris and her son, Kilian, surveyed the damage to a former mill that has been in the family for 400 years, and a house they rent to Americans.
The house was built in 1934 at a height thought safe from flooding, they said.
The river crested the bridge and water filled the house's first floor, said Doris, who asked that only her first name be used. The original kitchen tiles and wood flooring were destroyed.
The day of the flood was the first night in the house for her American tenants, a military family from Spangdahlem, she said.
"We have to renovate everything," she said. "Hopefully the family wants to come back."
Correction
Patrik Aubart's first name was spelled incorrectly in a previous version of this story.
---
---
---
---