Spangdahlem officer's family counts themselves lucky after being trapped by catastrophic flood in Germany
by
Jennifer H. Svan
Stars and Stripes
July 22, 2021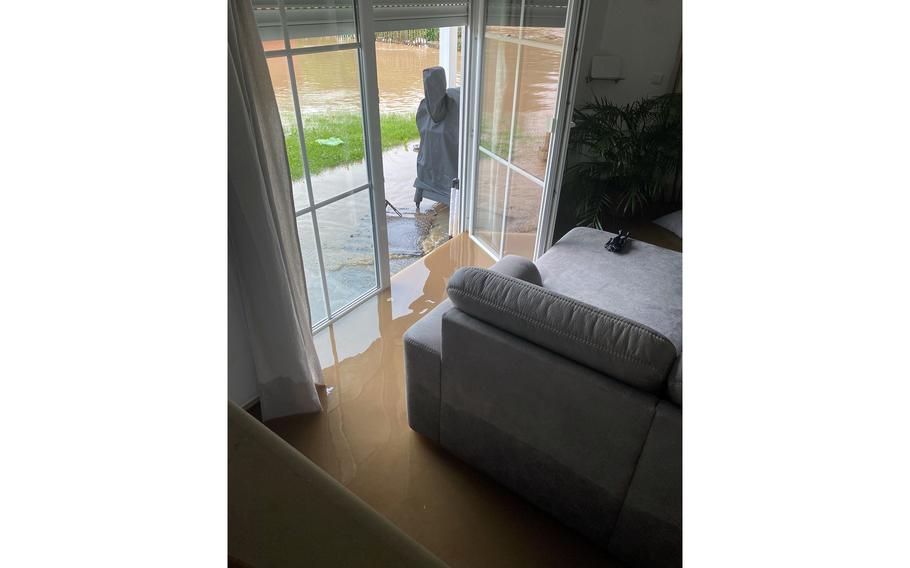 Capt. Matthew Shelly wasn't at home when the Kyll River began overflowing about 50 yards behind his house near Spangdahlem Air Base, trapping his family inside during Germany's worst natural disaster in more than half a century.
He was in Las Vegas for an exercise, while his wife, Bri Shelly, cared for their two young sons and talked with him on the phone throughout the harrowing night of July 14, as the water rose and flooded the house's basement and first floor.
It was a helpless feeling, Matthew Shelly said Wednesday, being so far away while his family faced danger.
The Shellys are among some 20 Spangdahlem families who were displaced in the rural Eifel region, base officials said.
At least 195 people died across western Germany and Belgium in last week's flooding and thousands are reported to be missing, federal emergency officials say. Hundreds of Spangdahlem personnel have volunteered to aid cleanup efforts, which German officials say will take months, if not longer.
At first, the deluge of rain wasn't much of a worry, Matthew Shelly said. The river had overflowed about four times over the last year in the village of Brecht, about 30 minutes west of the base.
"There's a bush in our backyard," he said. "The water has never made it close."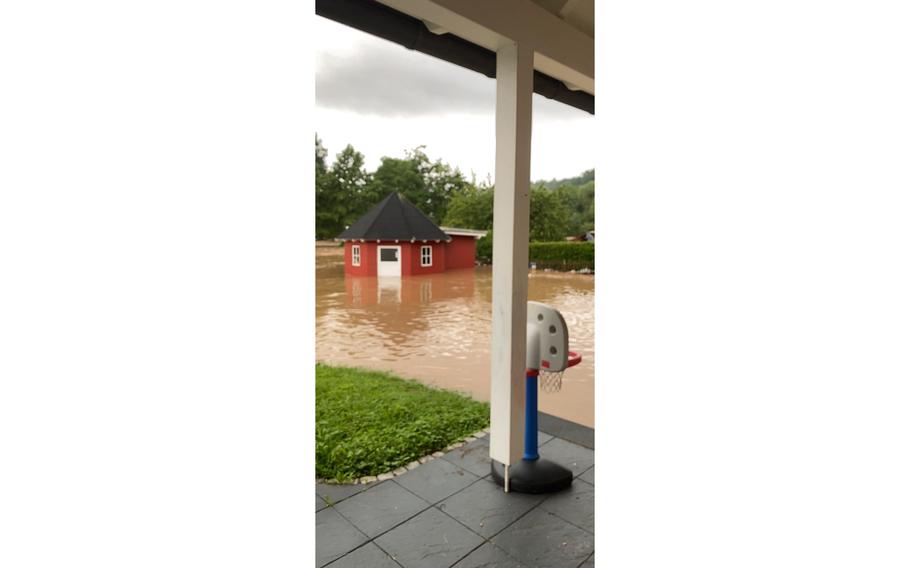 He told his wife, "If it doesn't make it there, we're fine."
This time, the water passed the bush and engulfed a shed.
And the water kept coming.
Matthew Shelly encouraged his wife to stay calm while trying to reach his co-workers at the 52nd Operations Support Squadron to see who could rescue his family.
But the roads were impassable. Water rushed down the street so fast that Bri Shelly told her husband she wasn't comfortable trying to leave with the two boys in the couple's Jeep Wrangler.
In the early morning hours of July 15, with power out at the house, she told her husband she was going to turn off her phone to conserve the battery and go to sleep. It was still raining.
"If it gets worse, I don't know what to do," Matthew Shelly recalled thinking at the time.
The water never reached the second floor, where the family hunkered down with snacks and bottled water. Around noon the next day, when the water had receded enough, airmen from Shelly's flight retrieved the family and booked them a room on base. Matthew Shelly, meanwhile, boarded the first flight back to Germany.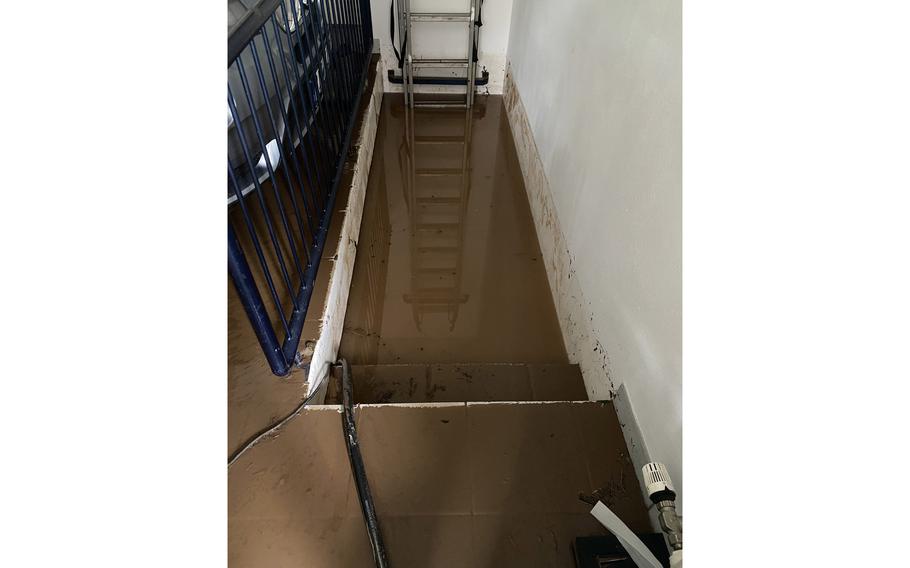 The Shellys hope to move back into their home. Their landlord, who built the house, is doing extensive repairs that could take six weeks or more. The Air Force is footing their bill in base lodging for now, Matthew Shelly said.
The expense is covered for 30 days, he was told. Whether that will be extended if needed still has to be worked out, he said.
The family's renter's insurance should cover some $17,000 in personal property destroyed by the flood, including tools, furniture, holiday decorations and children's items.
Base officials said they're not tracking the dollar amount of how much airmen lost in the floods. But for some it was substantial.
A staff sergeant in the 52nd Security Forces Squadron lost nearly everything after his one-story apartment was flooded with 4 to 5 feet of water, said Master Sgt. Casey Vargo, the unit's first sergeant.
"The only thing he was able to save was some clothes, a few uniforms," Vargo said.
Another staff sergeant in the squadron, living in Wittlich, "lost her car and her whole basement storage area," Vargo said.
The base's First Sergeant's Council is assisting those affected by flood damage through donations from members around the installation, housing officials have said.
The Shellys count themselves lucky. They lost "nothing that was of critical value to our lives," Matthew Shelly said.
A house four doors down from the family was destroyed when a large tree burst through with the rushing water, he said.
"Their roof is in our backyard. They had to be rescued by a helicopter," he said.