Spangdahlem fighter wing changes command as heavy flooding strikes surrounding area
by
Mike Abrams and Slobodan Lekic
Stars and Stripes
July 15, 2021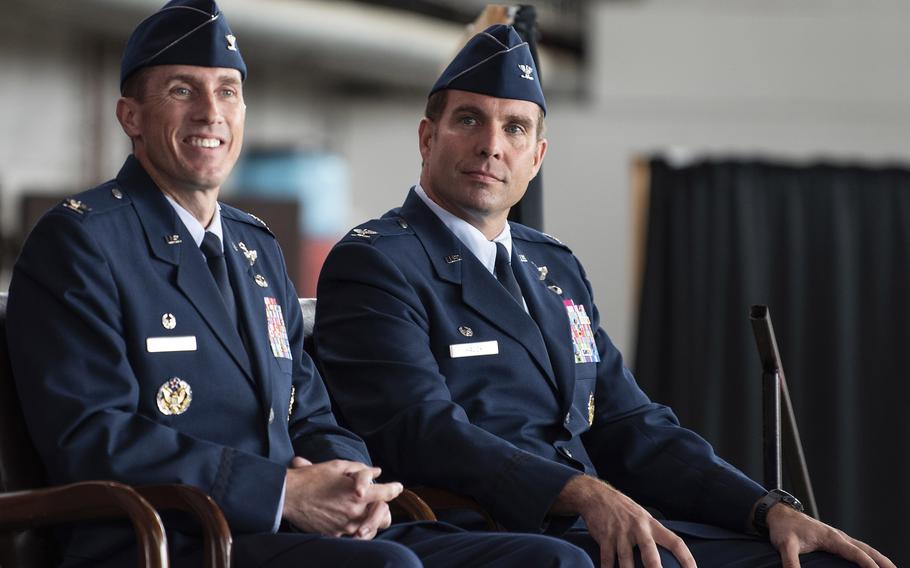 KAISERSLAUTERN, Germany — Col. David Epperson spent the night before he relinquished command of the 52nd Fighter Wing at Spangdahlem Air Base in neighboring villages, filling sandbags to help stem widespread flooding after days of heavy rainfall.
It was when Epperson saw his relief, Col. Leslie Hauck, doing the same thing that he knew the wing was in good hands, Epperson said at a change-of-command ceremony Thursday.
More than 60 people have died and dozens were missing Thursday in Germany and neighboring Belgium after flooding turned streets into raging torrents, sweeping away cars and causing buildings to collapse, The Associated Press reported.
"We have never seen such a disaster. It's really devastating," said Malu Dreyer, governor of Rhineland-Pfalz state, which includes Spangdahlem. Although the base is not located in the hardest-hit area, several nearby villages were inundated and roads were closed due to rising waters.
The base authorized a four-hour delay Wednesday night for personnel coming to work the next day, after rainfall over 12 hours equaled the average for the entire month of July. Commenters on the air base's Facebook page posted a few images of streets and backyards full of brown water.
Base officials said about 50 members of the 52nd Civil Engineering squadron and others from the wing filled and delivered over 1,800 sandbags to the surrounding communities.
Epperson said service members delivered about 500 bags of sand at the nearby village of Niederkeil and continued filling them until the local fire chief said it was enough to stop the flooding.
"That's what teamwork is, that's what Saber Nation is," Epperson said during the ceremony. "That's why I knew Col. Hauck and the Hauck family are a perfect match, the perfect fit, not just for the Saber Nation, but for the Eifel community here."
Air Force officials said the base sustained no significant damage from the heavy rainfall. But some access roads were cut off by the water and landslides, base and local officials said.
Hauck assumed command of an F-16 wing dubbed "Saber Nation," which is headquartered in rural Spangdahlem. The wing includes about 5,000 military and civilian personnel, spread across nine sites in five countries.
Hauck, a pilot with over 2,400 hours flying in F-16s, including 285 combat hours in Operation Enduring Freedom, is a 1998 graduate of the Air Force Academy. He comes to Spangdahlem from Aviano Air Base, Italy, where he commanded the 31st Operations Group.
Epperson, also an F-16 pilot, assumed command of the wing in September 2019. He is headed to the Pentagon to lead the Checkmate Division at Air Force headquarters.
Epperson praised the wing, "who look out for each other in the highest of highs and the lowest of lows. And that's why we achieved the things we achieved despite the pandemic and every other thing thrown our way these past years."
Maj. Gen. Randall Reed, the 3rd Air Force commander, lauded Epperson for his work, especially his efforts setting up a site to make sure airmen were free of the coronavirus before deploying to Africa and the U.S. Central Command area of operation.
After assuming command, Hauck told his airmen: "I know we are going to face trial and tribulations, but we will continue to conquer them and be 100% mission ready."
Stars and Stripes reporter Marcus Kloeckner contributed to this report.