USS Rushmore exchanges San Diego homeport for Sasebo Naval Base in Japan
by
Alex Wilson
Stars and Stripes
November 18, 2021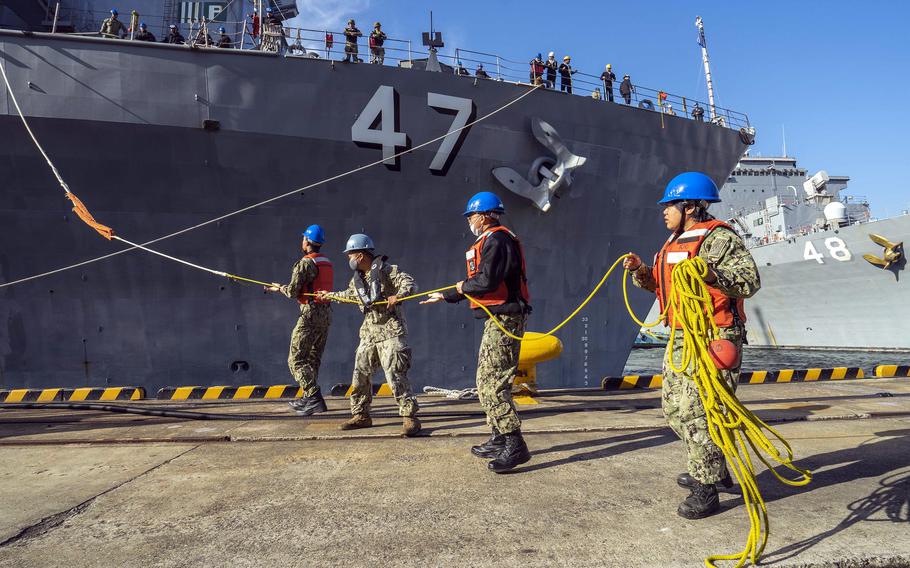 The latest vessel to be stationed at Sasebo Naval Base, Japan, arrived this week as a replacement for its sister ship, which returned to the United States two months ago.
The amphibious dock landing ship USS Rushmore steamed into Sasebo, on the island of Kyushu in southern Japan, on Wednesday after a journey across the Pacific, according to a news release from the U.S. Navy's 7th Fleet.
A spokesperson for Sasebo Naval Base did not return a phone request for comment on Thursday.
Formerly homeported in San Diego, the Rushmore has been in service since 1991. The Whidbey Island-class ship has served in numerous operations over the years, including Restore Hope and Support Hope in Africa in the early 1990s and Iraqi Freedom in 2005.
"Rushmore and her Sailors look forward to continuing our service to the Navy and the Nation while forward deployed to the tip of the spear," said the ship's skipper, Cmdr. Emily Royse, in the Wednesday news release. "Our crew is ready to join the elite blue-green team of the America Expeditionary Strike Group, and to establish positive relationships with our new host country, and our partners and allies."
The strike group's "blue" team include vessels surrounding the amphibious assault ship USS America; the "green" team is the 31st Marine Expeditionary Unit.
The Rushmore arrives as a replacement for the USS Germantown, which left Sasebo in September and returned to San Diego after a decade of service in the Indo-Pacific region.
"Rushmore has a fantastic reputation, and I am certain that the team will seamlessly pick up where Germantown left off," said Capt. Greg Baker, commodore of Amphibious Squadron 11, in the release. "Commander Emily Royse brings a wealth of [forward-deployed naval forces] and Sasebo experience, and I am excited for her return to set an even higher bar of excellence as Rushmore operates with the ships, Sailors and Marines of the America Expeditionary Strike Group."
As an amphibious dock landing ship, the Rushmore can embark, launch and recover 500 Marines and their landing craft during missions in foreign territory or far from established bases.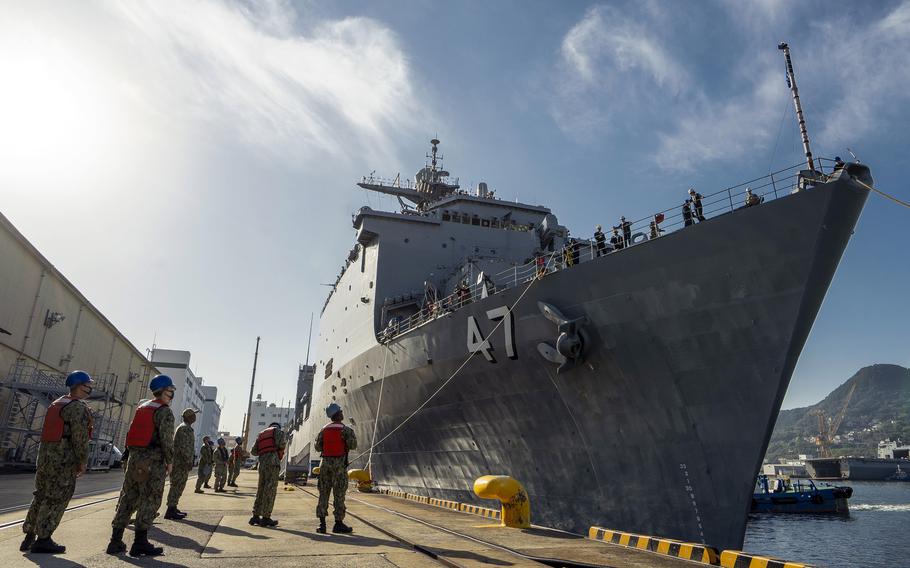 Named for Mount Rushmore National Memorial in the Black Hills of South Dakota, the Rushmore holds a place in naval history as the first "smart ship" in the Navy's arsenal.
In 1997, it was outfitted with updated technologies such as an electronic chart display and an integrated bridge system, effectively increasing the efficiency of the ship's systems and crew.