Iranian navy helicopter flies within 25 yards of USS Essex
by
Caitlin Doornbos  
Stars and Stripes
November 15, 2021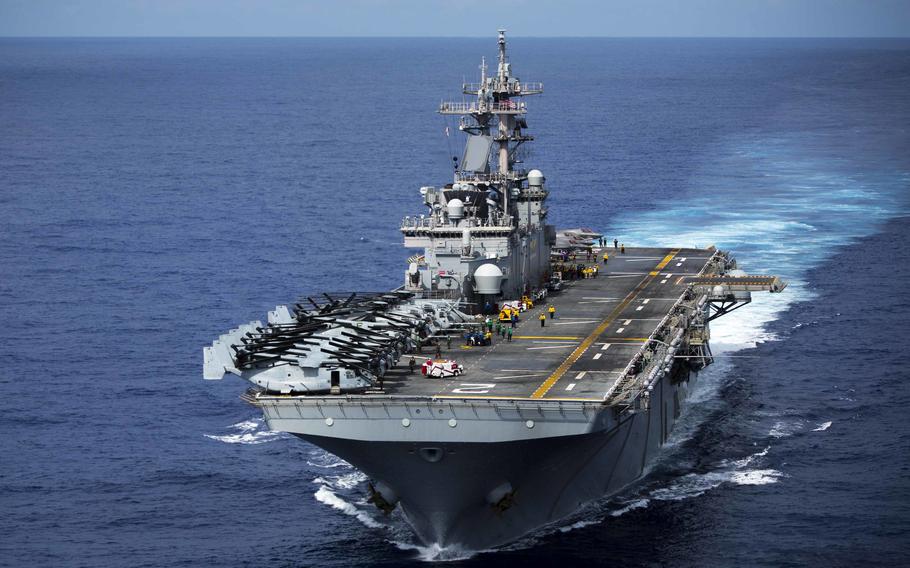 WASHINGTON — An Iranian navy helicopter on Thursday flew within 25 yards of the USS Essex, which was cruising through international waters in the Gulf of Oman, chief Pentagon spokesman John Kirby said Monday.
The state-owned helicopter flew close to the ship's port side and, at one point, "as low as about 10 feet off the surface of the ocean," Kirby said.
The helicopter circled the 820-foot-long ship three times before leaving. The Essex is a Wasp-class amphibious assault ship.
"Without getting into specifics, the crew of the Essex took the appropriate force protection measures that they felt they needed to and they acted in accordance with international law," Kirby said. "There was no impact ultimately to the Essex's transit or its operations but that doesn't mean that this wasn't an unsafe and unprofessional act."
Kirby also called the incident "dangerous" because U.S. ship commanders "have the right of self-defense."
"When you have another armed force — in this case, the Iranian navy — that flies like this, you definitely run the risk of some sort of escalation and a miscalculation on either side here, and that's not helpful," he said. "This one ended peacefully, but it doesn't mean it was safe and professional. It absolutely wasn't."
Tensions between the U.S. and Iran are longstanding and incidents like Thursday's are not uncommon. In April and May, the U.S. fired warning shots to warn off Iranian Revolutionary Guard vessels that approached Navy and Coast Guard ships at high speeds.
Iranian officials have not said why the helicopter flew so close to the Essex.