'Very humbling': Yokosuka sailors tidy up American graves in Japan ahead of Veterans Day
by
Alex Wilson
Stars and Stripes
November 10, 2021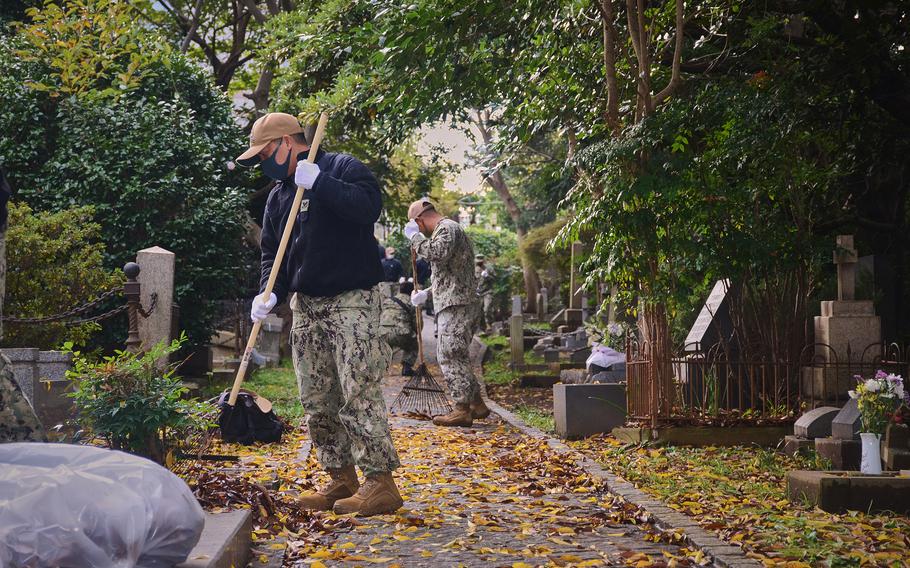 YOKOHAMA, Japan – The quiet grounds of a Yokohama cemetery took on a vibrant tone Wednesday as U.S. sailors spent their morning tidying up the graves of American veterans.
About 30 sailors from Yokosuka Naval Base made the trip to the Yokohama Foreign General Cemetery, in the Naka Ward of Japan's second-most populous city, to clean up areas dedicated to Americans in preparation for Veterans Day.
Using rakes, brooms, leaf blowers and hedge trimmers, they cleaned the final resting places of veterans of World War I, World War II and the crew of the sloop-of-war USS Oneida, which sank near Yokohama in 1870 after colliding with a British steamer.
"It's very humbling," Petty Officer 2nd Class Alexandra Nerio told Stars and Stripes. "To be able to give back to those who fought before us to honor them and honor their legacy, even with something as small as raking leaves, it paints a bigger picture."
The cleanup efforts are part of biannual visits to the cemetery organized by the naval base, said Petty Officer 1st Class Marc Vanta, who helped coordinate Wednesday's event. The cleanups typically coincide with Memorial Day and Veterans Day each year.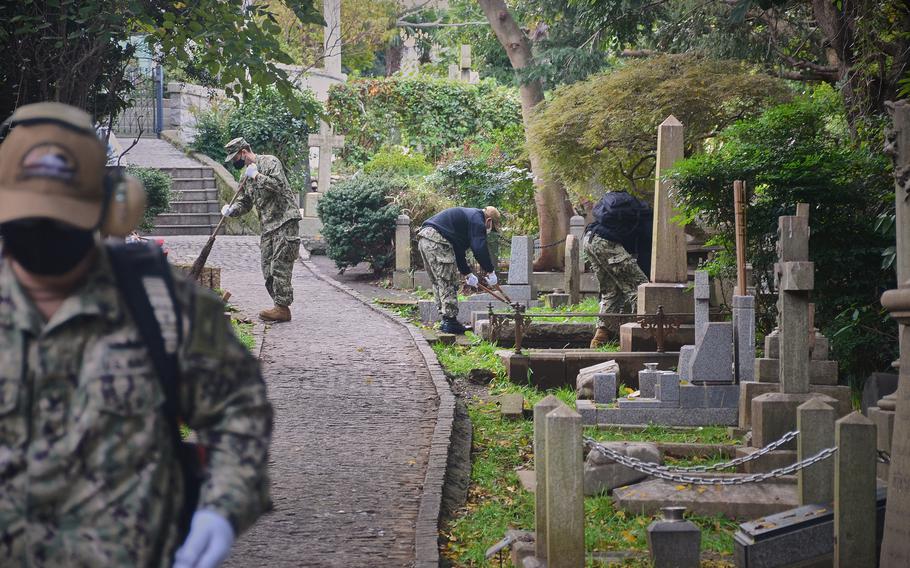 Vanta said the events demonstrate the Navy's commitment to the Japanese community and provide a chance for sailors to remember their predecessors.
"Because of the history that's attached to the cemetery, it gives our current generation of sailors a way to pay their respects and to honor these fallen sailors and soldiers," Vanta said.
Vanta, along with Petty Officer 2nd Class Ignacio Fuentes, said that while cemetery groundskeepers maintain the graves, the families of the deceased may not necessarily be in Japan to take care of the individual plots.
"I think the main reason we're out here is that, clearly, everybody didn't get to make it home," Fuentes said. "We're out here to help out – for us, it might not seem like much, but it means a lot to the families."
The cemetery was founded in 1854, shortly after the second visit to Japan by U.S. Navy Commodore Matthew Perry's "black ships." His first visit in 1853 heralded the end of Japanese isolation.
A 24-year-old Marine aboard one of Perry's ships, Robert Williams, died while in Japan. Perry negotiated with the Japanese government to secure a plot for Williams that overlooked the sea.
Williams was laid to rest on a bluff less than a mile from the shores of Tokyo Bay, a location that grew over the years into the Yokohama Foreign General Cemetery, according to the cemetery's website.
---
---
---