Navy secretary expresses concerns over Chinese and Russian ships during visit to Japan
by
Alex Wilson
Stars and Stripes
October 26, 2021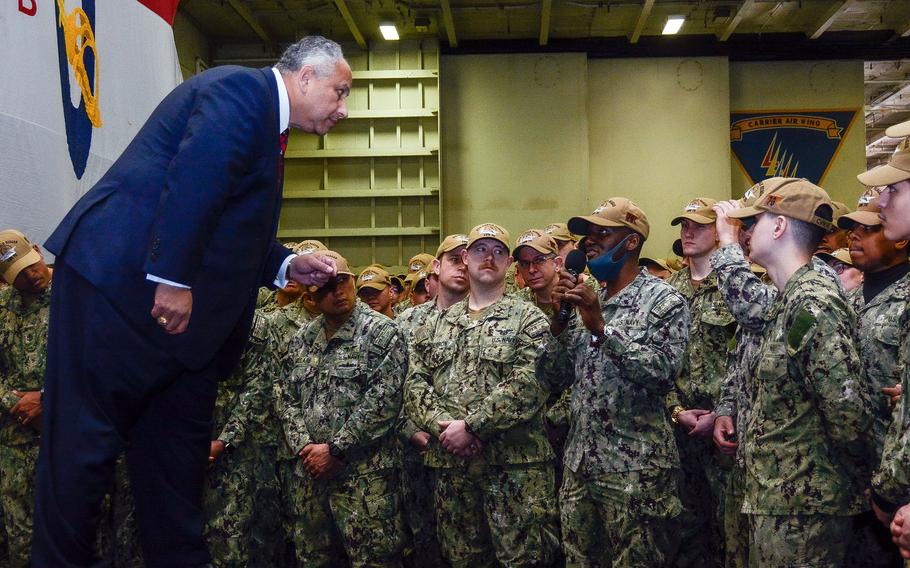 YOKOSUKA NAVAL BASE, Japan – The U.S. Navy is reevaluating its presence in the Indo-Pacific region to protect national interests as China and Russia grow more assertive, according to the service's top civilian leader.
Carlos Del Toro, who is on his first visit to Japan as Navy secretary, spoke with reporters via teleconference from the home of Naval Forces Japan on Monday, not long after 10 Russian and Chinese naval vessels circled Japan by passing through narrow Japanese straits.
That any nation's ships could pass through international waters unimpeded is "truly a wonderful thing," Del Toro said. Nonetheless, he saw another intent behind the exercise.
"I believe that the relationship between China and Russia, perhaps recently, has evolved in ways where they're trying to intimidate other nations with their actions that don't abide by a rule-based international order," he said. "I think it's necessary to thoroughly deter them from bullying other countries and being aggressors in any possible way."
The outward-bound Chinese and Russian warships passed through the Tsugaru Strait between Hokkaido and Honshu islands on Oct. 18 and returned inbound Thursday through the Osumi Strait off the southernmost tip of Kyushu Island.
Both straits are considered international waters, and the ships did not intrude on Japan's territorial waters, according to The Associated Press on Tuesday, which cited Japan's Ministry of Defense.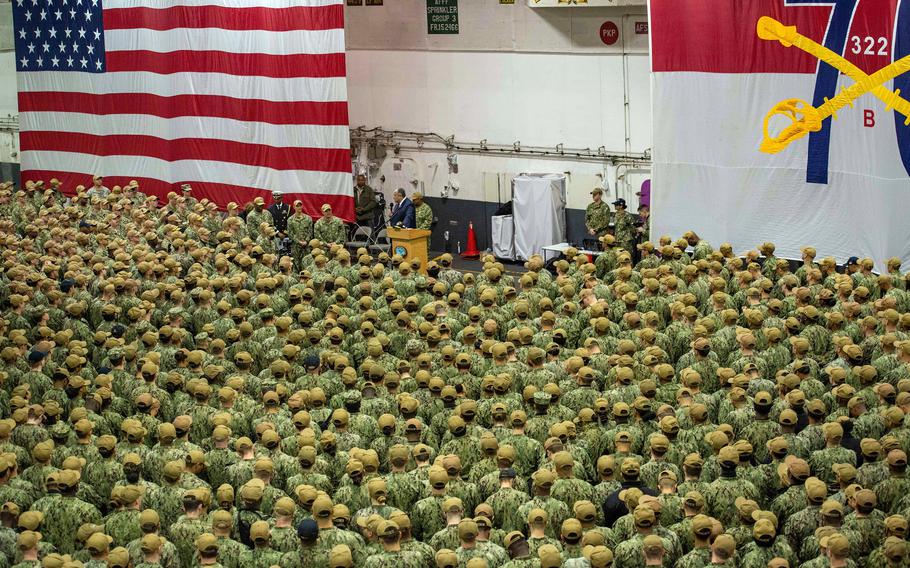 Del Toro said reasonable deterrents may include reminding China and Russia of the importance of international order and cooperation. However, the United States' continued presence – as well as partnerships with countries such as Australia, Vietnam, the Philippines and Japan – are key to discouraging aggression in the region, he said.
The Navy may expand the 7th Fleet's presence in the region, according to Del Toro. He said the U.S. and its allies are "experimenting with and assessing" various options to preserve the United States' economic interests in the Pacific.
"We actually have a posture review that's currently underway at the Department of Defense," he said. "We are reassessing our forward posture, trying to make assessments with regards to where we exactly need to be."
The DOD may release its Global Posture Review later this year or early in 2022, Del Toro's spokesman, Capt. Jereal Dorsey, told Stars and Stripes in an email Monday.
Del Toro in an Oct. 7 memo said maintaining a "strategic competitive advantage" over Russia and China is one of his priorities. China in particular poses one of the most significant challenges facing the U.S., he wrote.
"For the first time in at least a generation, we have a strategic competitor [China] who possesses naval capabilities that rival our own, and who seeks to aggressively employ its forces to challenge U.S. principles, partnerships, and prosperity," Del Toro wrote.
"Similarly, Russia, Iran, and other authoritarian states use gray-zone aggression and coercion to challenge the rules-based international order."