'Insidious intentions': China condemns UK warship's trip through Taiwan Strait
by
Alex Wilson
Stars and Stripes
September 28, 2021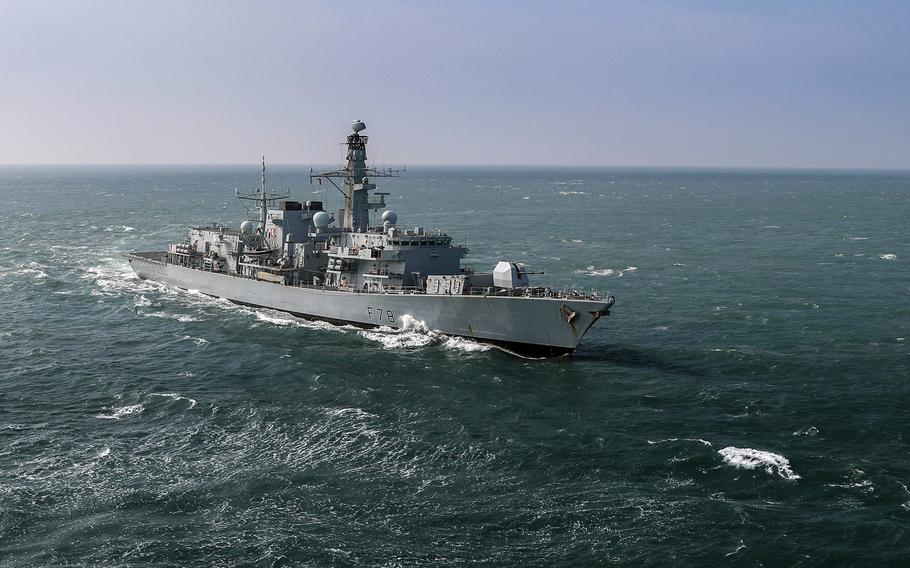 Beijing has condemned the Royal Navy's first trip through the Taiwan Strait in more than a decade as a "meaningless display," according to Chinese media.
The HMS Richmond, part of the aircraft carrier HMS Queen Elizabeth's strike group, steamed through the contentious, 110-mile-wide waterway Monday on its way to rendezvous with the Vietnamese navy. The ship's presence in the region provoked accusations of belligerence from China.
Beijing dispatched vessels and aircraft to "track and monitor the British warship" through the Taiwan Strait, according to a Monday report in China Military Online, the official news site of the People's Liberation Army.
Such "ill-intentioned behavior undermines peace and stability across the Taiwan Strait and fully exposes its speculative mentality," the report quoted Senior Col. Shi Yi, spokesman for the army's Eastern Theater Command, as saying.
The state-sponsored China Daily newspaper also quoted Shi: "The U.K. is carrying out a meaningless display of presence with an insidious intention."
The Chinese government similarly condemns the passage of U.S. Navy warships through politically sensitive waterway that separates Taiwan from mainland China. Although the strait is considered international waters, China views the presence of foreign warships there as a provocation.
Beijing considers democratic Taiwan a breakaway province that must be reunited with the mainland, possibly by force.
The United Kingdom denied the Richmond's passage was intended to provoke enmity from Beijing.
In a statement mirroring the typical U.S. Navy response to such criticism from China, an unnamed Ministry of Defence spokesperson told Stars and Stripes in an email Monday that the transit was "in compliance with international law."
The U.K. has no interest in stoking conflict in the region, the spokesperson added.
"The UK's long-standing position on the South China Sea remains unchanged: we take no sides in the sovereignty disputes," the email said. "We encourage all parties to settle their disputes peacefully through the existing legal mechanisms," in particular the United Nations Convention on the Law of the Sea.
U.S. Navy warships have steamed through the Taiwan Strait nine times so far this year. The Richmond's journey is the first in recent years for a British warship.
The last Royal Navy vessel to make the trip was the HMS Enterprise, a survey ship, in 2019. The last warship, however, was the frigate HMS Kent in 2008, according to the Ministry of Defence.