AUKUS nuclear submarine deal raises questions about India's role in Quad coalition
by
Wyatt Olson
Stars and Stripes
September 25, 2021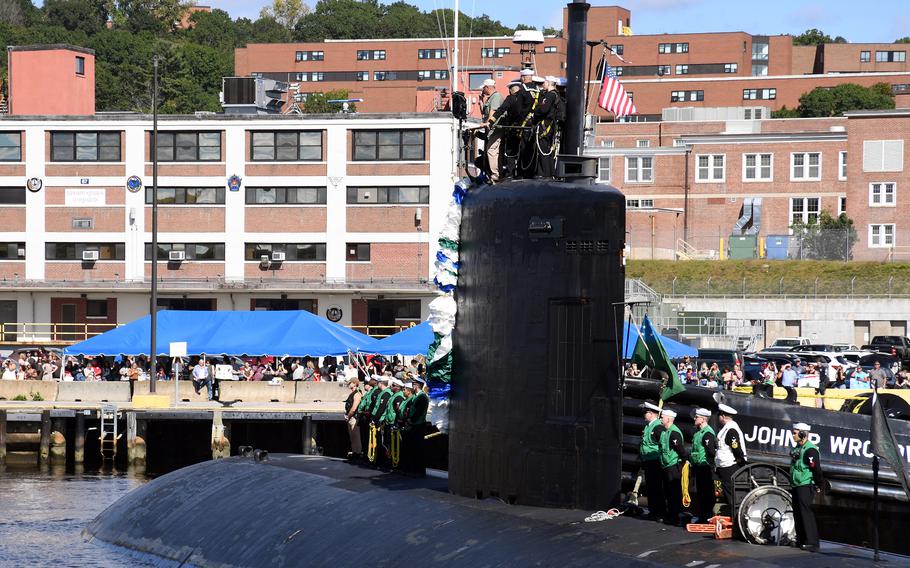 Defense experts were stunned when the United States and United Kingdom announced last week they would deliver a fleet of nuclear-propelled submarines to Australia under a newly formed security partnership dubbed AUKUS.
Australia Prime Minister Scott Morrison was quick to point out during the announcement at the White House on Sept. 15 that AUKUS would enhance already established partnerships, such as the Quad, a loose strategic grouping of U.S., Australia, Japan and India intended to balance against China's growing military and economic ambitions in the Indo-Pacific.
But the sharing of closely guarded nuclear-propulsion technology among the three nations left some wondering whether the move will suck all the oxygen out of the room for the parallel grouping of the Quad.
Arun Prakash, once the highest-ranking Indian military officer, wrote in an op-ed Wednesday that AUKUS "places a question mark over the continuing relevance of this forum and its long-overdue actualization."
"While uncharitable comments about 'Anglo-Saxon solidarity' must be ignored, there may be substance in the belief that the 'Anglosphere nations' – which share common cultural and historical ties to the UK – do inspire more confidence in each other," Prakash wrote.
Whether AUKUS will reinforce or hobble the Quad will likely become clearer after a Quad summit at the White House on Friday.
India has urged the U.S. in recent years to share more defense-related technology, and the submarine deal could embolden India to press for such transfers under the auspices of the Quad grouping.
India commissioned its first nuclear-propelled submarine, the INS Arihant, in 2016, but it is a ballistic-missile sub that is relatively slow moving compared to the general purpose fast-attack submarines that Australia is getting.
India has in the past asked the U.S. to help it acquire such attack subs but has gotten nowhere with the requests.
"India is not a formal ally of the US, which casts into question whether Washington is willing to transfer such sensitive tech as nuclear sub propulsion to New Delhi," Collin Koh, an expert on Pacific naval affairs at the S. Rajaratnam School of International Studies in Singapore, said in an email Wednesday.
Richard Rossow, an India expert at the Center for Strategic and International Studies, a think tank based in Washington, D.C., said he does not expect the AUKUS deal will raise unrealistic expectations in India.
"Narrowly, India understands that our defense relationships with Australia and the United Kingdom remains well ahead of our defense relationship with India," he wrote in an email Tuesday.
"The U.S. Department of Defense has already carved out novel spaces to jump-start advanced defense technology sharing with India," he said. "This includes the creation of the U.S.-India Defense Technology and Trade Initiative, as well as the India Rapid Reaction Force in the Pentagon, which accelerates technology sharing with India. The U.S. has also been more liberal in offering drone technology to India than any nation outside our security treaty partners."
India could turn to France for help in acquiring nuke-propelled attack subs, and in the wake of the AUKUS announcement, the French might be inclined to do so.
French officials were enraged that Australia terminated a $66-billion deal inked in 2016 to buy 12 conventionally powered submarines from France and would instead acquire nuke-propelled subs from the U.S. and U.K. France called home ambassadors from Australia and the U.S. in the wake of the AUKUS announcement.
President Joe Biden has taken steps to soothe tensions with Paris, including a call with French President Emmanuel Macron on Wednesday. But France could be a wild card in the Quad's future.
"The only way I see [AUKUS] interfering with U.S. and Australian cooperation with India is if France doubles down its moves to win important new defense deals with India," Rossow said. "In particular, France is pushing to sell its Rafale [fighter jet] platform to the Indian Navy in its pending acquisition of 57 carrier-launched fighter jets. Winning defense deals is not America's primary main purpose in expanding defense ties with India, but it definitely helps shore up broad-based support in Washington, D.C."
Japan, on the other hand, is unlikely to be looking for a sub deal similar to what Australia got for a couple reasons, said Zack Cooper, an Asia defense policy expert at the American Enterprise Institute.
"Nuclear power is increasingly out of favor in Japan, to say nothing of nuclear weapons," he said during a phone interview on Tuesday. "Even civilian nuclear power is a hot-button issue, so I think the idea that a Japanese government might pursue military nuclear power is something that is politically just hard to swallow."
But more to the heart of the matter, Japan does not need nuke-propelled subs, Cooper said.
"Japan has a very effective diesel-electric submarine program, one of the most advanced in the world," he said. "I think they feel quite happy with what they've got."
The AUKUS deal, however, likely raised expectations in Japan, Cooper said.
"I think they're a little envious that Australia got such a deep technology-sharing arrangement, so I do think that Tokyo will look to ink something similar – just not anything nuclear powered."