British frigate sails through Taiwan Strait on its way to Vietnam
by
Alex Wilson
Stars and Stripes
September 27, 2021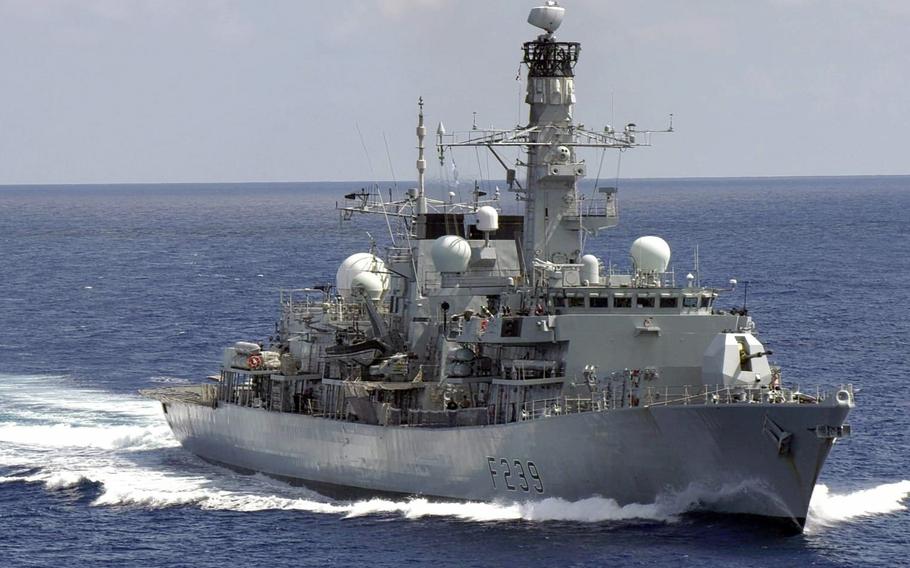 A British warship, part of the U.K. carrier strike group, steamed through the Taiwan Strait on Monday on its way to rendezvous with the Vietnamese navy.
The HMS Richmond, a Type 23 frigate that arrived in the Indo-Pacific region with the aircraft carrier HMS Queen Elizabeth, tweeted through its official account that it had transited the contentious, 110-mile-wide strait that day.
"After a busy period working with partners and allies in the East China Sea, we are now en route through the Taiwan Strait to visit Vietnam and the Vietnam People's Navy," the message said.
Beijing routinely condemns the U.S. Navy's transits through the politically sensitive waterway that separates China from Taiwan. The Chinese government considers democratic Taiwan a breakaway province that must be reunited with the mainland, possibly by force.
The U.S. Navy's most recent trip through the strait happened on Sept. 17, its ninth so far this year.
Spokespeople for the Royal Navy did not immediately return a request from Stars and Stripes for comment Monday.
During its time in the East China Sea, the Richmond helped enforce the United Nations' sanctions against North Korea's missile programs, according to a U.K. Ministry of Defence news release on Sunday.
The U.K. reported that the Richmond discovered evidence of North Korean ships "apparently breaching U.N. sanctions" and provided that evidence to the U.N. Enforcement Coordination Cell.
The Royal Navy has remained active in the Indo-Pacific region since the Queen Elizabeth strike group arrived earlier this summer. The aircraft carrier and its escorts have made port calls in Guam and Japan, as well as having held numerous training exercises alongside Japanese and American ships.