'Remember them': Yokosuka honors 2017 collision victims along with sailors who died in past year
by
Alex Wilson
Stars and Stripes
September 23, 2021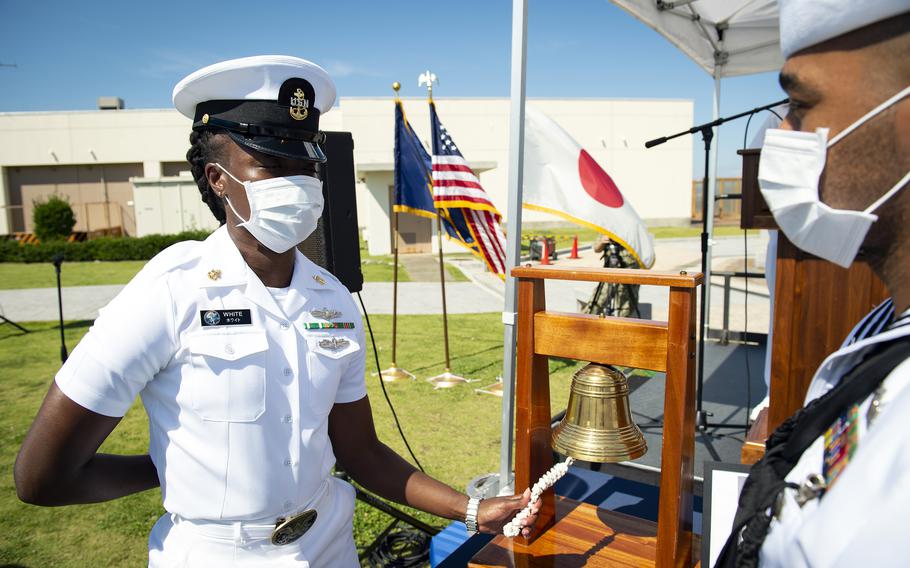 YOKOSUKA NAVAL BASE, Japan – The names of more than 200 sailors who lost their lives over the past year, along with those who died in the destroyer collisions of 2017, were read aloud during a memorial service here on Thursday.
About 60 sailors and civilians gathered at Ombudsman Park to pay their respects. Part of the Navy Gold Star Program's Bells Across America for Fallen Service Members, the hourlong memorial is being mirrored at bases across the world.
"This ceremony is very important, as it sets time aside for us all to recognize the contributions that the fallen have made in our community and throughout our great Navy," said Yokosuka's commander, Capt. Rich Jarrett, during the ceremony.
After a prayer and Jarrett's remarks, sailors in dress whites gathered in front of the small crowd to read off the names of the sailors being remembered. A ship's bell was rung as each finished reading their list of names.
The event also featured a display of dozens of pairs of boots, representing the sailors who lost their lives, along with photos of those sailors affiliated with Yokosuka.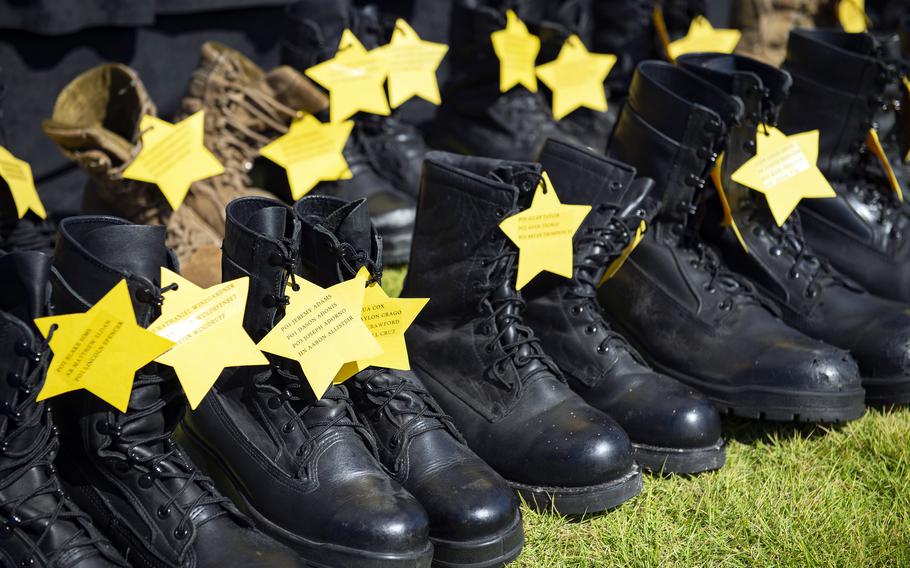 This year marks the sixth annual Bells Across America service, but the first commemoration at Yokosuka. It honored not only those who died in the past year, but 17 sailors lost four years ago in two collisions involving the Yokosuka-based guided-missile destroyers USS Fitzgerald and the USS John S. McCain.
In June 2017, the Fitzgerald collided with a Philippine-flagged container vessel, killing seven sailors in Japanese waters. Just two months later, 10 sailors died aboard the McCain after the ship collided with a Liberian-flagged tanker near Singapore.
"We've not done this ceremony before. As we look back at years past, we've not had the opportunity to reflect and to remember," Jarrett told Stars and Stripes after the ceremony. "We wanted to make sure we did that in this initial event, so that it could be recognized, at least for the first time."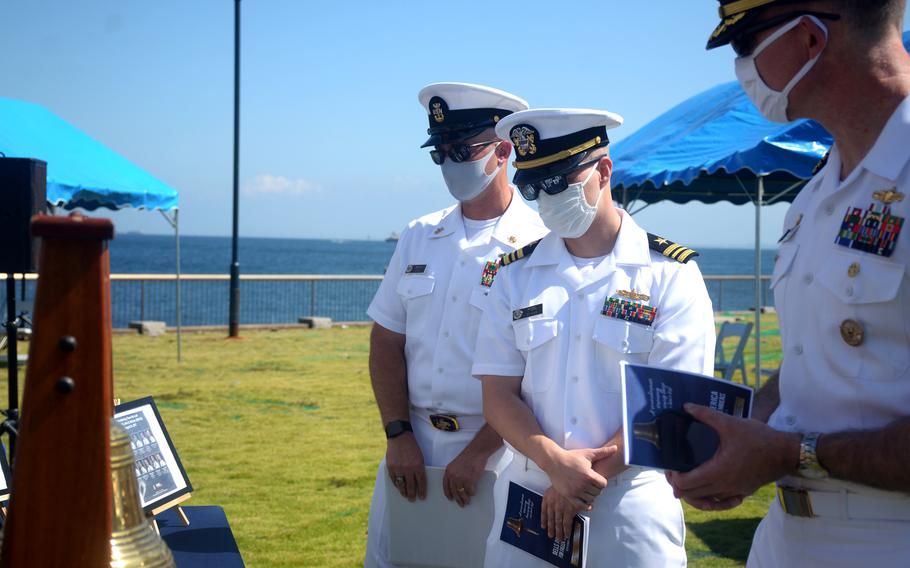 Of the more than 200 sailors honored, two were stationed at Yokosuka at the time of their death: Cmdr. Charles Harris and Petty Officer 2nd Class Adam Thomas.
Harris, the former commander of the destroyer USS Howard, died in August from health complications. Thomas, a mass communications specialist, was killed in a July vehicle accident, according to base spokesman Randall Baucom.
Harris' family, as well as the families of three other sailors who died while stationed at Yokosuka in past years – Cmdr. Frank Bivins, Chief Petty Officer Abraham Lopez and Chief Petty Officer Demond Walker – were also present Thursday.
"It's sometimes difficult to remember, but it's important for us to remember those that have given the ultimate sacrifice – particularly while serving on active duty – and then recognize that there are families left behind," Jarrett told Stars and Stripes.
Two of the fallen sailors' spouses, Makiko Walker and Yuko Bivins, described the service as "emotional," but said it served a dual purpose in helping with the grieving process and honoring their husbands' memory.
"After I lost my husband, I've received a lot of support from the military and that helped a lot with the grieving," Walker told Stars and Stripes after the ceremony. "To me it's very important to participate and attend these [ceremonies] to remember them."