Navy sends warship through Taiwan Strait for sixth time this year
by
Wyatt Olson
Stars and Stripes
June 22, 2021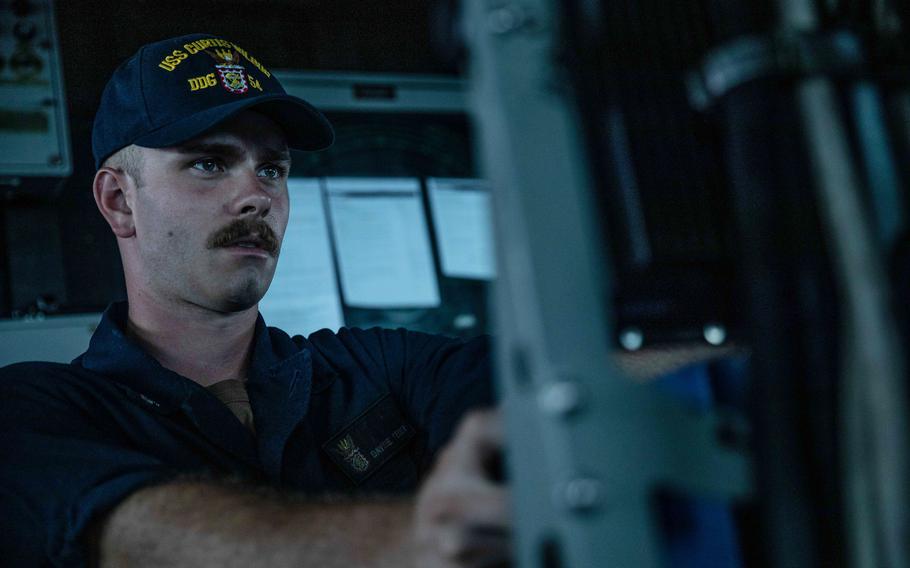 A week after China flew a record sortie of 28 fighter jets into Taiwan's air defense zone, the U.S. Navy on Tuesday sent a guided-missile destroyer through the narrow strait dividing the island from mainland China.
The guided missile destroyer USS Curtis Wilbur's "routine" transit through the Taiwan Strait "demonstrates the U.S. commitment to a free and open Indo-Pacific," the Navy said in a news release Tuesday.
It was the sixth time this year that a Navy surface ship passed through the politically sensitive channel. The Curtis Wilbur also made the most recent transit on May 18.
Navy warships passed through the Taiwan Strait 11 times in the fiscal year that ended Sept. 30, according to a report by the Congressional Research Service.
China's sortie of fighter jets that flew into Taiwan's air space on June 15 included 14 J-16 and six J-11 planes, The Associated Press said in a report, citing Taiwan's Ministry of National Defense as the source.
Taiwan deployed its combat air patrol forces in response to the incursion on the southwestern part of the island's air defense identification zone, according to the report.
Beijing considers Taiwan a renegade province that must, at some point, be unified politically with the mainland.
Leaders of the Group of Seven industrialized nations — the U.S., United Kingdom, Canada, France, Germany, Italy and Japan — after meeting earlier this month issued a statement calling for "peace and stability" across the Taiwan Strait.
China maintains that such statements interfere in the nation's internal affairs.
Taiwan, which enjoys a functioning democracy, has garnered greater international attention as the Communist Party of China has squelched Hong Kong's semi-autonomy by imposing a national security law last summer that has been used to silence and imprison dissenters.
That move ran contrary to China's agreement to allow Hong Kong a degree of political autonomy — the so-called "one country, two systems" principle — after Great Britain handed over the former colony in 1997.
Beijing had likewise maintained for years that unification with Taiwan would be peaceful and mutual, but the turnabout in Hong Kong has led many international observers to ponder whether China is preparing for forcible reunification.
Twitter: @WyattWOlson
---
---
---