Marine Corps boss says war in Ukraine validates his vision for service's future
By
Stars and Stripes
September 16, 2022
---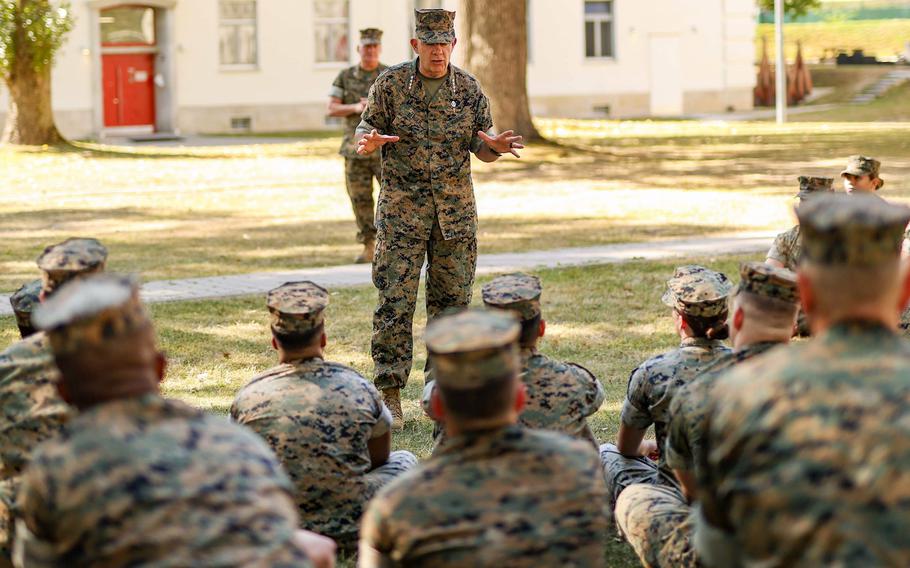 Commander trust in junior troops will be tested in new ways on future battlefields, where Marines will need to do everything from rewriting software code on the fly to making bigger decisions with little direction from above, the service's top general said this week.
 "But the question is, are senior leaders comfortable with that?" Marine Corps Commandant Gen. David Berger said during a discussion Wednesday about the Corps' future.
Berger, who has been leading one of the most significant reforms of the Corps in decades, said the war in Ukraine has reaffirmed priorities such as the need to free troops from micromanaging bosses.
"This is a great learning point for the Marine Corps," Berger said in reference to the unprovoked, full-scale invasion that Russia launched Feb. 24.
The war also has highlighted areas in need of more attention, such as reconnaissance operations to stay ahead of a well-armed enemy that wants an artillery slugfest, Berger said at a virtual event hosted by Defense One.
The Russia-Ukraine war has surprised many military analysts, who feared that Kremlin forces would quickly overrun Kyiv's. But Ukraine's smaller, more adaptive army has put Russia on the back foot with counteroffensives that have pushed the enemy back from previous strongholds.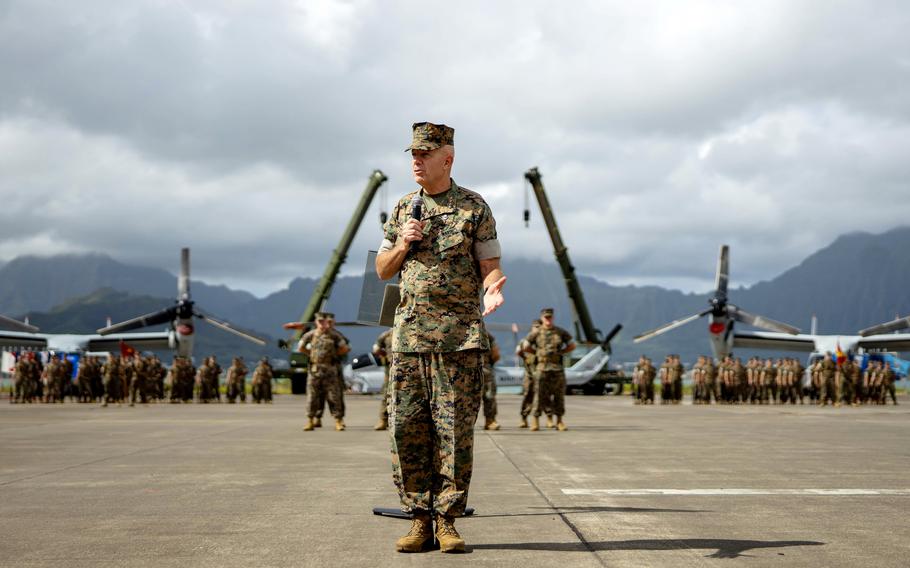 Some of the lessons from Ukraine are in accord with Berger's plans to transform how Marines fight. His Force Design 2030 concept hinges on the concept of "stand-in forces," or smaller, more nimble units arranged to help in areas such as reconnaissance and counter-reconnaissance.
The concept intends to provide the Pentagon with a hard-to-detect force that could help find and sink enemy vessels at sea while maneuvering with greater range on land.
Berger said he sees a future in which Marine units use various unmanned platforms for reconnaissance and logistics to give forward-operating units an advantage.
But the Corps' war fighting plans will always have Marines as the central focus, Berger said. Given technological advances that could limit real-time communication if networks are attacked, commanders could be pushed out of comfort zones, he added.
"I think we're going to run into a challenge where an adversary is trying to break down our command and control systems," Berger said.
That means tactical command posts with big screens giving up-to-date pictures of the battlefield, commonplace in recent wars, could be rendered useless. 
"We're going to have to get comfortable without any of that," he said.
Berger described a scenario in which he could envision junior Marines being forced to rewrite software on the battlefield to keep their radios and other technology working after electronic intrusion by the enemy.
He added that to seize the initiative, Marines will need to move fast on a battlefield where the tactical advantage will be fleeting.
---
---
---
---