Sikh Marine Corps recruits to appeal court decision requiring them to shave
By
Stars and Stripes
August 31, 2022
---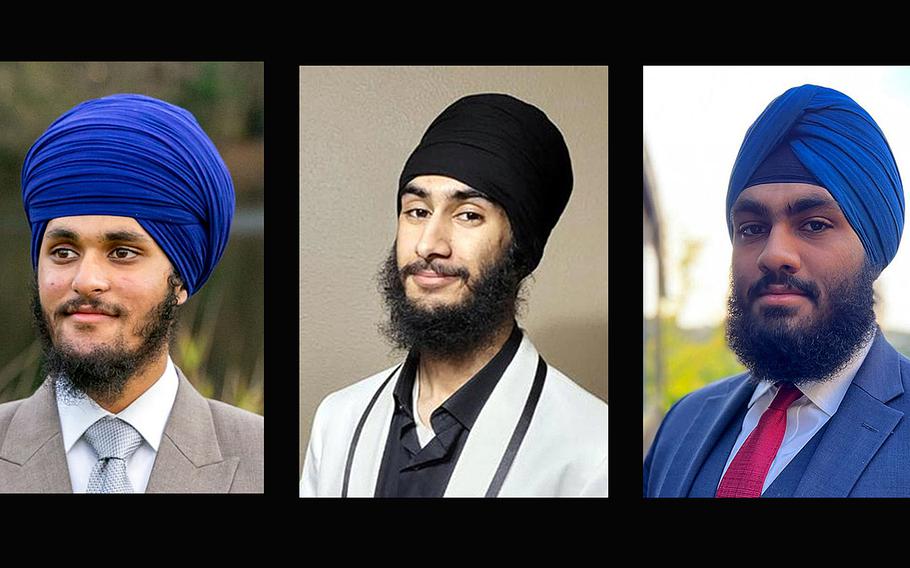 Three Sikh prospective U.S. Marine Corps recruits will appeal a federal ruling that denied their request to enter boot camp without shaving their beards or meeting other grooming requirements that the men say conflict with their religion.
Last week, a U.S. federal judge agreed with a Marine Corps assertion that allowing Milaap Singh Chahal, Jaskirat Singh and Aekash Singh to forgo the boot camp requirements would undermine the service's mission.
For now, the decision means the men will have to cut their hair, shave their beards, not wear a turban and disavow other tenets of their faith, if they want to enter boot camp.
Attorneys for the men say that forces them to choose between their faith and serving their country in violation of federal protections, such as the Religious Freedom Restoration Act. They plan to quickly appeal the decision as boot camp entrance exams for two of the men expire soon.
Aekash Singh and Jaskirat Singh face a deadline of September and October, respectively, to enter boot camp. The deadline for Milaap Singh Chahal is in June 2023, according to court documents.
"We strongly disagree with this decision, and continue to believe the U.S. Marine Corps is doing a disservice to both our clients and itself in denying religious rights that are recognized by other branches of our military and under U.S. law," said Giselle Klapper, a senior attorney for the New York City-based Sikh Coalition, one of the groups representing the men.
In June, the men asked Washington, D.C. District Judge Richard Leon to find that the Marine Corps' denial of their religious accommodation requests for boot camp was discriminatory and violated their constitutional rights.
The action came as part of a lawsuit the men, along with an active-duty Marine Corps captain, filed in April alleging the service is unfairly and unevenly applying grooming standards for service members serving in combat zones or attending boot camp. Proceedings in the April lawsuit continue.
The plaintiffs say the denial of an accommodation violates their religious, speech, due process and equal protection rights. It also forces them to abandon the tenets of their faith if they want to succeed in their military careers or serve their country, the lawsuit states.
The Army and Air Force make accommodations for Sikh service members. The Navy has made changes for Jewish and Muslim sailors pending the final outcome of a lawsuit. 
In denying the recruits' request, Leon said the men did not prove their constitutional right to practice their religion took priority over the public's defense interests.
Marine Corps training standards that focus, among other goals, on stripping away a recruit's individuality to mold them into a team member are vital to the service's mission, Leon said in an Aug. 24 decision.
The plaintiff's request "would require the military to conduct basic training in a manner that it credibly alleges will 'compromise' the Marine Corps' 'national defense mission,'" Leon wrote in the decision.
---
---
---
---