Air Force says recent beard approvals have not sparked an influx of religious accommodation requests
By
Stars and Stripes
August 9, 2019
---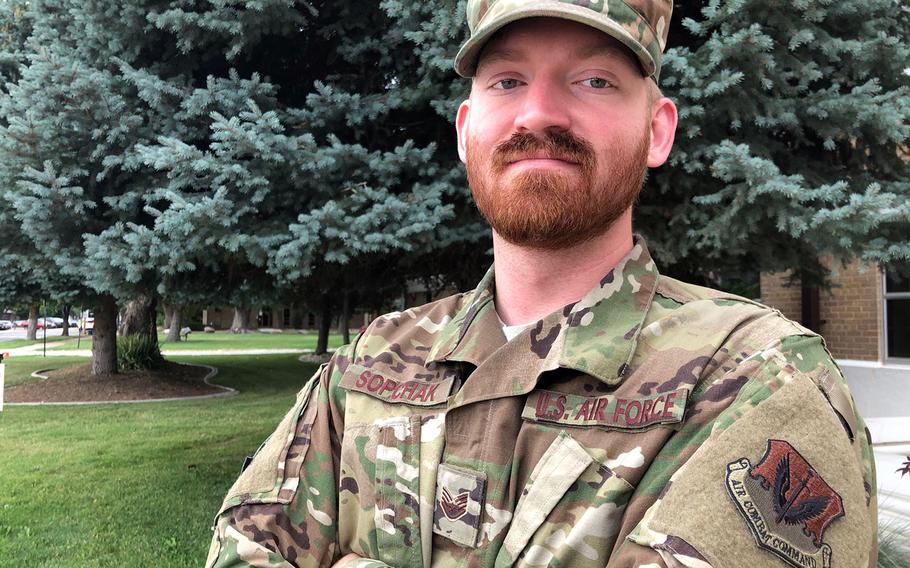 For nearly a year, the Air Force weighed a staff sergeant's request to grow a beard as part of his religious beliefs before granting him a waiver, a decision that balanced personal liberty against military readiness, a Pentagon spokesman said.
Staff Sgt. Garrett Sopchak, a 28-year-old aerospace ground equipment craftsman from the 388th Maintenance Squadron at Hill Air Force Base, Utah, embraces Norse Heathenism, a belief system whose pantheon includes the gods Odin and Thor. He received his waiver July 8.
"The beard in my faith serves as a symbol that represents one's integrity," Sopchak told Stars and Stripes in email July 25.
The Air Force places a high value on the rights of its members to observe the tenets of their respective religions or to observe no religion at all, said Lynn Kirby, an Air Force spokeswoman at the Pentagon, in an Aug. 5 email.
Sopchak is the second Norse Heathen known to have obtained an Air Force waiver to grow a beard. Staff Sgt. William Bailey received a waiver to grow a beard March 1, according to an Air Force memo posted in July to the amn/nco/snco Facebook page.
The Air Force, citing privacy concerns, declined to identify how many airmen have obtained waivers based on religious exemptions but said the publicity surrounding approvals in recent years has not caused an increase in waiver requests.
Based on published reports, the Air Force had granted 11 waivers as of November, including one to a Muslim airman to wear a beard and in June to a Sikh airman to wear a turban.
Kirby said Sopchak's waiver request was vetted by several Air Force agencies and was eventually approved by Lt. Gen. Brian Kelly, the Air Force deputy chief of staff for manpower, personnel and services.
Sopchak, raised in the Baptist faith, said he discovered Norse Heathenism two years ago. The stories from the Bible never really clicked with him, he said, and he began to explore other spiritual paths.
"One day I woke up with an urge to read the Eddas, and it just resonated," he said. "I decided this was the spiritual path for me."
Eddaic literature is a body of ancient Icelandic literature and the most detailed source for modern knowledge of Germanic mythology, according to the Encyclopedia Britannica.
Kirby said servicemembers may request to wear beards, turbans and other hallmarks of their religions if doing so does not negatively affect their ability to accomplish the military mission.
When the Air Force receives a waiver request, commanders, Chaplain Corps personnel, medical providers, judge advocates and other experts determine if the request will adversely affect military readiness, unit cohesion, standards and discipline, Kirby said.
Air Force chaplains assess whether the request is within the doctrinal or traditional observances of an airman's faith and commanders assess mission impact, she said.
The Air Force will take "corrective action" if it discovers the airman made a false or erroneous request, Kirby said.
Since 2014, the Pentagon has allowed servicemembers to appeal under the guidance of the Religious Freedom Restoration Act for the right to wear items mandated by their religions that would be prohibited under grooming and appearance regulations.
bolinger.james@stripes.com Twitter: @bolingerj2004
---
---
---
---