US Marines begin arriving in Australia for another six-month training mission
By
Stars and Stripes
March 14, 2022
---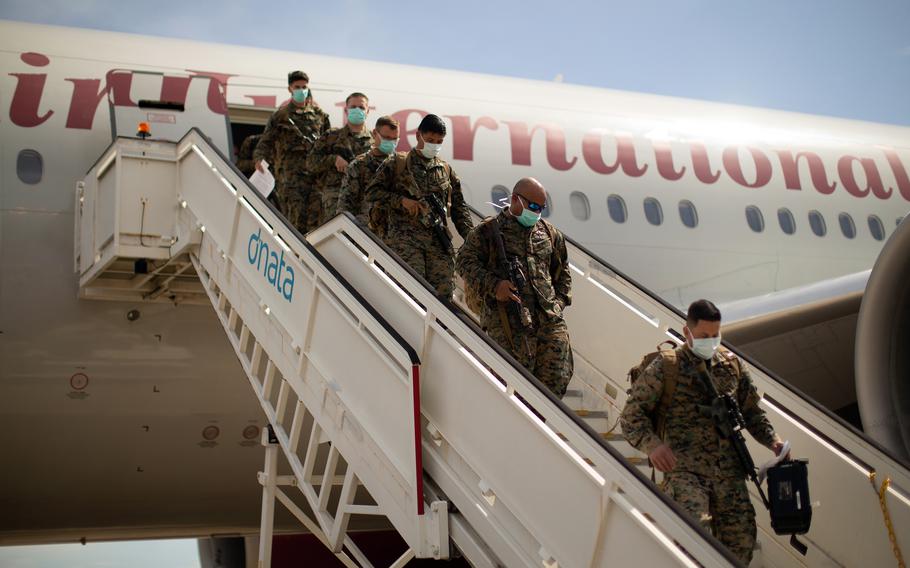 Stars and Stripes is making stories on the coronavirus pandemic available free of charge. See more stories here. Sign up for our daily coronavirus newsletter here. Please support our journalism with a subscription.
A contingent of up to 2,200 U.S. Marines has begun arriving for a six-month rotation to Australia's northern city of Darwin, the Marine Corps and Australian Defence Department announced Monday.
During their 11th deployment to Darwin since 2012, Marines will train with the Australian troops and other friendly forces to respond to a crisis in the region, the Marines said in their statement.
"It is an honor to build upon the continuing legacy of the outstanding U.S.-Australian alliance and AUKUS agreement," the rotational force's commander, Col. Chris Steele, said in the statement, referring to a defense pact reached last year between America, Australia and the United Kingdom.
The force includes a command element from the 5th Marine Regiment, 1st Marine Division, with most Marines coming from Southern California. They're supported by a detachment from U.S. Army Pacific, the statement said.
"We are excited to … integrate two highly capable and interoperable forces that advance our shared goals, demonstrate the strength and endurance of our alliance, and contribute to regional security," Steele said.
The U.S. military often uses the term "interoperability" to describe the ability of one country's armed forces to use another country's training methods and military equipment.
Up to 2,200 Marines from Camp Pendleton, Calif., will be in Darwin until the rotation wraps up in October, according to a statement from the Australia Defence Department.
The rotation will build on last year's deployment, which coincided with the 70th anniversary of the ANZUS treaty between Australia, New Zealand and United States, Col. Marcus Constable, the leader of Headquarters Northern Command, said in the statement.
"Australia's alliance with the United States is our most important defense relationship and is central to Australia's strategic and security arrangements," he said.
The allies' training will include humanitarian assistance, security operations and high-end live fire exercises, Constable said.
Marines arriving for the past two deployments have isolated on arrival to avoid importing the coronavirus into Australia.
Australia closed its borders in March 2020 and has since had some of the longest lockdowns in the world. The country, which has reported more than 3.5 million COVID-19 cases and over 5,000 deaths, reopened to vaccinated tourists last month.
Measures to mitigate the spread of the coronavirus for this year's rotational force are not as stringent as those faced by Marines for the previous two rotations.
Marines were tested before boarding flights and those with positive tests remained in the United States, rotational force spokesman Capt. Joseph DiPietro said in an email Monday.
The Marines are restricted to their Australian bases for their first seven days and then tested for COVID-19, he said.
---
---
---
---