New Marine amphibious vehicle cleared for operations after fix to towing problems
by
John Vandiver
Stars and Stripes
January 7, 2022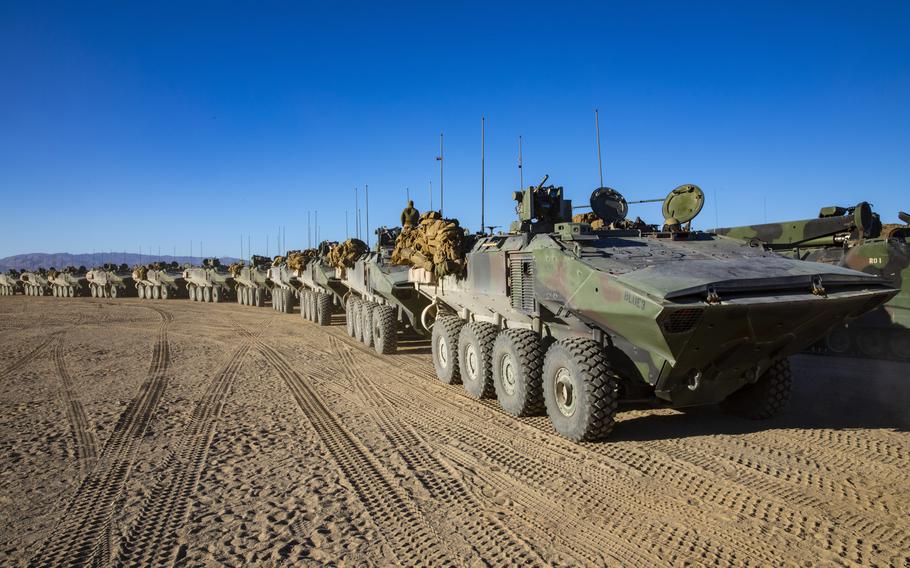 Marine Amphibious Combat Vehicles can return to missions in the open sea after a new tow rope was developed in response to a deadly training accident that forced the Marines to curtail operations, a top general said this week.
"Amphibious operations, including the use of amphibious ship-to-shore connectors, is a foundational aspect of Marine Corps operations and is critical to the future force and its ability to remain the nation's premier expeditionary force in readiness," Marine Lt. Gen. David Furness said in a statement Thursday.
The Marine Corps in September suspended operations of the new Amphibious Combat Vehicle in unprotected waters while it worked on a solution to towing problems revealed in after-action investigations related to a July 2020 training accident off the coast of California that left eight Marines and one sailor dead. That accident involved the Marine Corps' older model amphibious vehicle, known as the Assault Amphibious Vehicle. In December, the Marines said they would no longer deploy or train on the aging AAV, though the vehicles remain in stock should they been needed in a crisis.
Once equipped and trained on the new tow-rope solution, Marine units can use the newer ACVs to perform "unrestricted amphibious operations," including self-recovery missions in the open ocean and through the surf zone, the Marine Corps said.
Until Marines are trained on the ropes, operations will remain restricted to land mobility, gunnery operations and amphibious operations only in protected waters, the service said.
For Marines to be fully trained, there are a wide range of tasks that units must complete before being certified to resume full waterborne operations.
The tasks include ensuring training qualifications for crew members are met and troops are properly equipped, vehicles have passed required inspections, and operations are conducted with safety boats, and sea state assessments.
---
---
---
---