Siblings born on Christmas Eve follow their father into Marine Corps
by
Chad Garland
Stars and Stripes
December 24, 2021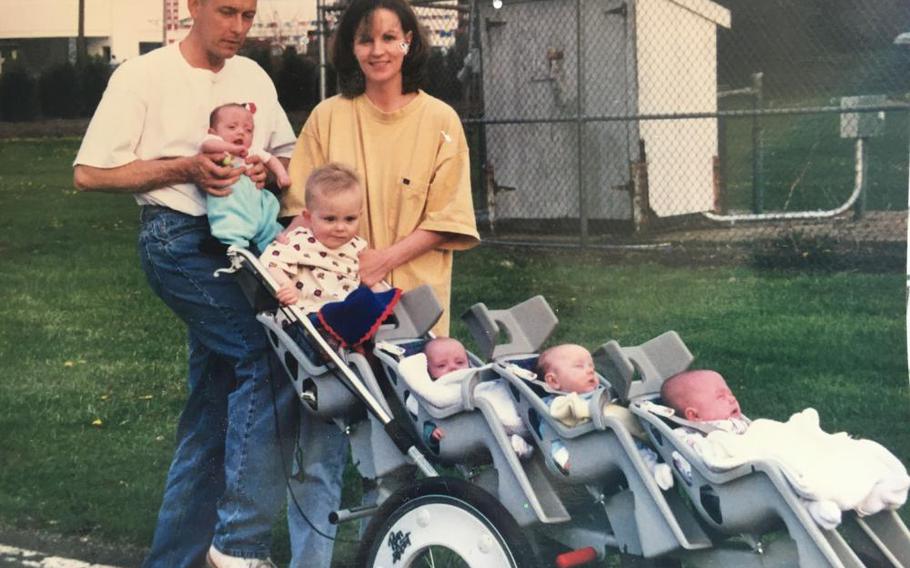 Three of the quadruplets born 23 years ago on Christmas Eve have followed their father's footsteps into the Marine Corps, but the four siblings almost didn't see their first Christmas morning.
Kathryn, John, Kaitlyn and Paul Kelley came into the world together in 1998, and all but Kaitlyn are second lieutenants attending The Basic School at Quantico, Va., the Marine Corps said this week.
They were born after a difficult pregnancy with some doctors recommending against their mother carrying all four to term, according to a media report.
Before they were born, their parents were stationed at Marine Corps Air Station Cherry Point, N.C., where they were told the clinic could not handle delivery of quadruplets, InsideNoVa.com reported in 2017. So mother-to-be Traci and then-Maj. Frank Kelley had to shop for a new doctor and hospital.
Some doctors declined to take Traci on as a patient, while others lacked the necessary Level IV Neonatal Care Unit to handle potential complications, the news website said. 
Some were willing to treat Traci, but only if the couple "reduced" the number of babies, the report said. That was not an option for the Kelleys.
They eventually found a doctor with the right type of facility in Abington, Pa., but he agreed to take Traci on only if she followed his orders. The elementary school teacher, then 36, was put on a strict diet.
Frank, then a pilot, was reassigned to nearby Naval Air Station Joint Reserve Base Willow Grove, Pa. The couple and their 1-year-old son moved in with Frank's parents in Wayne, Pa., the website reported.
"My mom was on bed rest for six months," said 2nd Lt. Kathryn Kelley, the firstborn of the quadruplets, in the Marine Corps statement. "She received a lot of help from my grandparents and my aunts."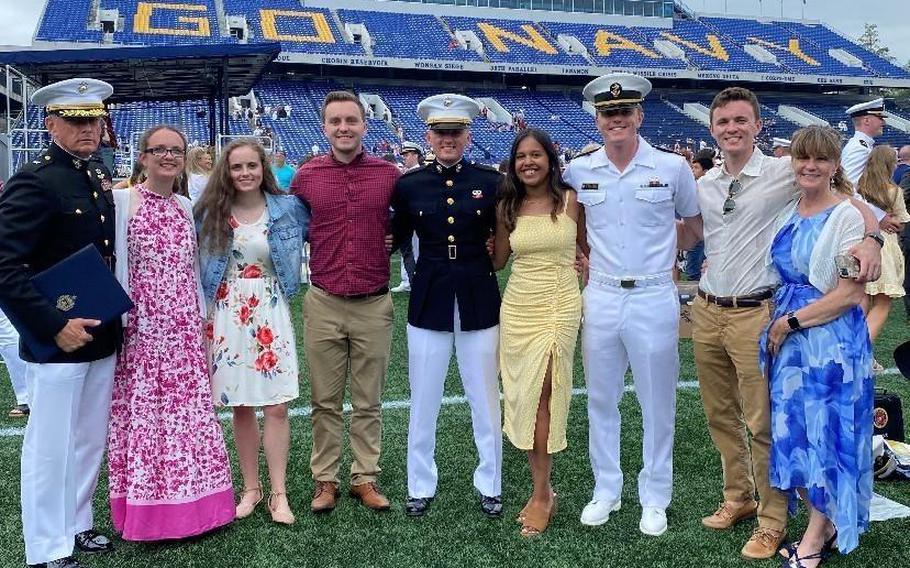 Eight months into the pregnancy, on Christmas Eve, hospital staff noticed that Kaitlyn's heart had stopped. They told Traci to call Frank, who was at Mass, and tell him they'd be delivering in 30 minutes.
They were born in boy-girl order, with Traci naming the girls and Frank naming the boys, InsideNoVa.com reported. They soon "dominated our entire day," Frank said in the Marine Corps statement this week.
"It was chaotic at times," Kathryn said.
The family lived for stints in Pennsylvania and Florida, but the Kelley kids mostly grew up at Marine Corps Base Quantico, Va. 
"I remember we were driving up I-95 from Florida at night and Kathryn woke up and saw the Marine Corps Museum," Frank told InsideNoVa.com. "She said, 'Look Daddy, we're home.' I will remember that day until I die."
Their father rose through the ranks to brigadier general and then became the Navy's first deputy assistant secretary for unmanned systems in 2015, after over 30 years in the Corps. He's now vice president of Defense Acquisition University.
Growing up around Marines made John want to join, he said, but he didn't understand his father's career at the time.
"Now I take his stories seriously, giving me insight into what I can expect as I go through the ranks," he said.
Four summers ago, the quadruplets made up more than a tenth of the 38-member Quantico High School graduating class in 2017, InsideNoVa.com said.
Kathryn and John went off to the U.S. Merchant Marine Academy, while Paul attended the U.S. Naval Academy.
Kaitlyn is attending James Madison University at Harrisonburg, Va., where she's studying sports and recreation management.  Their younger brother, Patrick, born in 2000, is a senior at the Naval Academy and has signed a contract to become a pilot in the Marines, like his father, the service said. And older brother Joe has started a career in the civilian world.
The Kelleys still try to meet up every Sunday evening before the training week begins, the service said.
They plan to spend this Christmas together, like they have most years since 1998.
---
---
---
---