Marine Corps opens door to morale leave on government flights from Okinawa
by
Matthew M. Burke
Stars and Stripes
December 17, 2021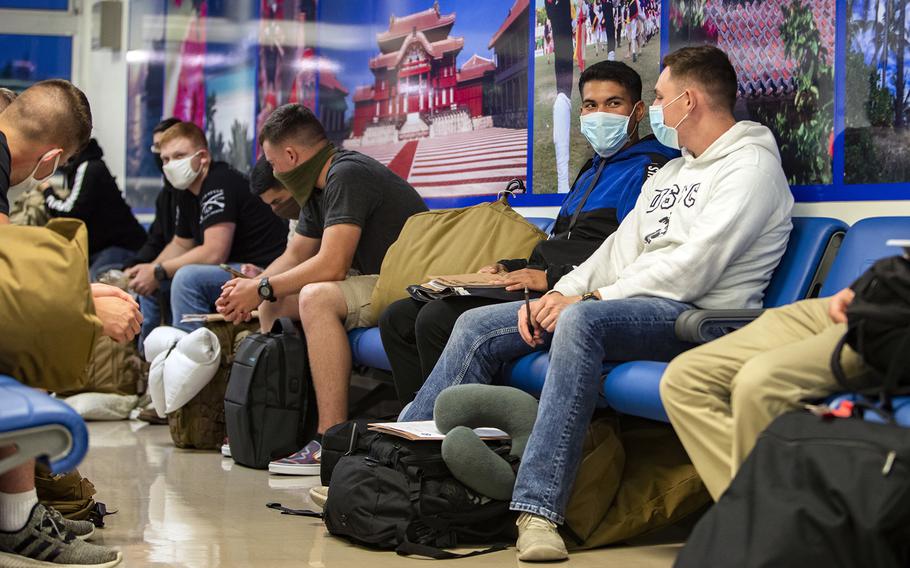 CAMP FOSTER, Okinawa – The Marine Corps joined the rest of uniformed services this week and began offering government-funded morale flights between Okinawa and Seattle so Marines and their families may visit loved ones in the United States.
The Pentagon approved the Funded Environmental and Morale Leave program Nov. 19 for U.S. service members, Defense Department civilian employees and their families on Okinawa. The program permits eligible passengers to fly aboard the Patriot Express, a government-contracted air service, between Okinawa and Seattle at government expense.
The program allows participants to return by air directly to Kadena Air Base and complete the 10-day quarantine required by Japan at home or their home installations rather than in the Tokyo area.
The Corps took several weeks to outline its own guidance "for leaders and eligible members" so it could implement the program while maintaining readiness, according to a recent statement from III Marine Expeditionary Force.
The Funded Environmental Leave Program provides eligible Marines, sailors and DOD civilians in Japan, and their families, an opportunity for time off the island after two years of restrictions under the coronavirus pandemic, III Marine Expeditionary Force commander Lt. Gen. James Bierman Jr. said in the Marine statement.
To enact the program, the Pentagon invoked a provision in the military leave and liberty policy that permits government-funded travel from duty locations "that are truly isolated, austere or unhealthful …"
"FEML is an entitlement, and all those eligible will be encouraged to take advantage of it," Bierman said.
Eligible personnel will be briefed by an officer or a staff non-commissioned officer on available opportunities and procedures, he said.
The morale leave program is open to any service member, dependent and DOD civilian employee with orders to Okinawa for at least two years, U.S. Forces Japan spokesman Gunnery Sgt. Jonathan Wright wrote in an email Thursday to Stars and Stripes. This includes approved back-to-back 12-month tours.
Participants must have been physically on the island for at least six months, he said.
The benefit may not be used within six months of the beginning or end of the service member's tour, Wright wrote. Command-sponsored family members are also eligible.
Participants may travel from Seattle to other locations in the United States, but the government will only fund up to the cost of a Seattle to Okinawa flight, the Marine statement said. Per diem and lodging are not reimbursable, Wright added.
Marines must obtain approval to participate from their commanding officers, according to the Marines' statement. Unit commanders will "establish their own process for prioritizing and sequencing" leave based on readiness and "individual situations."
As of Thursday, 29 flights were available through the end of January for FEML passengers, according to Wright's email. Seating is filled on a first-come, first-served basis. Reservation requests should be made as soon as possible.
"These FEML opportunities are available for as long as there are restriction of movement requirements for DOD personnel assigned to Okinawa, so we encourage those members of our USFJ family to take advantage of this opportunity to return home or elsewhere for the holidays," Wright wrote.
More flights may be added after January depending on reservations, Wright said.
"If the dates you wish to travel are not available, still put your request in with your travel section for them to have your preferred travel window to aid in matching your travel needs with flight availability," he said. The U.S. Transportation Command will adjust flights as needed.
For more information on flight status and seating availability, visit www.usfj.mil/FEML.
---
---
---
---