VIDEO
'Where we came from': Uniform pageant in Japan marks Marine Corps' upcoming birthday
by
Jonathan Snyder
Stars and Stripes
November 3, 2021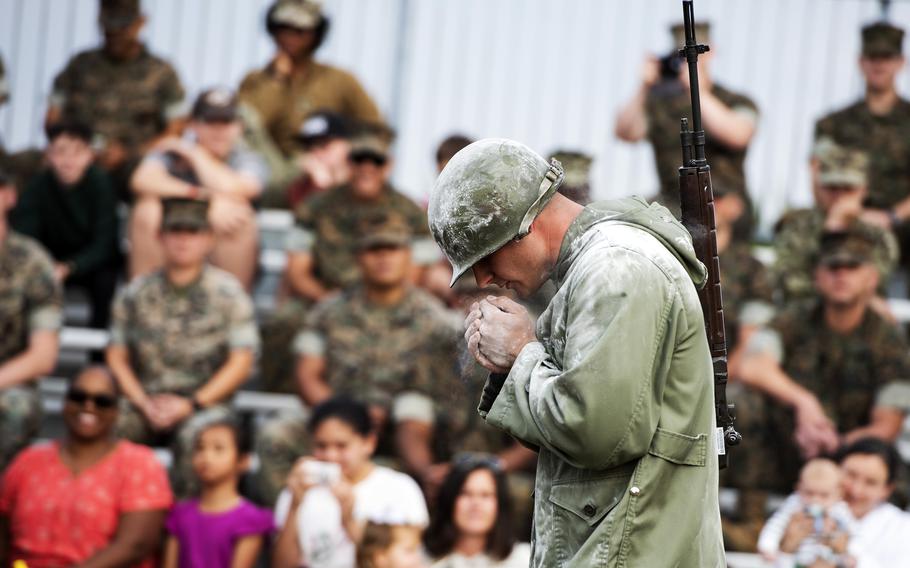 MARINE CORPS AIR STATION IWAKUNI, Japan — Marines in uniforms of every era — from the high collars that gave the leathernecks their nickname to the digital print of modern combat utilities — marked the Corps' approaching birthday with a standing-room-only marching pageant on Tuesday.
At the hourlong event attended by more than 200 spectators, the evolution of Marine uniforms over the years passed in review, accompanied by a narrator who described key moments of Corps history, from the battles of Derna during the First Barbary War to Iwo Jima in World War II and Fallujah in the Iraq War.
"Today we were commemorating the 246th birthday of our illustrious Corps and we do this to not forget about our history," Sgt. Maj. Jorge Cedeno-Tulloch of Headquarters and Headquarters Squadron, who coordinated the program, told Stars and Stripes on Tuesday. "The history with the Marine Corps is something we always pride ourselves on, so it's something we make sure, especially with the younger Marines, to understand where we came from and where we are right now."
The Marine Corps celebrates its birthday on Nov. 10, the day in 1775 when the Second Continental Congress, meeting in Philadelphia, authorized the raising of two Marine battalions. Every Marine in boot camp learns that the first Marine captain, Samuel Nicholas, working from Tun Tavern in the city, recruited those battalions.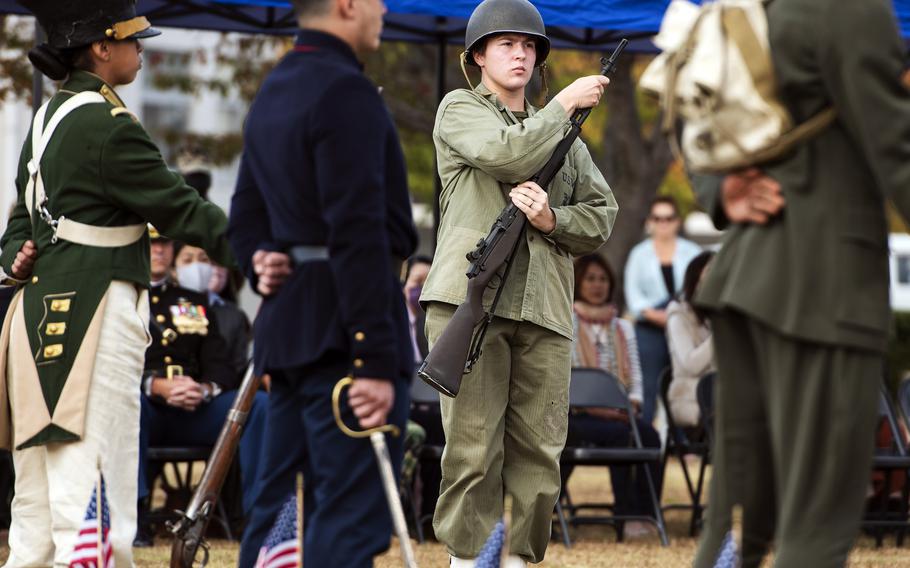 A full display of Marine uniforms in this type of ceremony doesn't happen at all Marine Corps bases, said Cedeno-Tulloch, a native of Panama.
"Sometimes you have Marines that have been in for a good 20-some years and have never seen a uniform pageant before," he said.
A pageant participant wearing the Revolutionary War-era uniform, Lance Cpl. Alexis Tellshow of College Station, Texas, described the pride she felt while marching down the parade deck.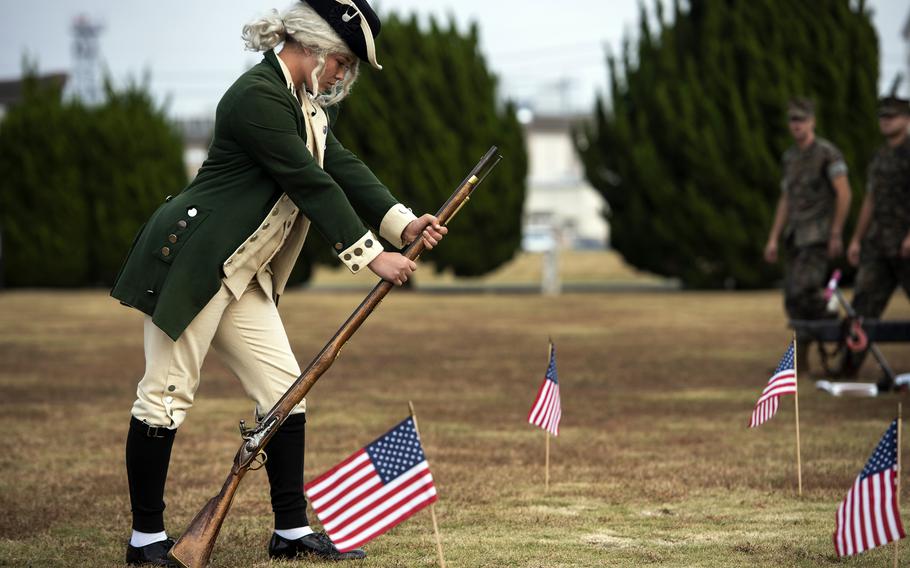 "I wanted to experience what a Marine Corps pageant was, I had no idea what was going to happen," she told Stars and Stripes after the event. "It was nice hearing from the sirs; their speeches were very motivating."
The ceremony also included the traditional cake-cutting with the oldest and youngest Marine stationed on the installation each taking a slice.
"This event is near and dear to my heart," Cedeno-Tulloch said. "I've been in for 24 years and in any way possible I can push this culture out to the younger generations, I'm going to try and do that."
---
---
---