Marine base in Japan practices its ability to bounce back from a missile attack
by
Jonathan Snyder
Stars and Stripes
October 29, 2021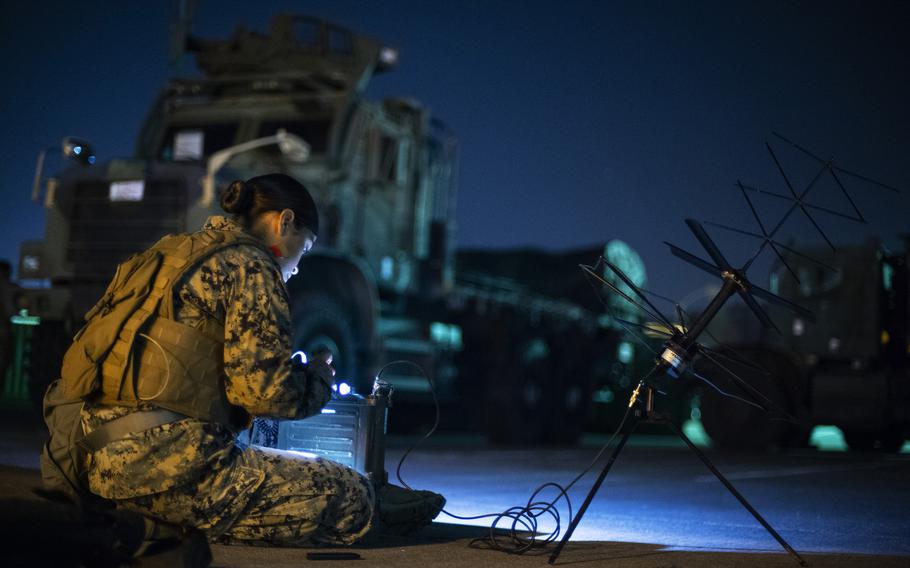 MARINE CORPS AIR STATION IWAKUNI, Japan – Alarms echoed across this base near Hiroshima, and the power went out at about 8 p.m. Wednesday, signaling to Marines and sailors of the U.S. Navy and Japan Maritime Self-Defense Force that a simulated missile strike was underway.
The base population sheltered in place as combat engineers geared up and moved out to assess damage to the airfield and repair it quickly to get aircraft flying again.
Practicing repairs to a damaged airfield is an essential bit of the weeklong Active Shield exercise, an annual sharpening of skills required to defend MCAS Iwakuni and return it quickly to fighting trim in the event of an attack. The exercise began Oct. 18 and concluded Friday building up to the runway repair exercise.
About 20 members of the Forward Aviation Combat Engineering team – radio operators, explosive ordnance technicians and combat engineers – formed up while 1st Lt. Camille Smith, the FACE platoon commander, led a tabletop exercise to chart the recovery plan. She divided the group into three teams.
Cpl. Kevin Cadiente, 24, of Honolulu, a combat engineer with Marine Wing Support Squadron 117, ensures the teams make accurate damage assessments as quickly as possible.
"Because the faster we get that airstrip back up," Cadiente told Stars and Stripes on Wednesday, "the faster we repel the enemy and the faster we can keep offenses going."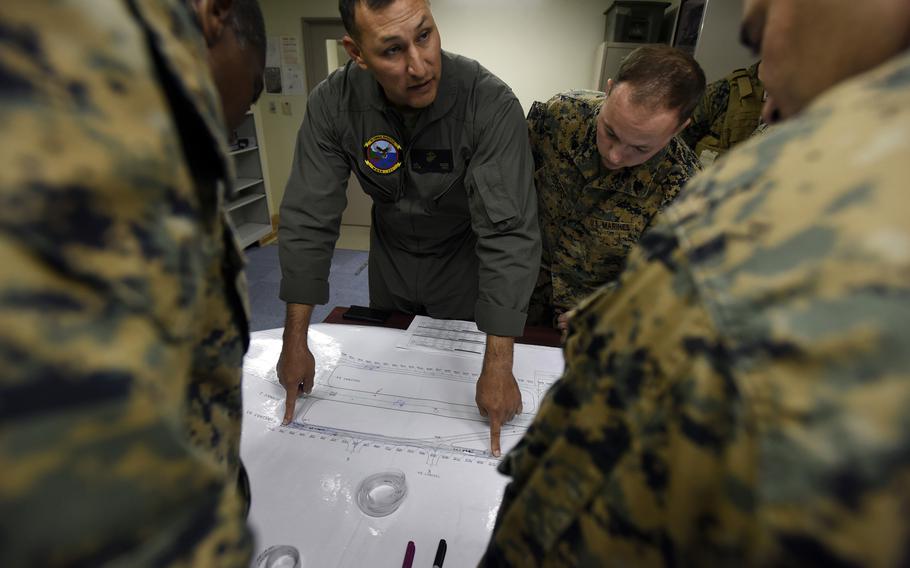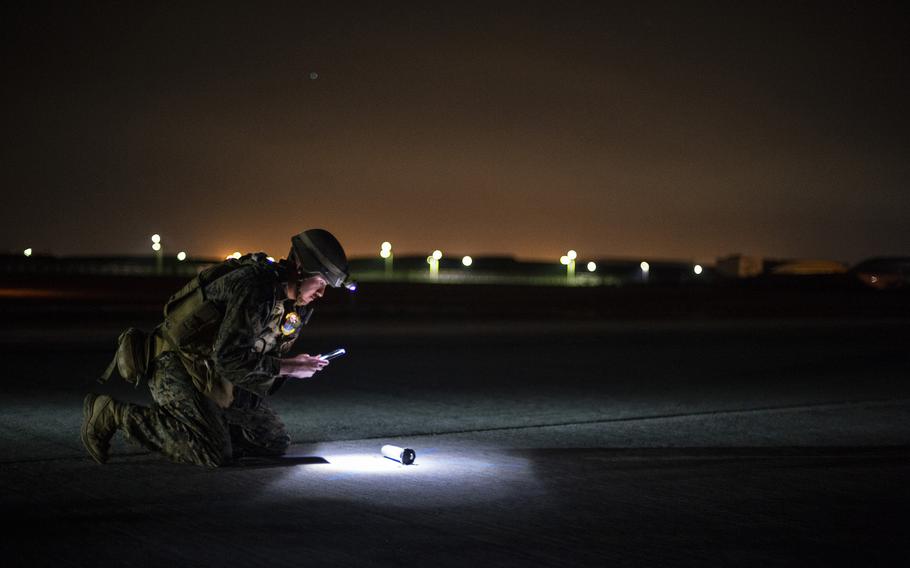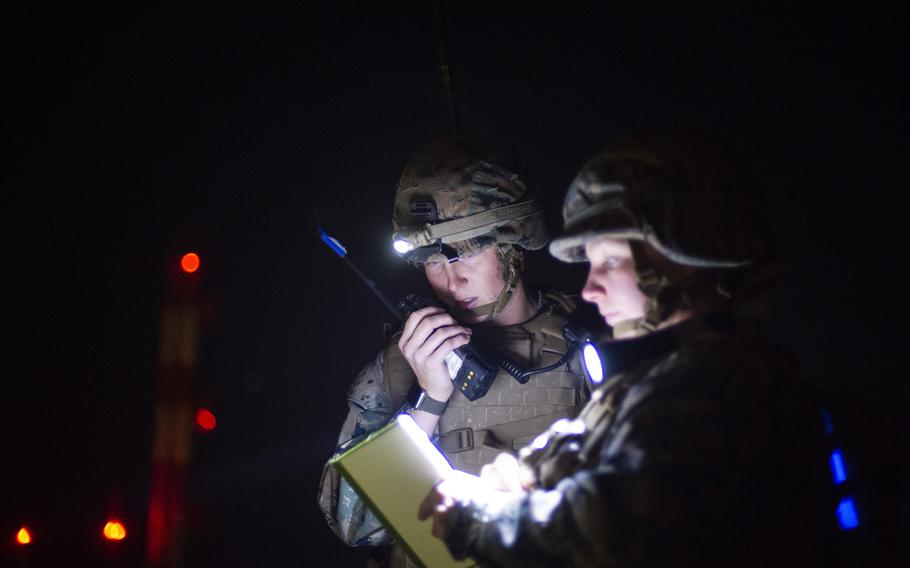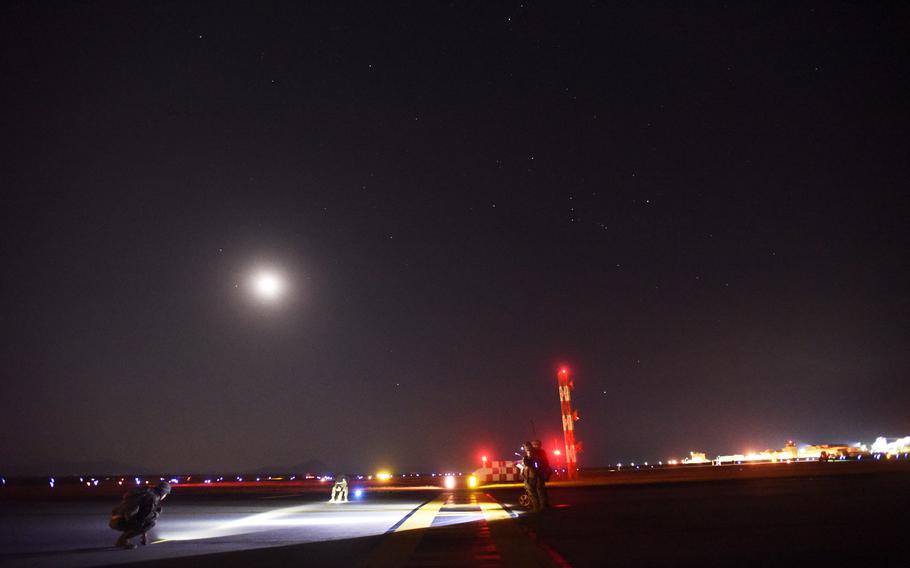 With each team equipped with a measuring wheel, measuring tape and a radio, they convoyed out in Medium Tactical Vehicle Replacement and Joint Light Tactical Vehicles to the flight line to inspect the three 8,000-foot runways.
In a line across the width of one runway, they walked in darkness, their paths illuminated by flashlights.
As they walked, they wrote the location, width and depth of simulated damage in a notebook and radioed that information to an engineering operations cell that marked it on a map.
The Marines have two squadrons of F-35B Lightning II stealth fighters and a squadron of KC-130J Super Hercules aerial refuelers assigned to Marine Aircraft Group 12. The air station is also home to seven F/A-18 Hornet squadrons of the Navy's Carrier Air Wing 5, which is attached to the USS Ronald Reagan.
"We play a critical role as combat engineers and we are an important asset on base; without us there is no immediate repair methods," Cadiente said. "The key role in our job is combat engineering, meaning we can perform our duties in high-stress situations."
The operations cell presents three repair options to the commander for a decision, the engineers will move out with repair kits, including a portable concrete mixer and heavy equipment, to begin the reconstruction.
"Airfield damage repair is a significant muscle movement, and it takes a lot of equipment," Capt. Nickolas Gillespie, 31, senior company grade engineer from Limestone, Tenn., told Stars and Stripes on Wednesday. "We have been working to make it even more expeditionary by scaling it down to a lighter package to forward deploy it if needed."
---
---
---