Marine air station in Japan carries out annual base-defense stress test
by
Jonathan Snyder
Stars and Stripes
October 25, 2021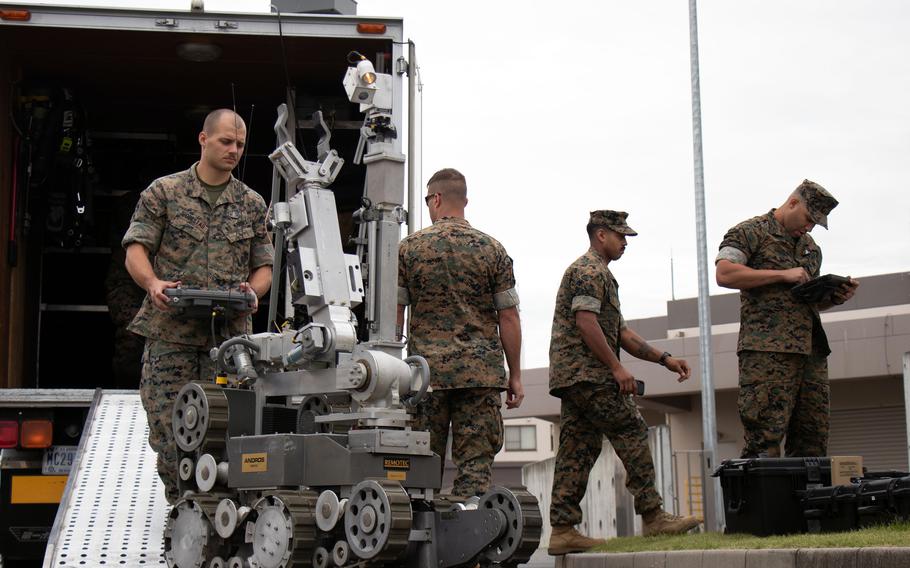 MARINE CORPS AIR STATION IWAKUNI, Japan — A two-week base-defense exercise is underway at this seaside Marine Corps base near Hiroshima and will finish up on Friday.
Active Shield is an annual exercise by U.S. and Japanese forces that share the installation. It rehearses various elements of the air station's defense plan to ensure it can support its mission.
The air station is home to the Navy's Carrier Air Wing 5, fighters and other aircraft attached to the aircraft carrier USS Ronald Reagan; Marine Aircraft Group 12, which includes fighters and aerial refuelers; and Fleet Air Wing 31 of the Japan Maritime Self-Defense Force.
Active Shield, like similar exercises underway at other U.S. installations in Japan, including Yokota Air Base in Tokyo, means a level of inconvenience for base residents: Gate delays, blocked roads, limited parking and a scheduled power outage impacting the entire base, according to a statement on MCAS Iwakuni's Facebook page.
"Every man, woman, and child associated with MCAS Iwakuni is a participant in Active Shield," base commander Col. Lance Lewis told Stars and Stripes in an email Thursday. "Prior to the full-scale conduct of the exercise, the air station carried out an emergency evacuation drill to practice our response to a natural disaster or other emergency."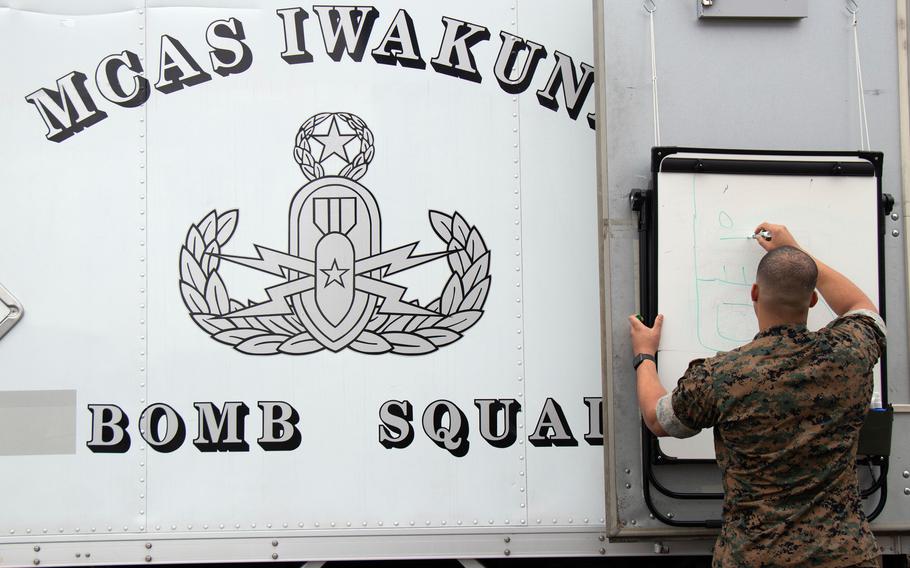 During the exercise "we rehearse and refine our installation's base defense plan to protect our personnel and critical assets so that we maintain ourselves as a platform for force projection in the Indo-Pacific," Lewis said.
The exercise is a stress test that allows the command to evaluate and improve its capabilities as a base for combat power and of support for contingency operations, Lewis said.
"Each year, my goal has been to improve upon the lessons learned from previous years and to ensure we make MCAS Iwakuni a more capable, and defendable, advanced naval base," he said.
Navy spouse Morgan Dover likened the event to a giant game of cops and robbers.
"They get to have some fun and make sure they are up to standards," she told Stars and Stripes on Friday. "But I don't mind; it's a mild inconvenience for about a week and a half, and I'm not bothered by it."