Marine base in Japan holds first mandatory evacuation drill for families, nonessential personnel
by
Jonathan Snyder
Stars and Stripes
October 15, 2021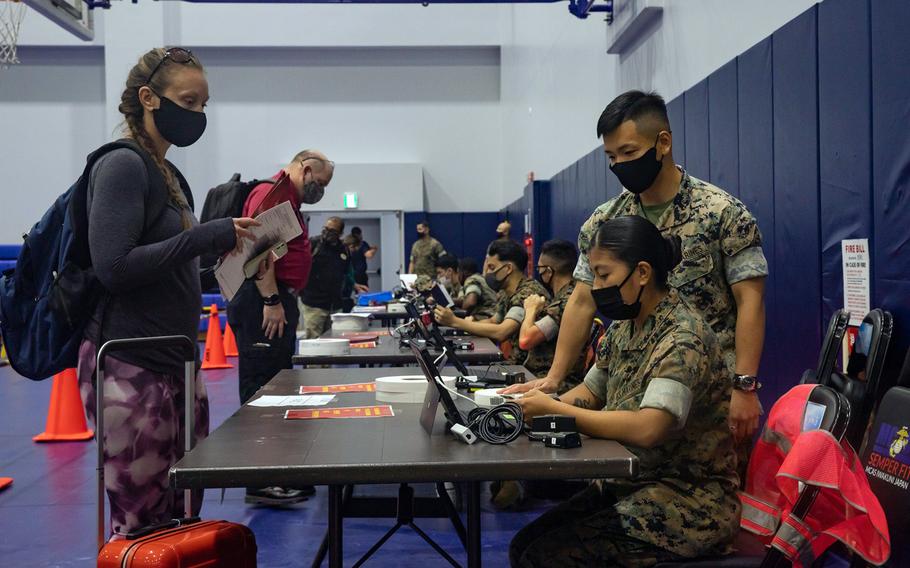 MARINE CORPS AIR STATION IWAKUNI, Japan — For the first time at this base near Hiroshima, family members and others in nonessential roles had to participate in a three-day drill that simulated an emergency evacuation.
The drill, part of the larger Active Shield exercise, meant processing more than 3,000 people for a simulated evacuation at a control center set up Wednesday through Friday at the North Gym, the base's operations officer, Maj. Paul Cordes, told Stars and Stripe by phone Thursday.
Active Shield is an annual test of the base defense plan.
Past evacuation exercises were voluntary. Not so this time, Cordes said.
"In the event of a natural disaster or external military threat, one of the very first things we are going to do is evacuate our non-emergency essential personnel to a safe haven," he said.
"We owe it to those folks who are non-emergency essential personnel, as well as their sponsor families. We owe them an evacuation program that is thoughtfully developed and soundly executed, and this practice helps us to do exactly that."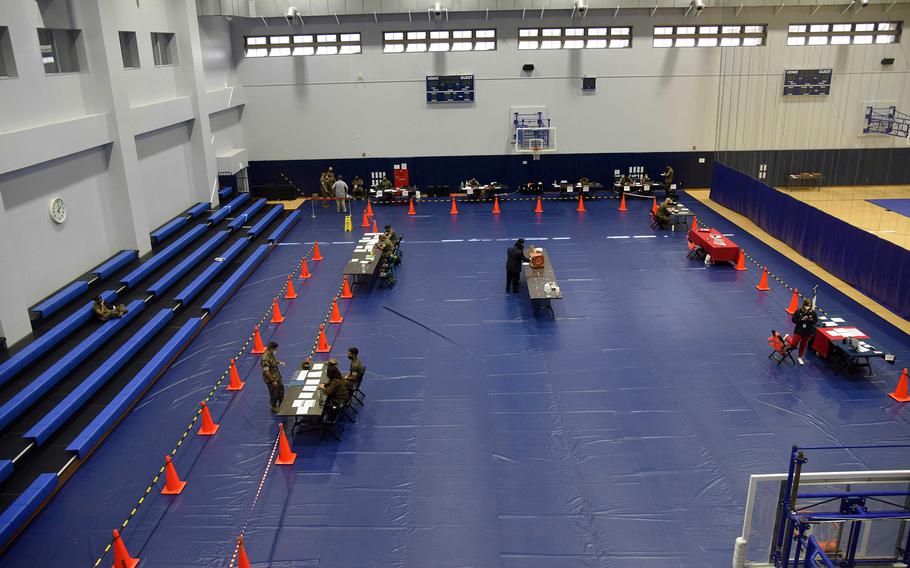 The last mass evacuation of U.S. personnel in Japan took place following the March 2011 Tohoku earthquake and tsunami that struck northern Japan.
More than 9,000 Americans, many of them dependents of service members and government employees, left voluntarily over fears of radiation released from the severely damaged Fukushima Dai-ichi nuclear power plant.
MCAS Iwakuni was not officially part of that evacuation.
However, in a military scenario — a clash with China, for example — the base could be at risk, and moving noncombatants out of harm's way could be a priority.
Cordes said the exercise aims to provide active-duty service members and emergency essential personnel the peace of mind of knowing that the base is looking out for their families. Having that peace of mind will help them to effectively do their job, he said.
"We are preparing our personnel to become familiar with the program and the process with all the paperwork so they can flow right through the evacuation control center," Cordes said, "and we are also getting all those duty standards, volunteers and essential workers at the evacuation control center the experience of processing those personnel on game day. If that would come, it would be a smooth process."
To help prepare families for the exercise, the base held briefings at the base theater throughout September and October to answer questions and fill out paperwork.
During the exercise, the "evacuees" didn't have to bring their pets with them, but they were expected to bring kennels, five-day supply of food and records to check-in with the veterinarian treatment facility, Cordes said.
Blocks of 25 families are assigned an emergency evacuation warden whose job is accounting for those people and ensuring they participate in the drill, he said.
Staff Sgt. Jessika Braden and her family – husband, Michael, and their 3-year-old son – showed up for Thursday's exercise.
"I think it's a lengthy process but it's a necessary process," she told Stars and Stripes at the control center. "Making sure all the boxes are checked is important for my dependents' comfortability when they go through this process.
"I think this is good to have," she added. "You can never prepare too much when a disaster or an emergency happens."