Okinawa Marines coordinate air, surface strikes with a Navy aircraft carrier for first time
by
Matthew M. Burke
Stars and Stripes
October 1, 2021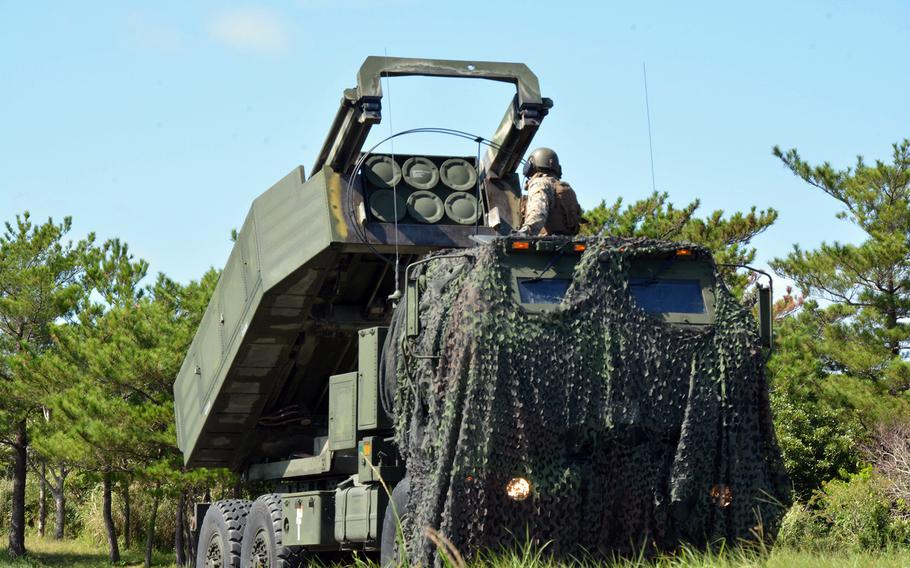 CENTRAL TRAINING AREA, Okinawa – The Marine Corps has taken a big step in developing the commandant's island-fighting doctrine by coordinating simulated air and surface strikes with sailors aboard an aircraft carrier.
Exercise Noble Jaguar began Sept. 28 and involved approximately 60 Marines from the 3rd Marine Division, 12th Marine Regiment, rocket crews from 3rd Battalion, 12th Marines, and the 1st Marine Aircraft Wing, regiment operations officer Lt. Col. Joshua Montero told Stars and Stripes at Camp Hansen on Thursday.
For the first time, Navy planners and intelligence officers from the USS Carl Vinson joined the staff at 3rd Marine Division headquarters for the exercise. Meanwhile, the nearby carrier's crew took part in the communications exercise alongside other units of the 7th Fleet.
"We'll have a Navy or Marine aircraft up in the air, find a target, communicate that, sometimes through the Navy, sometimes through the Air Force," Montero said. "And then eventually at our level, we'll have all of the missiles come on to the same [target], so we're combining those strikes together."
"In my opinion, that's varsity level stuff. It's not easy to do and the only way you can get after it is to practice, and that's what we're doing right now."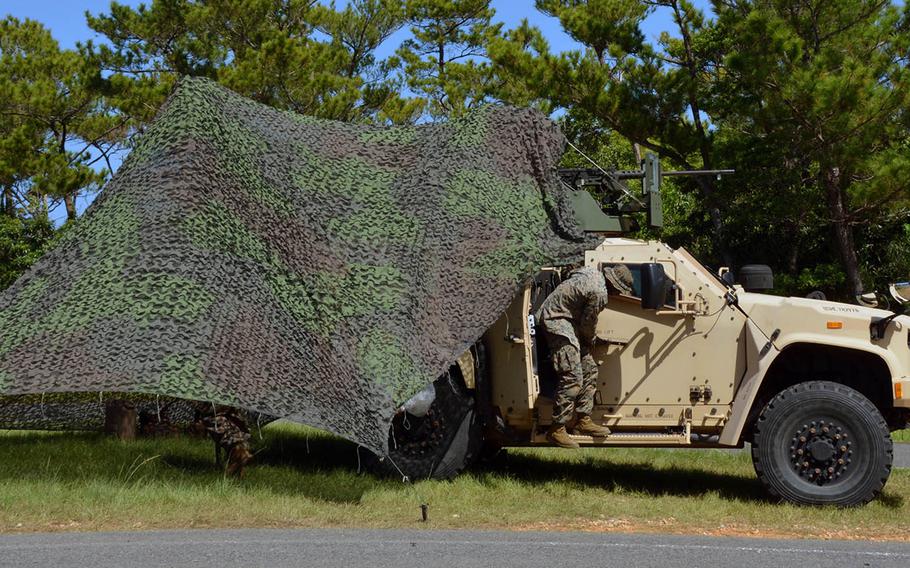 Certain Marine and Navy communication systems are compatible, while others are not, Montero said. Developing the "patches," or establishing connections prior to any engagement, is key to readiness.
"The main focus of this is communication; how are we talking to each other and how can we do workarounds when we run into some issues," he said.
The exercise, which was slated to end Friday, began with the loading and offloading of two M142 High Mobility Artillery Rocket Systems, or HIMARS, from the expeditionary fast transport ship USNS Brunswick, Capt. Nathanael Wasik, the HIMARS platoon commander, said Thursday.
The platoon headed into the Central Training Area and set up a concealed fire direction center under camouflage netting to coordinate strikes against air, land and sea targets.
Marines dispersed to make themselves difficult to target. They had to sustain themselves for several days with a limited amount of food, water and fuel.
All of this was part of the Corps' new island-fighting doctrine, known as expeditionary advanced base operations, Wasik said.
Commandant Gen. David Berger introduced the doctrine in July 2019. It calls for Marines to move inside the range of an adversary's "long-range precision fires" and establish difficult-to-target forward bases.
This doctrine translates to seizing and holding territory, supporting naval units at sea, refueling, rearming and relaunching aircraft and denying sea lanes to the adversary.
The III Marine Expeditionary Force on Okinawa has been developing each phase of expeditionary advanced base operations, month by month, with each exercise, Marine officials told Stars and Stripes previously.
Typically, a fire mission comes into the direction center from higher headquarters, Wasik said. His operations chief and fire direction officer process the information and then task out the launchers.
The radio crackled Thursday morning with a fire mission.
Minutes later, a HIMARS barreled down one of the training area's paved roads. It came to a sudden stop next to a concealed joint light tactical vehicle. A motor hummed as the rocket tubes rose off the bed.
Moments later, the tubes came back down, and the truck barreled back down the street to hide again. No rockets were fired in this simulation.
"There's always going to be some troubles that we have to work through with communications," Wasik said. "However, our guys have done a really good job troubleshooting."
Operations chief Sgt. William Botelho said the platoon encountered no insurmountable problems during the exercise.
"We shoot; we move; we can't be detected and just use the terrain and our surrounding area to hide us to the best of our ability," he said. "There's always a way to work around whatever challenge you're presented with and to accomplish the mission."