Marine Raider to receive Navy Cross for heroism during gunbattle in ISIS cave complex
by
Chad Garland
Stars and Stripes
August 12, 2021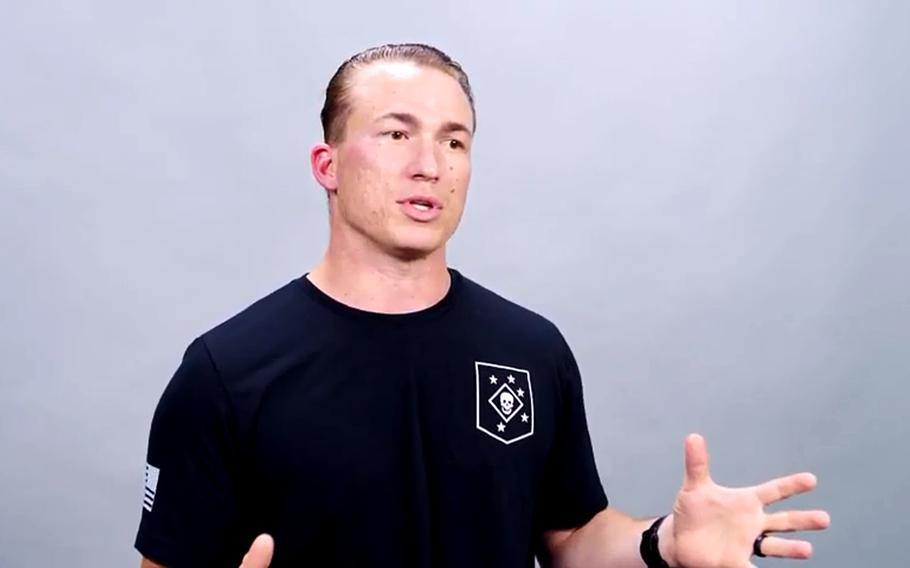 A Marine Raider will receive the Navy Cross later this month for his heroism during a deadly daytime operation last year to clear Islamic State group positions in mountain caves in northern Iraq and in an ensuing five-hour firefight, the Marine Corps said.
Marine Corps Commandant Gen. David Berger is slated to present the medal to Staff Sgt. Nicholas J. Jones, a critical skills operator with 2nd Marine Raider Battalion at Camp Lejeune, N.C., during a ceremony Aug. 26, Marine Forces Special Operations Command said in a statement Wednesday.
Citing Jones' "decisive actions, bold initiative, and unconquerable spirit," the command said he'll become the eighth service member in its 15-year history to earn the valor award, second only to the Medal of Honor. 
A native of Olathe, Kan., Jones was an element leader accompanying Iraqi security forces on the mission to clear the cave complex March 8, 2020, when several entrenched enemy fighters "unleashed a heavy volume of fire on an adjacent element," the statement said.
"Hell just opens up behind me," Jones said in a video last month for a Montana-based nonprofit he recently founded called Talons Reach Foundation. "Chaos. And then the next second there's an 'Eagle' (American special operator) down."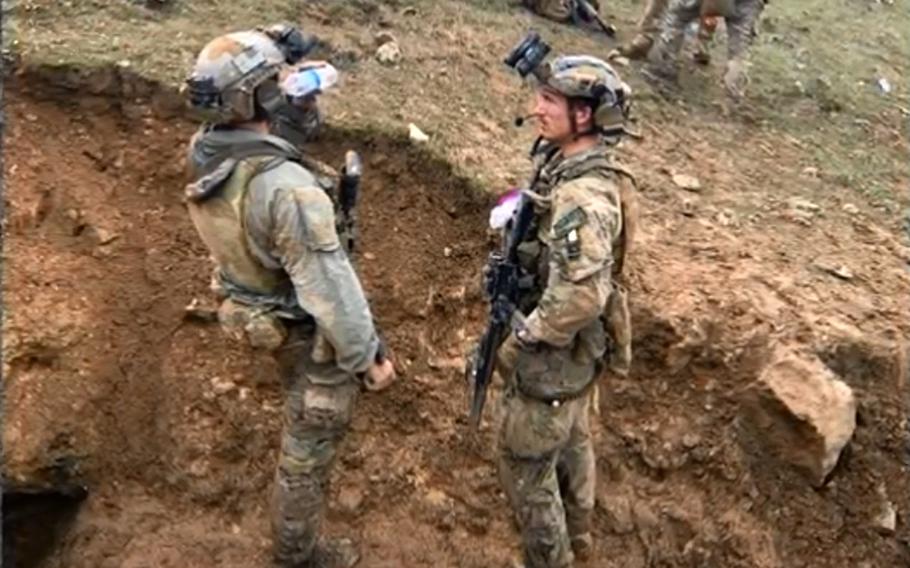 The barrage immediately wounded a French special operator, then two Marine Raiders, the MARSOC statement said. Jones mounted a counterattack and under sustained, accurate enemy fire at close range maneuvered to the French casualty, it said.
Jones didn't wait to hear the names of the fallen Marines before running to help recover the casualties, he said on the podcast Signal Fire Radio in May. He dropped his ruck and lowered himself blindly into a ravine, he said, then crawled to the opening of a cave, where he came under enemy machine gun fire.
Jones suppressed the enemy 20 meters away with rifle fire and grenades, while helping move the French casualty to cover and to a medical evacuation, MARSOC said. He then turned his attention to the two fallen Marines, braving enemy fire from the caves to fire his rifle and toss grenades to drive them back.
In the video, Jones said he ran up the mountainside above the cave and looked down to see the two fallen Marines.
"I just knew that they wouldn't have quit for me, so I'm not going to quit," he said.
While not mentioned in the statement, the date and operational details correspond with the deaths of Marine Raiders Gunnery Sgt. Diego D. Pongo, of Simi Valley, Calif., and Capt. Moises A. Navas, of Germantown, Md., both 34.
"With rounds impacting all around him, Jones continued to engage the enemy at close range until he was driven back by a heavy volume of accurate enemy fire," MARSOC said.
Jones himself was injured nearly five hours into the firefight when he led a third and final attack on the enemy positions. He was shot in the leg, but he refused medical treatment and pain medication while continuing to fight.
"It felt like I got smacked with a baseball bat right in my right shin," he said in the video.
He was eventually hoisted off the mountain and medically evacuated out of Iraq, he said on the podcast.
Jones is an 11-year veteran of the Marine Corps who graduated high school early in January 2010 to begin his career as an infantryman, the website for his nonprofit says. He served with 2nd Battalion, 5th Marine Regiment and deployed to Helmand province, Afghanistan.
He served as a mortarman with 2/5 Marines before joining the scout sniper platoon, his LinkedIn profile says. He was selected for MARSOC in 2013 and deployed twice to Iraq and once to Jordan, his nonprofit's site says. He planned to serve 20 years, but he was forced to medically retire due to complications from his injuries, he said in the podcast.
"I was crushed," he said. "It was such a good time with the boys. ... It makes you feel amazing to be around that community all the time."
He founded Talons Reach Foundation to continue serving the special operations community by providing tools and resources for those suffering from injuries, losses of brothers in arms, or from a lack of purpose after leaving the service.
The organization focuses on outdoor adventures, mindfulness and meditation activities, its website says. Their first event is planned for March 8, 2022, the second anniversary of the Iraq operation.