Coast Guard welcomes new commandant, marking the first time a woman has led a US armed service branch
By
Stars and Stripes
June 1, 2022
---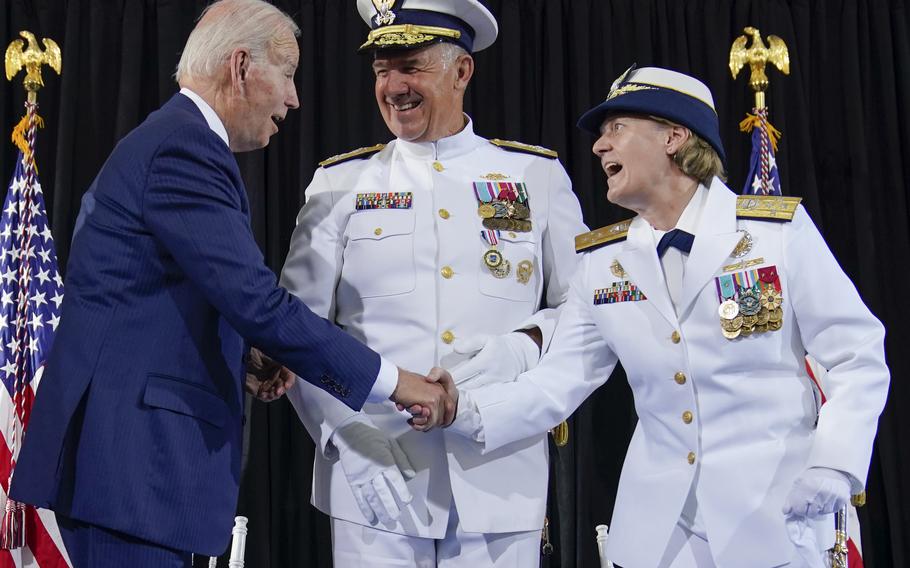 WASHINGTON — President Joe Biden on Wednesday presided over the Coast Guard's change-of-command ceremony that officially made Adm. Linda Fagan the first female officer in charge of an U.S. armed service branch.
"She will be the first woman to serve as commandant of the Coast Guard, the first woman [to lead] any branch to the United States armed forces, and it's about time," Biden said. "The secretary of defense, when he sent me the name, I said, 'What in the hell took you so long?'"
Fagan replaced Adm. Karl Schultz as commandant.
It's not the first time that Fagan has been the first woman to break a barrier in the military. Last year, she became the first female four-star admiral in the Coast Guard when Biden appointed her as the service's vice commandant.
The 1985 Coast Guard Academy graduate previously served as commander of the Coast Guard Pacific Area, overseeing all Coast Guard missions from the Rocky Mountains to the East Coast of Africa, according to the service.
Fagan is also the service's first-ever Gold Ancient Trident, which is the officer with the longest service record in the marine safety field, according to the Coast Guard.
"Today is about you," she told the Coast Guard members at the ceremony. "I'm honored and humbled to serve as your commandant. Thank you for your dedication, your hard work and your service. It's my greatest privilege to work on your behalf."
Fagan was 16 when she arrived at the Coast Guard Academy in 1981, just five years after the first women were allowed to attend the school, she said during the ceremony.
At the time, only 8% of the academy's students were women, Biden said. Now, women make up about 40% of the student body.
Schultz, who has served as Coast Guard commandant since 2018, will retire — nearly 40 years after he graduated from the Coast Guard Academy in 1983, he said during the ceremony.
Schultz oversaw the service through multiple challenges, including the busiest hurricane season on record, the coronavirus pandemic and increasing tensions with China over illegal fishing in the territorial waters of other Western Pacific nations.
He also led the force through a 35-day government shutdown in early 2019 that temporarily stopped paychecks for Coast Guard members, who fall under the Department of Homeland Security and thus are not protected from furloughs such as other military services in the Defense Department.
Biden said the Coast Guard will be called upon "more and more frequently" in the coming decade to "underwrite international maritime security, to keep sea lanes open and secure, to follow rules based international order [and] to protect the waters … through which nearly one quarter of the United States' [Gross Domestic Product] is transported."
The president said the Coast Guard will also be called upon "to manage the impact of climate change [with] more extreme weather and growing migration flows."
"As we look to the years and decades ahead, the Coast Guard is only going to play an increasingly prominent role in our homeland and national security challenges," Biden said. "The challenges we face continue to evolve, and the choices we make today are literally going to shape the direction of the world throughout the 21st century."
---
---
---
---