Acquisition of Apaches, other US materiel to make Poland formidable on NATO flank, envoy says
By
Stars and Stripes
September 22, 2022
---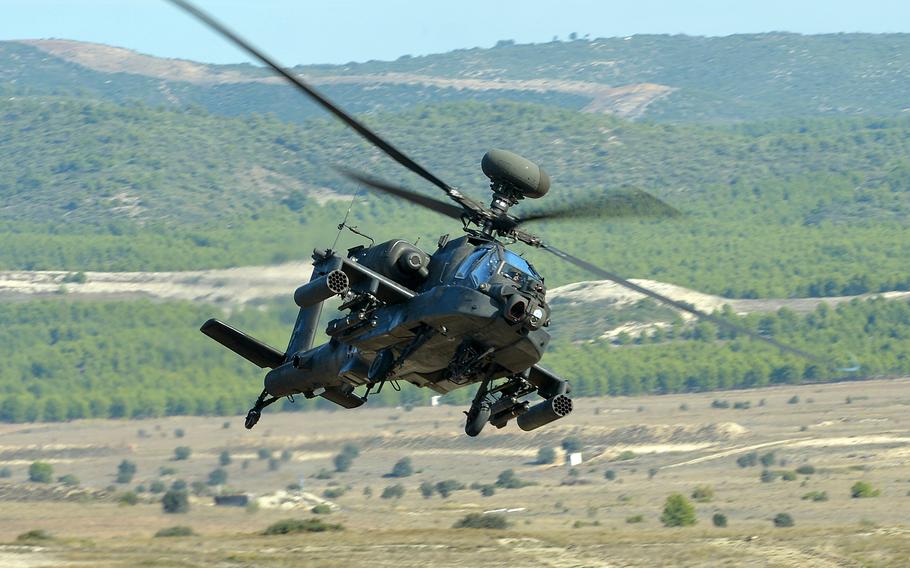 Poland's plans to acquire nearly a hundred "tank killer" Apache helicopters from the U.S. will be a difference-maker for NATO, a top American diplomat said this week in touting initiatives intended to bolster the alliance's crisis response plans.
"If Russian tanks threaten an inch of NATO territory, those Apache helicopters will stop them in their tracks," U.S. Ambassador to Poland Mark Brzezinski said in a speech highlighting Warsaw's role in defending NATO's eastern flank. "Apache helicopters are an armored vehicle's worst nightmare. They are tank killers."
Brzezinski's remarks come as Poland is taking steps to boost its defenses and standing in NATO's military pecking order. Recent acquisition efforts involve billions of dollars in U.S. military hardware.
Items it intends to add to its arsenal include M1A1 Abrams tanks, Patriot missiles, HIMARS and F-35 fighter planes. And earlier this month, Poland said it will purchase 96 Apache helicopters from the U.S.
"These helicopters work well with Abrams tanks," Deputy Prime Minister Mariusz Blaszczak said in a statement after talks at Ramstein Air Base in Germany on Sept. 8. "Together they are a tremendous force."
Brzezinski echoed those comments, saying the equipment will ensure that American and Polish soldiers can "work as one."
Given Poland's location bordering both Ukraine and Russia's military exclave of Kaliningrad, the country has become a center of gravity for the U.S.-led NATO alliance.
Since Russia's initial armed takeover of Ukrainian territory in 2014, U.S. troops have been a mainstay in Poland on a rotational basis. Now, the Army is putting down more permanent roots.
During NATO's June summit in Madrid, President Joe Biden said a base in Poznan would become the first permanent U.S. garrison in central and Eastern Europe. The location serves as the headquarters for the Army's V Corps, which oversees land force movements in Europe.
"This is permanent. It's a historic, tectonic shift," Brzezinski said of the Poznan base.
Meanwhile, more than 100 joint military infrastructure projects are underway that will support U.S. troop rotations, provide additional training locations and allow NATO forces to flow into Poland in the event of a crisis, he said.
---
---
---
---