Army's top enlisted leaders meet in Texas to discuss prevention efforts for suicide, sexual assault
By
Stars and Stripes
June 27, 2022
---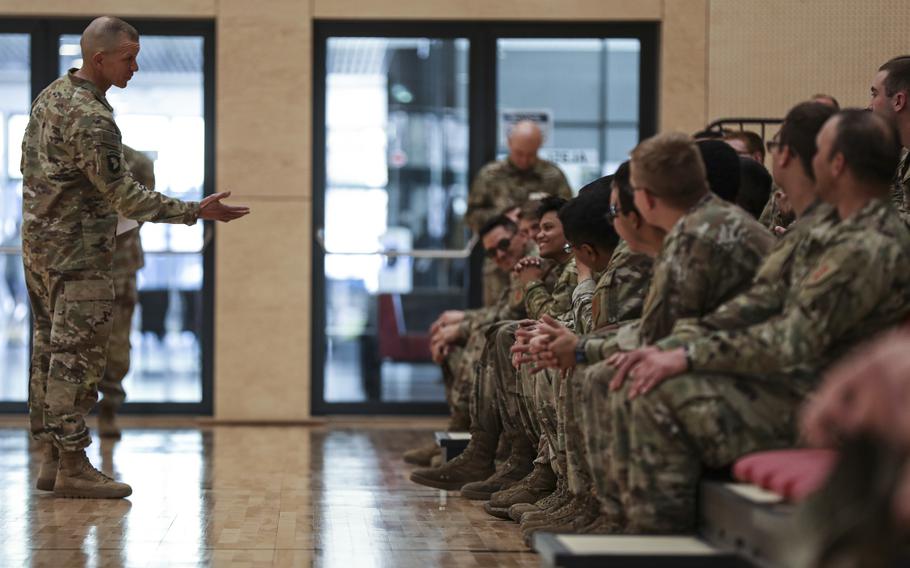 About 150 of the Army's top enlisted leaders will gather in El Paso, Texas, this week for an annual in-person summit to discuss quick-action, low-cost solutions to eliminate suicide and sexual assault among the ranks.
After three days of brainstorming, discussions and guest speakers, the goal is for each sergeant major to come away with actionable solutions, said Sgt. Maj. Osvaldo Martinez of the Army's People First Task Force and coordinator of the summit.
"The goal of the meeting is to really operationalize how we're going to eliminate the harmful behaviors that we find ourselves working through every single day in the Army," he said.
The summit is hosted by Sgt. Maj. of the Army Michael Grinston and builds upon monthly virtual meetings that offer updates on success and failures for each solution.
"[Grinston] is about putting ownership on senior mission command sergeants major," Martinez said. "This meeting allows for collaborations between all those senior mission command sergeants major to really collaborate, learn from one another and put things into practice pretty easily. We don't need months of studies and data and all these things that sometimes slow things down. The issue is today, and how do we fix it today?"
The Army has long been looking for ways to protect soldiers from sexual assault and harassment and suicide as statistics have remained the same or increased in recent years.
The fiscal 2020 report on sexual assault in the Army — the most recent statistics available — stated 3,250 reports were filed that year, or about 5.5 per 1,000 soldiers. That rate has increased during the previous decade from 2.4 per 1,000 soldiers and has not changed since 2018, according to the report.
Another recent Defense Department report stated the active-duty Army had 176 soldiers die by suicide in 2021. That's a 35% increase in five years, according to the report.
However, Martinez said the Army has seen 29% fewer suicide deaths than it had at this time last year.
Through these monthly and annual summits, Fort Stewart in Georgia developed a program to empower young, enlisted soldiers to help curb sexual assault and harassment and discrimination among their peers, he said. After one year of anecdotal success, Fort Campbell, Ky., is considering adopting the program.
Known at Fort Stewart as Marne Guardian, the program was built out of an awareness that not all sexual assault and harassment or equal opportunity training was truly reaching the youngest troops in the 3rd Infantry Division, said Robert Lewis, Fort Stewart's program manager for the Sexual Harassment/Assault Response and Prevention program, known as SHARP.
Each company-level unit selects at least one soldier, usually a private first class or specialist, to attend 40 hours of training, which equips the junior soldiers with the skills to identify, prevent and intervene when the person sees some of these negative behaviors. This soldier then serves as a resource and support for the surrounding soldiers.
"The recurring theme of the whole program is how do we intervene in a positive way," Lewis said.
The only cost to the Army is excusing the soldier from daily duties to participate in the week of training, he said. While it's difficult to correlate a clear line of success, he said the anecdotes that come from Marne Guardian participants during monthly meetings has shown there's been positive impact.
In one instance, a soldier who went through the training, referred to as a guardian, was able to identify a fellow soldier in the barracks who was exhibiting hopeless, helpless behavior associated with suicide. The guardian got that soldier to the emergency room and stayed as the soldier received services.
Another guardian said their unit's motor pool often had conversations going on that were vaguely inappropriate. They were able to shift the dynamic and reported to Lewis that the atmosphere is now more professional and fun, and soldiers no longer fear being picked on.
Finding successes such as Marne Guardian and expanding them to other bases is a big part next week's summit, Martinez said. Understanding when something isn't working, and moving on is equally as important, he said. They give ideas about 90 days to determine if it should continue.
All the work in the summit complements the mission of Martinez's main job with the Army with the People First Task Force, which was created to implement the findings and recommendations from an outside civilian commission that reviewed the conditions at Fort Hood, Texas, after a soldier was killed by another soldier in April 2020.
Known as the Fort Hood Independent Review Commission, its report released in December 2020 called for significant Army-wide changes including an overhaul of criminal investigations and the SHARP program. The People First Task Force is focused on those larger policy and procedure changes while the summit empowers bases and influential noncommissioned officers to make changes within their section of the Army.
Of the commission's 70 recommendations, 31 have been implemented Army-wide as of November, according to the Army.
The summit calls for leaders to ask, "What can I do at the local level while I wait for the big Army to finish the program as a whole," Martinez said.
Each year, the in-person summit focuses in on specific areas to improve. This year, it will address leader engagement, mentorship, leader development and alcohol culture. In advance of the summit, Grinston's office asked for feedback from soldiers on the topics through an online forum on the website Reddit.
Many of the comments from troops returned to the idea of predicable schedules, time management and showing soldiers that they are valued by respecting a work-life balance.
"We are getting after it and teaching young soldiers through leader development of how to really use time management … so they can give predictability to their soldiers," Martinez said. "We acknowledge that with a lack of predictability for soldiers, it brings stress when they don't know what's going on. It makes having a home life extremely difficult, because you can't give family a time that you're going to come home."
---
---
---
---