Water problems resolved at Fort Bliss hospital
By
Stars and Stripes
May 9, 2022
---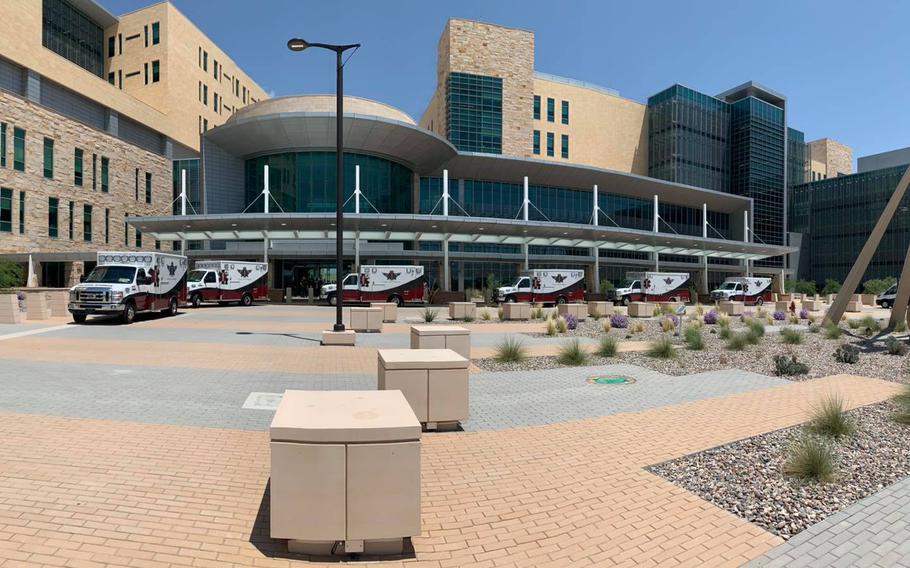 One month after the commander of the Fort Bliss medical center halted use of the facility's water because of an internal plumbing issue, the hospital's water has been deemed safe and an advisory was lifted, according to officials at the Army base in west Texas.
Col. Brett Venable, commander of the William Beaumont Army Medical Center, lifted the water advisory Friday and said he will continue to monitor test results to confirm the water quality remains within safety standards for drinking. On April 6, he declared the hospital water was not safe for drinking and sterile procedures "out of an abundance of caution."
"At William Beaumont, we always put the safety of our patients and staff first," Venable said in a statement. "We appreciate everyone's patience and understanding while the water advisory was in effect."
After several agencies spent days investigating why the hospital's water had sediment and was discolored, officials determined a valve failure on the hospital's water softener system introduced brine, or salty water, into the main system, according to Fort Bliss. This caused "limited pipe corrosion," which led to sediment in the water and discolored it.
The Defense Health Agency said it is assessing the conditions that led to this problem at a hospital that is less than a year into operations.
The base began transitioning into the $1.3 billion facility in July after the construction project faced major delays and increased costs, according to news reports. The complex includes 1.3 million square feet located within a seven-story main hospital and five support buildings, according to hospital officials.
It is a trauma center and accepts civilian and military patients. It offers labor and delivery services, inpatient mental health services, dental services and a variety of specialty care programs.
"The DHA is reviewing organizational processes for compliance, process improvement, and for portfolio wide implications. After operations return to normal, the DHA leaders and experts will review all the facts for relevant lessons learned or further actions," said Peter Graves, a spokesman for the agency.
The hospital stopped performing surgeries for about 12 days as its staff, along with medical and engineer experts from the Defense Health Agency, the Army Corps of Engineers and the Army Public Health Center developed a workaround using a bulk water system and bottled water while teams worked to repair the water softener system. The hospital now has a "long-term maintenance plan to monitor the quality of the water," Fort Bliss said.
---
---
---
---