Fort Bliss hospital on limited operations after water supply declared unsafe
By
Stars and Stripes
April 8, 2022
---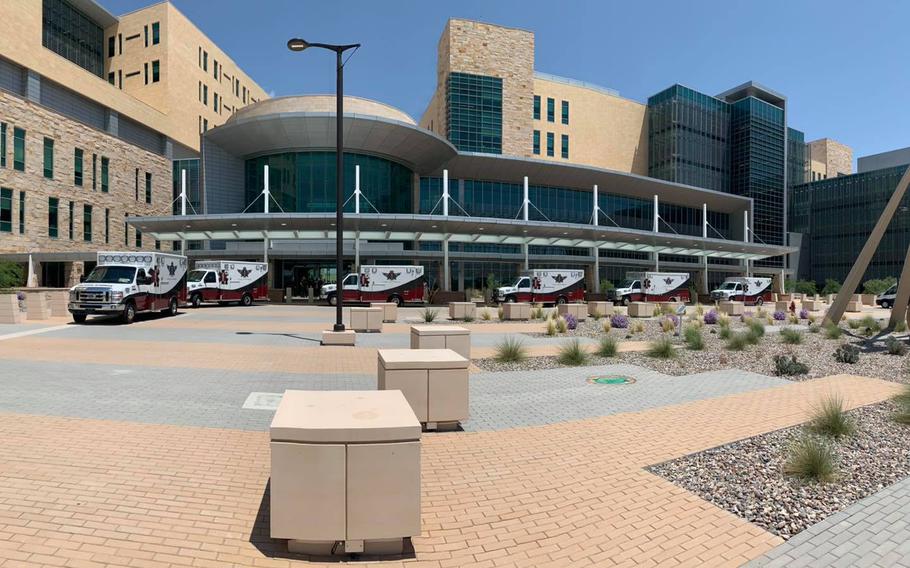 The hospital at Fort Bliss was on limited operations Thursday after plumbing problems allowed sediment into the facility's water supply, discoloring it and making it unsafe to use, according to officials at the west Texas base.
An environmental team at the base's William Beaumont Army Medical Center tested the water within the hospital facility and confirmed there are no pathogenic or biological concerns, according to officials. However, Col. Brett Venable, the hospital commander, declared the water not safe for drinking and sterile procedures "out of an abundance of caution."
The hospital, which opened nine months ago, is continuing with limited operations and began diverting trauma cases to other hospitals within the El Paso region, according to Fort Bliss. Officials postponed scheduled elective surgeries and they are sterilizing all equipment in a separate off-site facility. Patients and staff are receiving bottled water.
Staff members on March 25 reported one department at the hospital identified debris in its water, according to Fort Bliss. At the time, tests indicated the problem was contained to that department.
But on April 6, hospital staff identified evidence of discoloration and sediment in water in other departments, the base said.
"After multiple tests of the external water supply feeding the hospital, the Fort Bliss Department of Public Works confirmed that water coming from the city of El Paso is not at issue. Hospital officials suspect the root cause of the discoloration and sediment lies within the hospital's internal plumbing," Fort Bliss said.
Hospital officials are working with the Defense Health Agency, Army Installation Management Command, Army Medical Command and the Army Corps of Engineers to identify and correct the root cause of the water problem.
"We will continue to keep the community informed as the situation develops," Fort Bliss said.
The base began transitioning into the roughly $1.3 billion facility in July after the construction project faced major delays and increased costs, according to news reports. The complex includes 1.3 million square feet located within a seven-story main hospital and five support buildings, according to the hospital.
It is a level II trauma center and sees civilian and military patients. It also offers labor and delivery, inpatient mental health services, dental and a variety of specialty care programs.
Fort Bliss is home to about 25,000 active-duty soldiers and its largest unit is the 1st Armored Division.
Thayer.rose@stripes.com
Twitter: @Rose_Lori
---
---
---
---