Soldier-moms drive change in Army policies on parenthood, pregnancy and postpartum
By
Stars and Stripes
April 21, 2022
---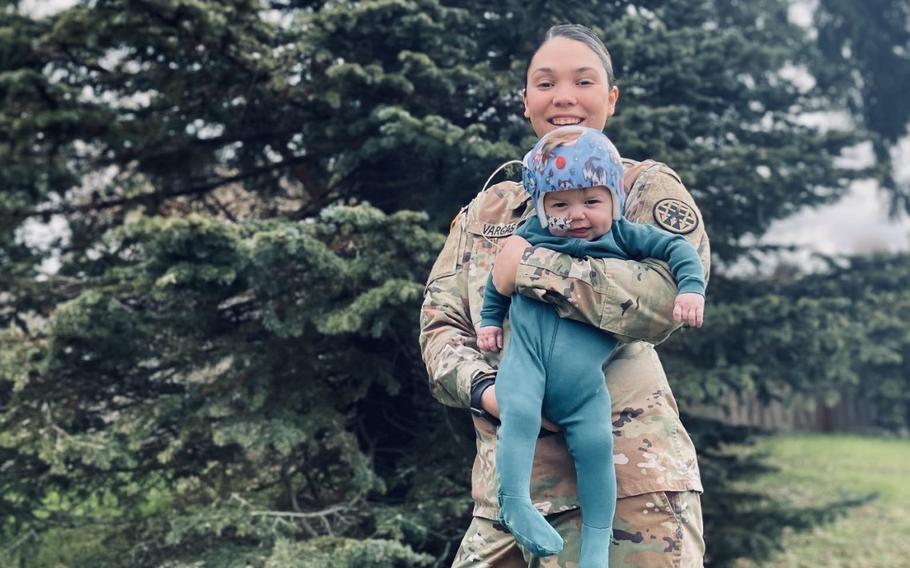 Staff Sgt. Nicole Pierce said being a mother of two has seeped into her nine-year Army career, hindering her advancement and adding stress to difficult circumstances.
In 2019, she had a spot at the service's Advanced Leader Course to help her move ahead in the noncommissioned officer ranks. But she became pregnant and Army policy forced her to defer attendance. Then it happened again.
It took Pierce two years to get another opportunity. Meanwhile, she said she watched her peers advance their military careers.
The experience, along with others, led Pierce to begin networking with other moms in the Army through social media. About a year ago, she and another mother, Maj. Sam Winkler, presented service leaders with a report on how to improve the experience of raising children while serving in the Army.
"We got changes because we came to the table with real solutions," Winkler said.
Their efforts paid off. Army Secretary Christine Wormuth approved 12 policy changes in an omnibus directive this week targeting the issues that parents have for years said constrict the ability to serve and succeed in the Army and be a parent. The service made the 23-page directive public on Thursday and its contents go into effect immediately.
Winkler and Pierce served on a working group during the past year to help guide the policy changes and spoke to reporters about the work Thursday alongside Army personnel leaders.
"Parenthood is normal. It's a part of life," Pierce said. "I can sleep better at night knowing that other moms will not have to go through the same things that I had to go through."
The policy changes include allowing pregnant soldiers to attend professional military education courses, location stabilization during fertility treatments, leave after the loss of a pregnancy, and the parameters around physical fitness, training deferments and breastfeeding accommodations. It intentionally uses gender neutral language to emphasize the importance of supporting soldiers who are pregnant, soldiers who are non-childbearing parents, and soldiers who become parents through adoption or long-term foster care. The directive also includes National Guard and Reserve troops.
Adding convalescent leave was another policy dear to Pierce's heart because of her own experience in 2016 when she was only afforded two days to recover from a surgical procedure after a miscarriage and grieve the loss of her baby.
"I just lost my child. My whole life just changed before my eyes," she said. "I actually ended up taking two weeks of chargeable leave to be able to process and mourn the loss of my family and the future that I thought I was going to have."
The Army's new policy affords both parents leave after pregnancy loss, which varies in length based on the gestational age of the child.
"I can sleep better at night knowing that other moms will not have to go through the same things that I had to go through," Pierce said.
Sgt. Maj. Mark Clark Jr., the lead noncommissioned officer of the Army's personnel office, known as the G-1, helped on the directive, and said he had an experience similar to Pierce's early in his career. He lost his son at just 7 days old.
"I didn't have enough actual leave days to actually take the time off to not only figure out how a [private first class] who was not financially secure to bury my child and ship him back home, but to also be there to comfort my significant other and get the emotional counseling that we both needed during that timeframe," Clark said.
Throughout his career, the father of three said it was understanding leaders and commanders who made it possible for him to continue to his current level, particularly when he contemplated leaving the Army to focus on family.
"If you put that into context and think about it, that captain and that first sergeant at the time didn't realize that they retained the future Army G-1 sergeant major of the Army. So as we look at what this policy creates for us, we are possibly retaining the next future chief of staff of the Army or the next sergeant major in the Army through critical changes like this," Clark said.
In the postpartum policy changes, parents can defer operational training, deployment, field time and temporary duty during the first year of their child's life to make certain that one parent is always able to stay with the child. Breastfeeding soldiers are also able to defer attending training or events where the unit cannot accommodate those needs. Body composition and fitness standards are also deferred for a year.
All changes go into effect immediately, said Amy Kramer, special assistant to the undersecretary of the Army, meaning parents in situations that the directive addresses can take advantage of it.
The final element of the directive is educating leaders. Brigade commanders are required to publish a policy letter on the directive to get the word down to units and soldiers and begin to shift the culture on supporting parents.
"0.6% of the Army is pregnant at any one given time, but for the 100,000 women in uniform for the 400,000 parents in the Army, at some point in their careers, they will be affected by one or more of the policies in this directive," Kramer said. "That's the long-term investment in readiness."
---
---
---
---