Grueling winter warfare exercise in Italian mountains provides chill thrill for US Army paratroopers
By
Stars and Stripes
March 8, 2022
---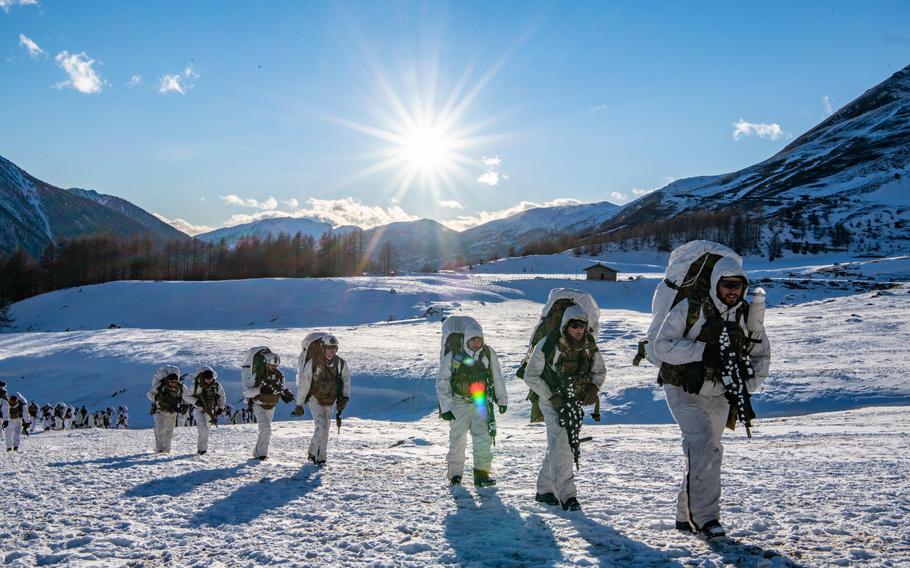 VICENZA, Italy — Not all paratroopers with the U.S. Army's 2nd Battalion, 503rd Infantry Regiment deployed to Latvia last month in response to Russia's invasion of Ukraine.
Some went skiing in Italy's rugged Dolomite Mountains. But it was no vacation.
Scores of battalion scouts, the most physically fit of an already fit brigade, spent weeks under the tutelage of Italian Alpine, the Italian army's specialist mountain infantry famed for their winter warfare skills.
Alongside Italian and French troops in an exercise called Steel Blizzard, the scouts learned winter combat techniques, such as skiing uphill, shooting on skis and avalanche rescue. They humped across cold, unforgiving terrain for miles, fought simulated battles, then slept in the snow.
"I think it was one of the most beautiful environments I've ever been in," said 1st Lt. Jack Hanley, one of 46 paratroopers who participated in the training, which started in January and concluded Friday.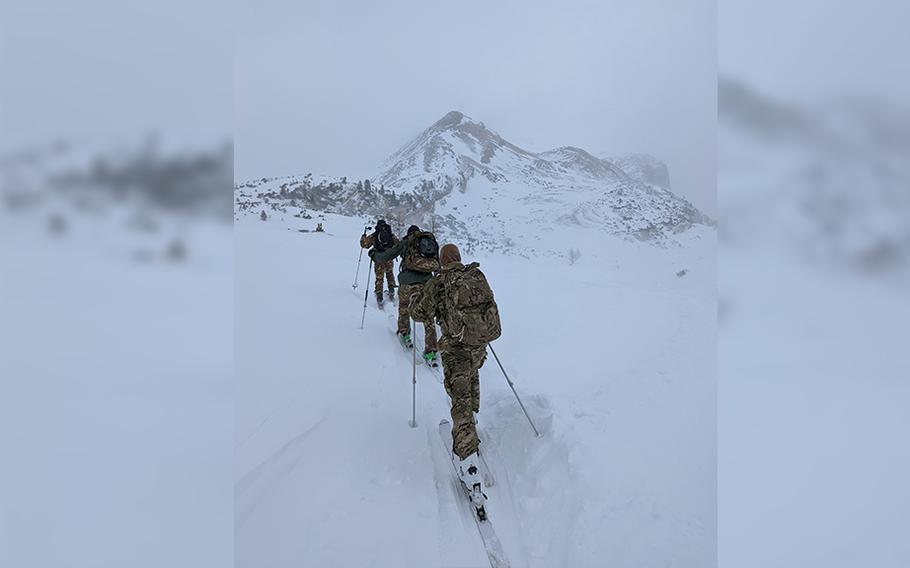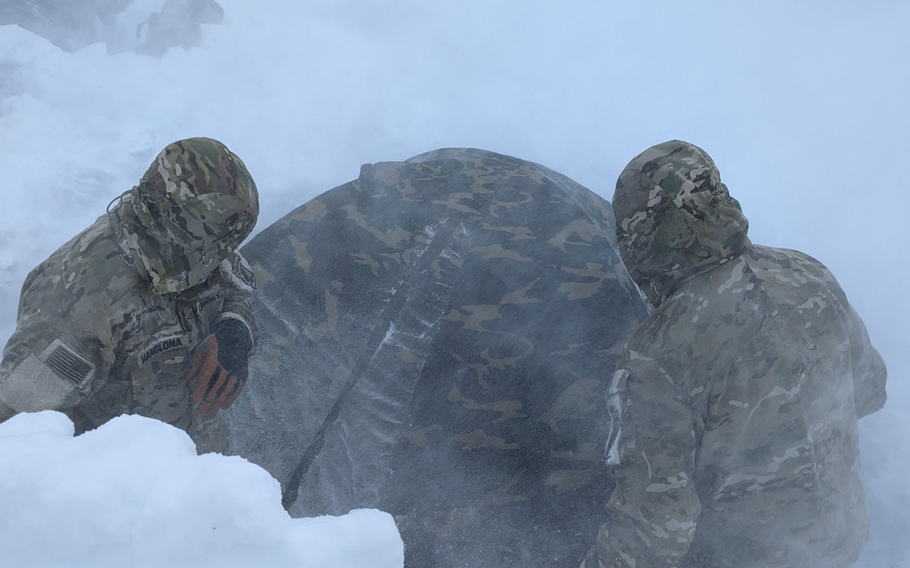 "It was a great opportunity for the guys to be out on the mountain, learning skills that translate to their jobs, conquering difficult slopes as well as climbing mountains on skis," Hanley said in a recent phone interview.
Only six of the scouts had ever previously been on skis, Hanley said.
"But by the end of the third week, 99% of us qualified for the advanced Italian ski course," he said.
In recreational terms, that means they could successfully navigate a black diamond run.
As the training progressed, the recreational aspect gave way to hard work. On one overnight movement, they skied for 8 miles cross-country, and, with gripping "skins" on the bottom of their hybrid skis, up the mountain.
They slept in tents that night. On another night, they slept "tactically" a few hours at a time outside without tents, Hanley said, adding that the temperature got down to minus 10 degrees Fahrenheit.
Steel Blizzard is conducted in the Dolomites and a forest west of Turin every few years. Brigade troops train with Italian and French service members under NATO auspices.
"It turns into essentially a war game," said the 173rd's Staff Sgt. John Yountz.
The training is all in English, even when Italians are speaking to each other, Hanley said.
Steel Blizzard's concluding three days grew more intense. Ospreys and Italian helicopters inserted the troops on a mountain at an elevation of 8,200 feet.
"The first day, we moved approximately 9 kilometers (5.4 miles) on foot with snowshoes uphill" in waist-deep snow, Hanley said.
The troops did reconnaissance on opposition force Stinger systems, electronic warfare assets and artillery. They also attacked with air support provided by an Italian Eurofighter Typhoon jet.
Winter warfare was waged on a significant scale in World War I and World War II, and training for it continued during the Cold War as preparation for a potential conflict with the Soviet Union.
In addition to U.S. troops training with NATO allies, the Fort Drum, N.Y.-based 10th Mountain Division and Alaska-based units continue to specialize in mountain warfare.
---
---
---
---