Senate confirms Kurilla to lead US Central Command
By
Stars and Stripes
February 22, 2022
---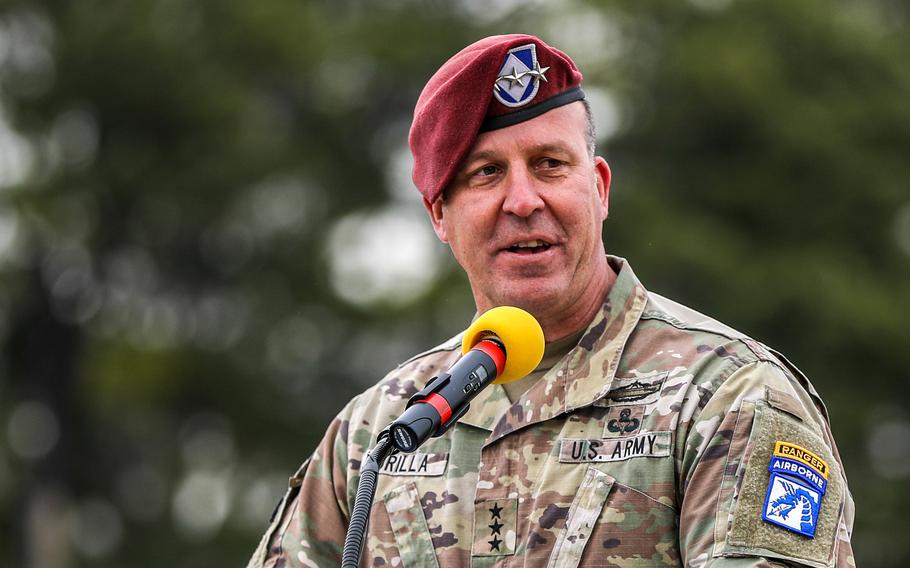 Army Lt. Gen. Michael "Erik" Kurilla will take responsibility for all U.S. military operations in the Middle East and neighboring nations in the coming weeks.
The Senate on Thursday voted unanimously to confirm Kurilla's nomination to lead U.S. Central Command and be promoted to a four-star general. He will soon replace Marine Gen. Kenneth McKenzie, who has commanded CENTCOM since 2019, according to the Pentagon. McKenzie is scheduled to retire in April.
Kurilla, who now commands the Army's 18th Airborne Corps, is a 1988 U.S. Military Academy at West Point graduate whose storied career has seen him lead special operations and conventional forces in Panama, Iraq and Afghanistan. He has commanded the 82nd Airborne Division, the elite 75th Ranger Regiment and its 2nd Battalion, and he has also served as the assistant commander of the Joint Special Operations Command and as the Pentagon's deputy director for special operations and counterterrorism.
In a widely documented incident in Mosul, Iraq, in 2005, Kurilla, who commanded the 25 Infantry Division's 1st Battalion, 24th Infantry at the time, was shot multiple times in a close-quarters battle, but he continued fighting and commanding his troops. That incident led to one of Kurilla's two Purple Hearts and a Bronze Star Medal with "V" device for valor, according to the Army.
He will take over a CENTCOM in transition, after the U.S. military last year withdrew all its forces from Afghanistan and ended its official combat mission in Iraq. Nonetheless, some 2,500 American troops remain in Iraq to train that nation's forces in their ongoing fight with the remnants of the Islamic State group. Another roughly 1,000 U.S. forces remain in Syria, where they primarily work with local forces battling ISIS terrorists there.
Despite the U.S. shifting focus away from the long-running wars in the Middle East and Afghanistan toward major power competition — namely with Russia and China — Kurilla, 55, warned this month that the region will remain critical for U.S. national security. He cited Iran's continued negative influence throughout the region — supporting bad actors including militia groups in Iraq and Syria that regularly target U.S. troops with rocket fire and Houthi militants in Yemen who sparked a civil war there and have fired missiles into Saudi Arabia and the United Arab Emirates.
Kurilla also warned nine of 10 of the world's most dangerous terrorist groups including ISIS and al-Qaida remain active in the region and intent on attacking Americans. He added Russia and China have made their own inroads in the CENTCOM region, where they have sought to gain influence in recent years.
"All of these ill trends are accelerated by water scarcity and food insecurity" across the region, Kurilla told senators during his Feb. 8 confirmation hearing. "China has significantly increased its investment and influence in the region and Russia acts as a spoiler. If confirmed as the CENTCOM commander, I will protect American interest in the region with these challenges in mind."
Despite the Pentagon's recent focus shifts, McKenzie's tenure at CENTCOM remained busy. He oversaw the chaotic U.S. military withdrawal from Afghanistan last year and has led the ongoing operations against ISIS militants, including two special operations raids — one in 2019 and a second this month — that killed the terrorist group's top leaders. He also oversaw the January 2020 drone strike in Baghdad that killed Iranian top general Qasem Soleimani amid heightening tensions between the United States and Iran. Tehran retaliated with a ballistic missile attack on an Iraqi base housing American troops, which did not kill any Americans but resulted in more than 100 traumatic brain injuries among the U.S. forces there.
Kurilla is deployed now to Germany where he is leading a task force of U.S. troops bolstering NATO ally defenses amid worsening tensions between the alliance and Russia over Moscow threats against Ukraine.
Pentagon officials declined to comment Tuesday what impact the volatile situation in Europe would have on Kurilla's status. The Senate on Thursday also confirmed Kurilla's replacement to take over command of the 18th Airborne Corps.
Army Maj. Gen. Christopher Donahue will be promoted to lieutenant general and take the Corps' reins from Kurilla. Donahue, who is now the commander of the 82nd Airborne Division, is also deployed to Europe in response to the Ukraine crisis. Donahue was the last American service member to leave Afghanistan, according to the Pentagon.
---
---
---
---