House lawmaker seeks to rename Fort Benning in honor of soldier who received Medal of Honor
By
Stars and Stripes
February 2, 2022
---
WASHINGTON — Rep. Stephanie Murphy, a Democrat from Florida who worked to secure the Medal of Honor for Sgt. 1st Class Alwyn Cashe, wants Fort Benning, Ga., to be renamed in his honor.
Murphy sent a letter Wednesday to the congressional commission tasked with renaming military bases that now honor Confederate generals from the Civil War. She urged the commission to name the base after Cashe, who served as a drill sergeant and later a platoon sergeant at Fort Benning.
"Cashe is a legend in military circles, beloved in life and revered in death, a hero in the purest sense of the term," Murphy wrote to the Naming Commission. "I believe he would be an honorable and unifying choice and hope you will consider recommending him in your report to Congress."
President Joe Biden awarded the Medal of Honor posthumously to Cashe in December. He became the first Black recipient of the Medal of Honor for actions in the recent wars in Iraq and Afghanistan.
Lawmakers, family members and fellow soldiers of Cashe petitioned for more than a decade for the award. Murphy was part of the effort.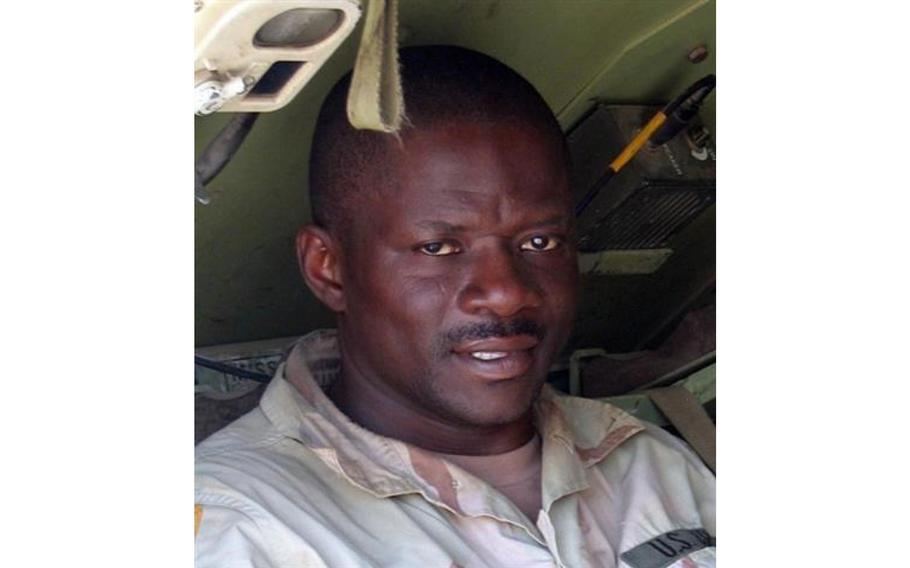 Cashe, a 3rd Infantry Division platoon sergeant, was on a nighttime patrol near Samarra, Iraq, on Oct. 17, 2005, when his Bradley Fighting Vehicle struck a roadside bomb, engulfing it in flames. Cashe, 35, extracted himself from the vehicle, and then went back for the driver. Though his fuel-soaked uniform ignited and caused severe burns to his body, Cashe repeatedly entered the fire-engulfed Bradley to pull his fellow soldiers to safety, not stopping until they all had escaped.
Cashe suffered second- and third-degree burns over 72% of his body. He died about three weeks later on Nov. 8, 2005, at Brooke Army Medical Center in San Antonio, Texas.
"I believe that renaming Fort Benning as Fort Cashe … would appropriately reflect the courage, values, and sacrifices of the U.S. military, would be positively received by local stakeholders given SFC Cashe's meaningful connection to the Fort Benning community, and would serve to inspire and motivate our service members," Murphy wrote.
Congress established the Naming Commission in 2021, as Army and Pentagon leaders began looking at stripping bases of Confederate-linked names amid a nationwide racial reckoning after the killing of George Floyd by Minneapolis police.
The Army installations in question, all in former Confederate states, were named in the 1910s and 1940s during the South's Jim Crow era. They are Fort Polk in Louisiana, Fort Benning and Fort Gordon in Georgia, Fort Bragg in North Carolina, Fort A.P. Hill, Fort Lee and Fort Pickett in Virginia, Fort Rucker in Alabama, and Fort Hood in Texas.
Fort Benning is named for Henry Lewis Benning, a brigadier general in the Confederate army. Benning advocated for Georgia's secession, arguing that separating from the Union was the only way to preserve slavery.
The eight-member Naming Commission is tasked with providing recommendations to Congress by October of this year. Lawmakers will then instruct the defense secretary to change the names of bases, ships, buildings, and other military assets that commemorate the Confederacy. The Pentagon is expected to take action to rename the bases by 2024.
As of October 2021, the commission had gathered more than 27,000 public submissions of new names for the Army bases. Cashe's name was one of the suggestions submitted through the public process.
Others have suggested renaming Fort Benning after former Secretary of State Colin Powell, Medal of Honor recipient Ralph Puckett Jr., former Defense Secretary George C. Marshall, or Felix Hall, a Black soldier who was lynched on Fort Benning in 1941. There's also an effort to have the base named after Henry Flipper, a former slave who became the first Black man to graduate from the U.S. Military Academy at West Point.
---
---
---
---