Biden awards three Medals of Honor for heroism in Iraq, Afghanistan
by
Nikki Wentling
Stars and Stripes
December 16, 2021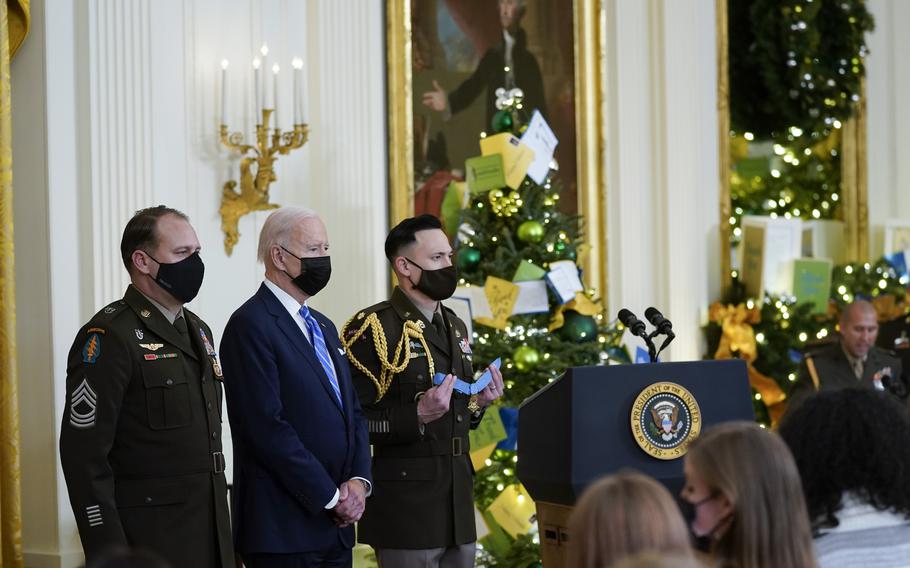 WASHINGTON — Three U.S. soldiers who fought in the wars in Iraq and Afghanistan each received the Medal of Honor on Thursday, including two men who sacrificed their lives to ensure the safety of their fellow service members and a third who fought off suicide bombers at a U.S. base in Afghanistan.
During a ceremony in the East Room of the White House, President Joe Biden awarded the medals, the nation's highest military honor, to Sgt. 1st Class Alwyn Cashe, Sgt. 1st Class Christopher Celiz and Master Sgt. Earl Plumlee. Cashe and Celiz died as a result of the actions that led to their awards. Plumlee accepted the honor in person.
"Our hearts are overflowing with gratitude today as we honor unparalleled courage, commitment to duty and indisputable gallantry," Biden said. "It's just hard to explain where these soldiers got the courage they got."
Cashe's widow, Tamara Cashe, received the posthumous award on behalf of Cashe. Celiz's wife, Katie, and their 11-year-old daughter, Shannon, accepted his medal. They and Plumlee took turns on stage, accepting the medals as a citation was read, describing the actions that earned the men the honor.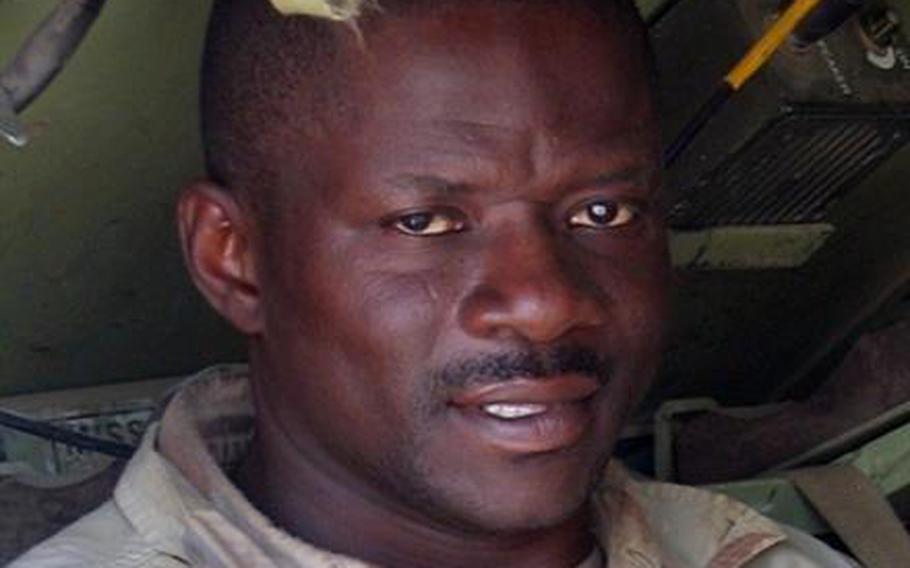 Sgt. 1st Class Alwyn Cashe
More than 16 years after his death, Alwyn Cashe became the first Black recipient of the Medal of Honor for actions in the recent wars in Iraq and Afghanistan.
Cashe, a 3rd Infantry Division platoon sergeant, was on a nighttime patrol near Samarra, Iraq, on Oct. 17, 2005, when his Bradley Fighting Vehicle struck a roadside bomb, engulfing it in flames. Cashe, 35, extracted himself from the vehicle, and then went back for the driver. Though his fuel-soaked uniform ignited and caused severe burns to his body, Cashe repeatedly entered the fire-engulfed Bradley to pull his fellow soldiers to safety, not stopping until they all had escaped.
Despite being covered in second- and third-degree burns, Cashe ensured the other soldiers received medical care. When evacuation helicopters arrived, he refused to board until the others were treated. He was the last to board the helicopter, and he walked on — refusing to be carried on a stretcher, said Lt. Col. Leon Matthias, who was present that day.
Matthias was in charge of the armored vehicle directly behind Cashe's during that patrol in 2005. After the explosion, he focused on the back of the vehicle, counting the bodies as Cashe pulled them out.
"The last time I saw him, he was walking to the helicopter after all of his guys had been loaded," Matthias said. "He just refused to be carried off."
Cashe suffered second- and third-degree burns over 72% of his body. He died about three weeks later on Nov. 8, 2005 at Brooke Army Medical Center in San Antonio, Texas.
Biden told the crowd Thursday that Cashe was a "soldier's soldier, a warrior who literally walked through fire for his troops."
In total, one Iraqi interpreter and 10 American soldiers, including Cashe, were inside the Bradley. The interpreter, as well as Cashe and three other soldiers — Staff Sgt. George Alexander Jr., 34, Sgt. Michael Robertson, 28, and Spc. Darren Howe, 21 — died from their wounds.
If not for Cashe's actions, all of the men in that Bradley would likely have perished, and none of them would've had the chance to say goodbye to their families, said Col. Jimmy Hathaway, Cashe's company commander at the time.
"If you look at the war at that point in time, there's a lot going on. People who passed away overseas – they didn't get a chance to say goodbye to their families, and their families didn't get to say goodbye to them," Hathaway said. "[Cashe] made that happen. He got them back. He got them back and made sure every single one of those kids got to say goodbye the right way."
Cashe knew and cared about every person in his platoon, according to Hathaway and Lt. Gen. Gary Brito, his battalion commander. He knew their families, their goals and aspirations, and what motivated them. He cared for every service member under his leadership, and while he was hard on them, he also led with compassion.
Cashe was the last of the men injured in the Bradley to die. Brito said he believes that wasn't by chance.
"I know in my heart and in my soul that it was his leadership… he was ensuring that his boys were taken care of," he said.
Brito was a leading proponent for Cashe to receive the Medal of Honor.
Cashe is revered in the military community, and his life-saving efforts have long been identified among the most heroic acts of the Iraq War. But bureaucratic missteps and a five-year time limit mandated by Congress for Medals of Honor to be recommended kept Cashe from receiving the award. That changed last December, when then-President Donald Trump signed a new bill into law, waiving that five-year time limit for Cashe and assuring he would finally receive the award.
For his family, the journey to the White House has been an "uphill battle," and a "roller-coaster ride" with extreme ups and downs, said his older sister, Kasinal Cashe-White. The most exhilarating moment was Friday at 3:35 p.m., she said, when the White House announced Cashe would receive the honor this week.
Cashe grew up in poverty in Oviedo, Fla., and joined the Army shortly after graduating high school. Cashe-White said he found his niche, his joy, in the U.S. military.
"It shows that in this country, you can start here and end here," Cashe-White said, spreading her arms apart as far as they would go. "Had I wanted his story to end differently? Yes – I would give 10 Medals of Honor to get my brother back. But it shows the world there are no limits to what you can achieve."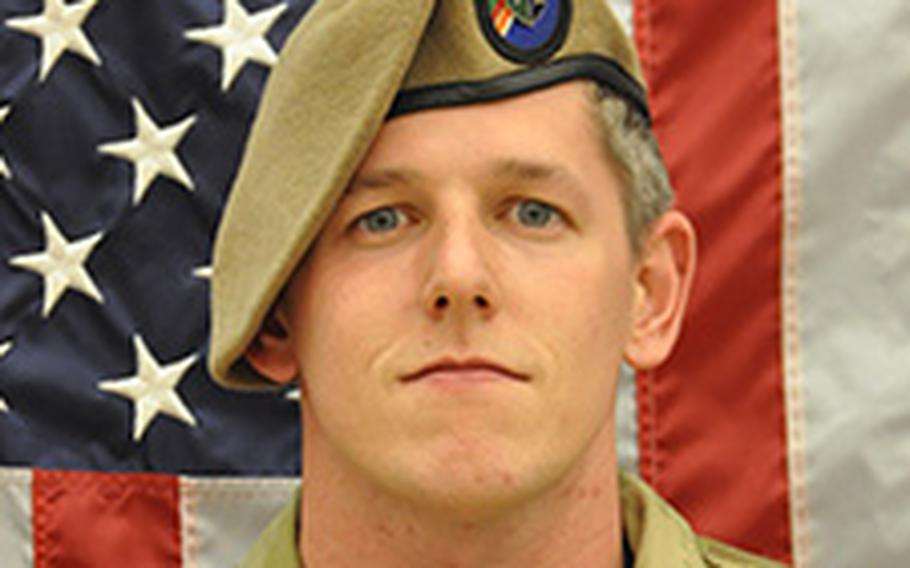 Sgt. 1st Class Christopher Celiz
Biden described Christopher Celiz, 32, as "courage made flesh."
Celiz led a special operations unit on July 12, 2018, to clear an area of enemy forces in the Paktia Province of Afghanistan. The unit comprised members of the 1st Battalion, 75th Ranger Regiment, as well as members of partner forces.
Once Celiz and his men reached the area of their mission, they came under a large enemy attack.
Celiz exposed himself to enemy fire to retrieve a "heavy weapons system" that allowed his unit to regain their position and move to a secure location, according to the Army. One person, a member of the partner forces, was injured in the attack. When a medical evacuation helicopter arrived to retrieve the injured person, "the enemy opened up with all they had," recalled 2nd Lt. David White, who was under Celiz's command that day.
"I remember it looking like the ground was boiling from the amount of rounds hitting the dust," White said.
Celiz willingly put himself between the enemy fire and the team that loaded the injured person into the helicopter, using his body as a physical shield. He guarded the helicopter and its crew as they started to take off.
As Celiz ran for cover, he was hit by enemy fire. Understanding the peril to the aircraft, Celiz motioned to the pilots to depart, rather than land to pick him up. According to the Army, his actions likely saved the life of the injured member of partner forces and prevented other injuries among his unit and the aircrew.
White was the radio telephone operator for Celiz that day and stuck by him throughout much of the mission. He witnessed the moment that Celiz went down.
"I saw three rounds go by his back foot as he was running for cover, and he skipped like he had been hit," White said. "He looked up at the helicopter as he collapsed to his hands and knees, and I saw him raise his hand as he was looking up and wave them off, like 'Don't come back for me.'"
After that, Celiz collapsed onto his chest and made one last attempt to pull himself to cover before going unconscious, White said. He died of his injuries later, while on an evacuation flight.
White remembers Celiz as a calm, patient and focused leader who made his soldiers feel like family. During their downtime in Afghanistan, Celiz would play guitar and sing, using the opportunity to bring his service members together.
On the day that Celiz died, as the unit first met enemy fire, he quoted a line from the movie "O Brother, Where Art Thou?"
"He looked at us and said, 'Damn boys, we're in a tight spot!'" White said. "That is a testament to his character… that in the midst of all that gunfire and the threat to our lives, he was cracking a joke to lighten the mood. That way we stayed focused and didn't get overcome by fear or anxiety. We were just as calm as he was and feeding off his energy."
When Celiz's wife, Katie Celiz, first heard about her husband's final act of waving away the helicopter, she wasn't surprised, she said.
"I'm still a little angry at him for deciding to do that, but I understood why he felt he needed to," Katie Celiz said. "Chris really believed that being there for his men, protecting his men, was everything. Chris believed that doing good was No. 1."
Katie Celiz first met her husband when they were both in high school and working at a grocery store in Summerville, S.C. Every day for a week, she put her jacket on a hanger at work. When she returned to get it, the jacket would be missing. Its whereabouts was a mystery until she saw Christopher Celiz in the parking lot, wearing her jacket as he brought in shopping carts.
The next day, she found her jacket on its hanger, and its pockets were full of rose petals. He asked her on a date, and they were together from that day forward.
The couple was in high school during the 9/11 terrorist attacks. Celiz decided he wanted to join the military to make a difference, Katie Celiz said. He enlisted in 2006, and he was on his seventh deployment when he died, White said.
"We had a beautiful life together. We have a daughter that's now 11 years old," Katie Celiz said. "I just feel blessed that I got to have the years I had with Chris. He was an amazing man. He brought joy to everybody's life he touched."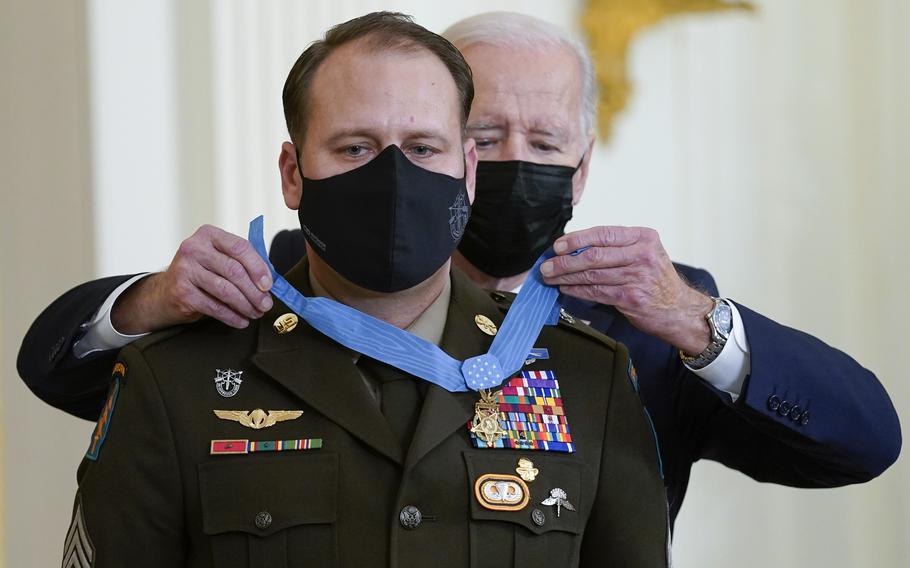 Master Sgt. Earl Plumlee
Earl Plumlee was the only living service member to receive the Medal of Honor on Thursday, and he accepted it on behalf of his Special Forces regiment and the entire U.S. Army, he said.
"It's humbling to be nominated for this award and to be in this company," Plumlee told reporters Wednesday during a news briefing. "The medal I'll receive tomorrow will be presented to me, but it's by no means mine."
Plumlee was at Forward Operating Base Ghazni in Ghazni Province, Afghanistan, on Aug. 28, 2013, when it was attacked by enemy forces. At the time, he was a staff sergeant assigned to the 1st Special Forces Group.
A massive explosion caused a breach in the base's perimeter wall, and 10 insurgents in Afghan National Army uniforms and suicide vests poured through the opening. According to the Army, Plumlee and five other special operations soldiers got into two vehicles and sped toward the explosion, intent on defending the base.
Plumlee left the vehicle and used his body to shield the driver from enemy fire. He ran toward the enemy, armed only with a pistol, and killed two insurgents. He killed one by firing into the insurgent's suicide vest, causing it to detonate.
He advanced toward the enemy multiple times, despite being outmanned. He then joined a small group of other American and coalition forces who moved to counterattack. Plumlee carried one injured soldier to safety and rendered first aid.
"Throughout the entire engagement, Plumlee repeatedly placed himself in extreme danger to protect his team and the base, and to defeat the enemy," the Army wrote in its citation for Plumlee.
Retired Sgt. Maj. Tony Bell was also there that day. The goal of the enemy, he said, was to get into the base and detonate their suicide vests.
"If they would've gotten 20 feet past where Earl and the others stopped them… they would've gotten into some of those bunkers and caused hundreds of casualties," Bell said. "We would've had a catastrophic event."
Bell helped with the effort to ensure Plumlee received the Medal of Honor.
"Earl demonstrates the best virtues of what it means to be an American," Bell said. "He reacted to a chaotic situation and he did it because it was the right thing to do, not because someone ordered him. He did it because of his character."
Plumlee remains on active duty as part of the 3rd Battalion, 1st Special Forces Group (Airborne).
"No one will ever forget how you sprang into action when the enemy attacked our base," Biden told him Thursday.
Wentling.nikki@stripes.com
Twitter: @nikkiwentling
---
---
---
---