Russians inspected US Army facilities in Germany where Ukrainians trained this month
By
Stars and Stripes
December 30, 2021
---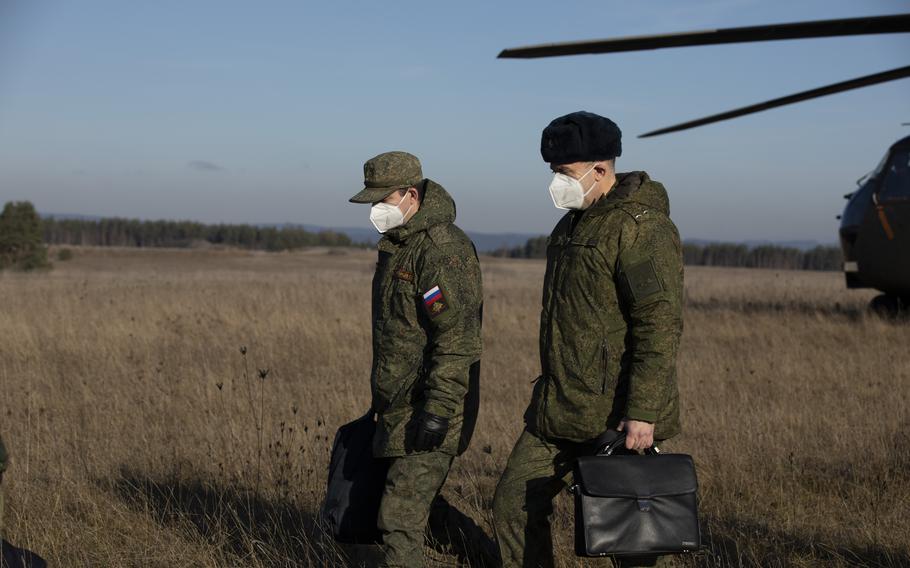 Russian government representatives toured U.S. Army training areas in Bavaria last week for an internationally guaranteed inspection, shortly after Ukrainian troops wrapped up a training exercise there with American troops.
U.S. Army Europe and Africa said Thursday that it had hosted the Russian inspection team at U.S. Army Garrison Bavaria for two days beginning Dec. 21.
The inspection was conducted under the terms of the Vienna Document 2011, an agreement focused on disarmament, security and transparency in Europe and some Central Asian countries.
Inspections have long been a routine part of that and other arms control agreements, but this one came against a backdrop of fears in the U.S. and Europe that Russia is on the brink of another invasion of Ukraine.
News of the Russians' presence at the U.S. installations came the same day that President Joe Biden and his Russian counterpart, Vladimir Putin, were scheduled to speak one-on-one about upcoming talks seeking de-escalation.
One senior administration official called it a "moment of crisis," sparked by the Kremlin's buildup of forces near Ukraine.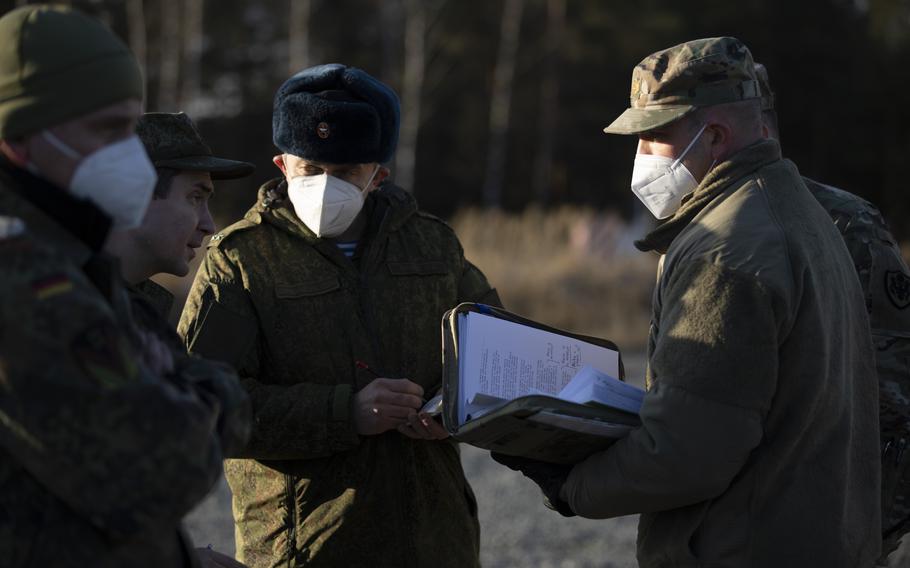 During the Russian team's visit, U.S. officials briefed them about tenant units and the Joint Multinational Readiness Center. The Army also gave inspectors an aerial tour of the sprawling Grafenwoehr and Hohenfels training areas and Katterbach Kaserne, as well as a tour of the ranges at Grafenwoehr.
On Dec. 17, the readiness center in Hohenfels said it ended a 10-day combat training exercise involving about 4,600 soldiers from Ukraine, Poland and several other former members of the Soviet bloc.
"It's very different and new for our company to participate in this kind of training," said 1st Lt. Andrii Tretiak, commander of the Ukrainian Mechanized Company, 92nd Mechanized Brigade, as quoted in an Army statement.
It was unclear whether the Russian visit was related to the exercise. USAREUR-AF said Thursday that it could not provide further details on the visit ahead of press time because key people were out for the holidays.
The inspection is the first military facility visit USAREUR-AF has hosted under the Vienna Document since 44 representatives of 28 countries descended on Grafenwoehr in September 2018.
Inspection and evaluation visits allow participating militaries to check compliance with measures of the politically binding Vienna Document 2011. The provisions are intended to build mutual confidence and security in Europe and parts of Central Asia.
Over 50 member states of the Organization for Security and Cooperation in Europe are participants in the agreement, including the U.S., Canada and their NATO allies, as well as Russia.
---
---
---
---