US spy planes fly sortie over Ukraine amid ongoing tensions over Russian border buildup
By
Stars and Stripes
December 29, 2021
---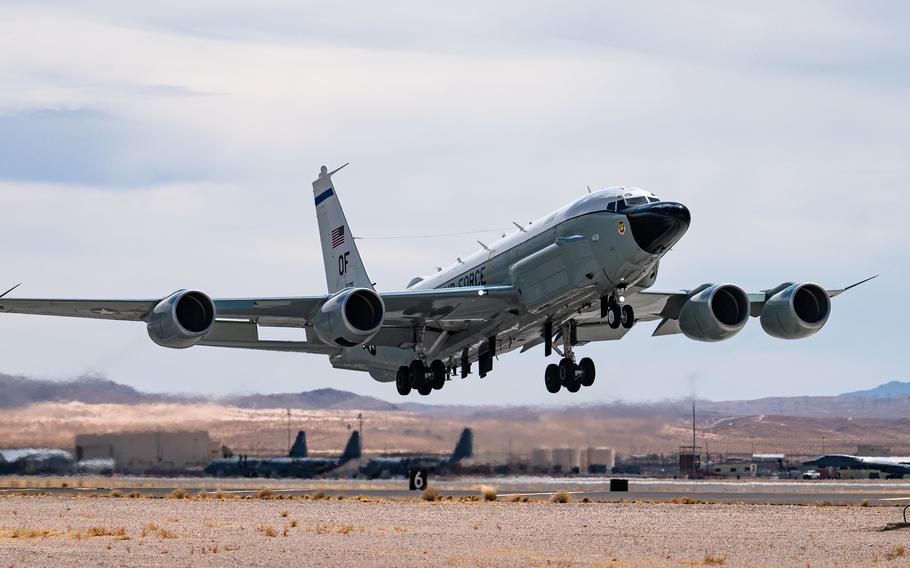 A pair of Air Force spy planes flew over eastern Ukraine this week, even as Washington and Moscow prepare for talks intended to allay fears of a new Russian invasion of its southwestern neighbor.
Watchers of flight-tracking data reported the mission Monday near Russian-occupied territory. It involved an E-8C battlefield surveillance plane and an RC-135V Rivet Joint signals intelligence aircraft, data showed.
The flight marks the first time an E-8C has operated in Ukrainian airspace, U.S. Air Forces in Europe said in an emailed response to a query late Wednesday. The command declined to give specifics about the mission or what prompted it. It did, however, say it routinely conducts such flights with European allies and partners and uses its platforms "to promote peace throughout the region."
Public flight data indicated that the surveillance plane flew out of Ramstein Air Base in Germany, while the Rivet Joint took off from Souda Bay on the Greek island of Crete. That means they flew with their transponders on.
The flights come amid heightened tensions over a Russian military buildup along the Ukrainian border. Some estimates said the Kremlin had amassed 100,000 troops at the peak of the buildup.
U.S. officials and others have warned that Moscow was planning an attack on Ukraine, which Russia denies. Last week, Pentagon press secretary John Kirby repeated calls for Russia to pull back its forces from the border to de-escalate tensions.
Russian officials said Saturday that thousands of troops had returned to their home bases. The surveillance mission may have been aimed at assessing the latest situation on the ground.
The E-8C Joint Surveillance Target Attack Radar System, or JSTARS, is a heavily modified Boeing 707-300 jet whose most prominent feature is a 24-foot radar antenna that can cover an area over 30,000 square miles, the Air Force has said.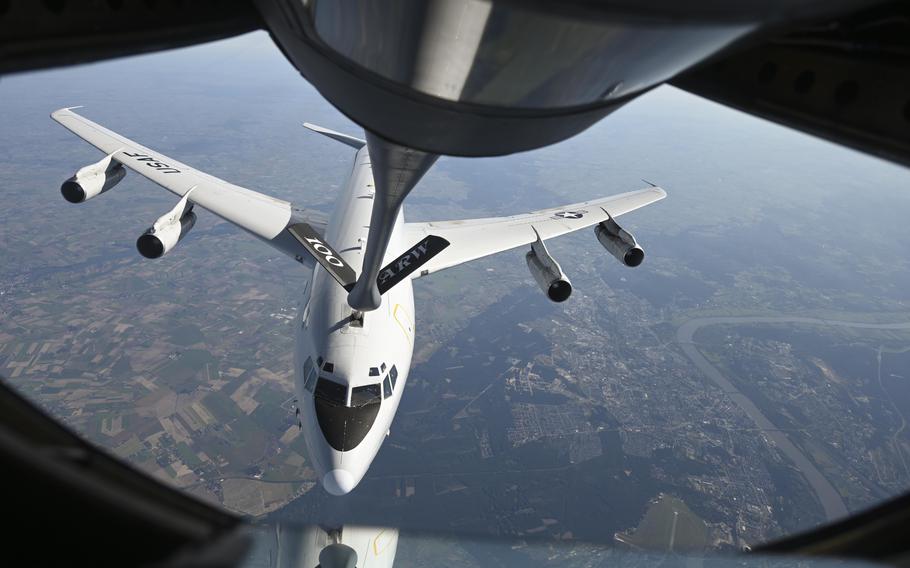 It can detect ground targets up to 150 miles away as well as some low-flying aircraft. Its mission crew, typically 15 airmen and three Army specialists, primarily feeds information to ground commanders for targeting and attack planning.
Flight-tracking data suggest that it may have flown within 40 miles of Russian-occupied areas, though such data is not always accurate.
The Rivet Joint, based on a Boeing C-135, is equipped with various sensors to detect, identify and track electromagnetic signals, such as radar emissions and radio transmissions.
On top of its five-member flight crew, it typically carries at least three electronic warfare officers, 14 intelligence operators and four maintainers. Their mission is to provide on-scene intelligence collection and analysis.
Meanwhile, the U.S. has pledged nearly $25 million in aid to bolster Ukraine's border security with added surveillance capabilities on the ground.
The Ukrainian border service said Tuesday that it had agreed to use the funding for video surveillance equipment, unmanned systems and remote monitoring systems.
The Defense Department also sent a small team earlier this month to assess Ukraine's air defenses, Kirby said last week. He did not disclose any further details.
The U.S. has provided billions of dollars in assistance to Ukraine, including weapons and training, since Russia annexed the Crimean Peninsula in 2014 and backed separatist rebels in the country's east. The seven-year conflict has left over 14,000 people dead.
The Army has also been rotating units to Europe to bolster NATO's eastern flank and train with alliance members and other countries, including Ukraine.
But Russia is wary of NATO expansion. It demands a guarantee that Ukraine will never become a member of the alliance and a pullback of NATO military assets in central and Eastern Europe.
Washington and Moscow are set to meet Jan. 10 to discuss stability concerns, and a NATO-Russia meeting is expected to follow on Jan. 12.
---
---
---
---