Senate unanimously passes bill that would keep National Guard from halting training operations
by
Sarah Cammarata
Stars and Stripes
July 29, 2021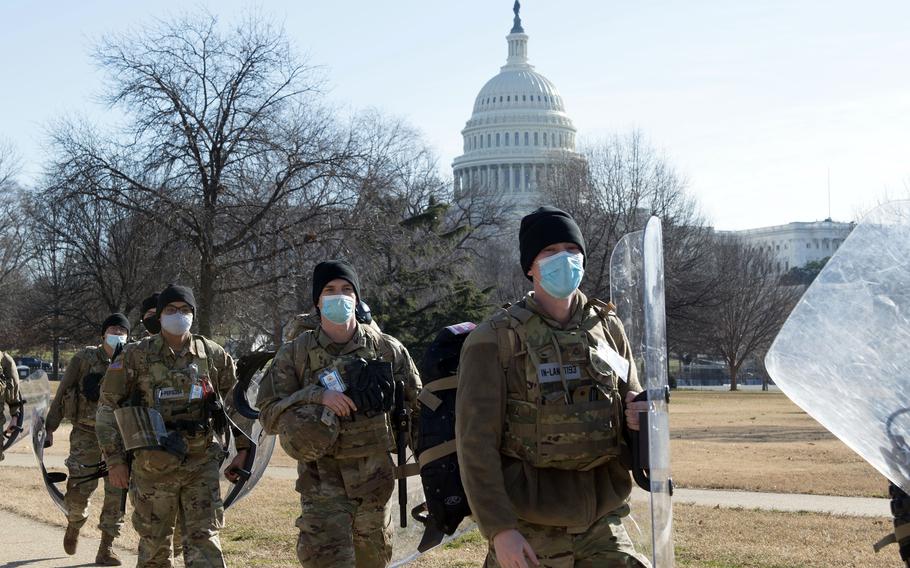 WASHINGTON — The Senate on Thursday unanimously voted to pass a $2.1 billion funding measure that will reimburse the National Guard for costs incurred to support security in the nation's capital in the wake of the deadly Jan. 6 attack on the Capitol.
The spending bill would provide $521 million to reimburse the National Guard, as well as more than $70 million to support more U.S. Capitol Police officers, plus hazard pay, overtime and retention bonuses for the police. The bill also includes $1.1 billion in relief to Afghans who worked with the U.S. during nearly two decades of war in the country.
"National Guard all over the country will be forced to cancel needed training to carry on their mission at home and abroad… I was speaking to members of the National Guard from most of our states who were here to help the security of the Capitol in January. So, if we did nothing, that'd be a sort of a security crisis entirely of our own making," Sen. Patrick Leahy, D-Vt., chairman of the Senate Appropriations Committee, said in a speech on the Senate floor before the vote.
More than 25,000 troops deployed to the Capitol grounds between January and May after a mob of former President Donald Trump supporters broke into the Capitol building Jan. 6 to attempt to disrupt Congress from formally certifying President Joe Biden's election victory.
The measure would also give $300 million to bolster safeguards for the Capitol complex, including funds for window and doors of the Capitol and the installation of new security cameras.
The bill from Leahy and ranking committee Republican Richard Shelby of Alabama comes after months of stalled action on the issue. Lawmakers had been debating how much funding to provide.
The Senate bill passed Thursday is a separate measure from a $1.9 billion security spending bill that the House passed in May. The House bill does not include any funding to aid Afghans, and it also provides $200 million for the creation of a "quick reaction force" that would support and augment the Capitol Police.
While Leahy and Shelby's legislation has received broad bipartisan support, it will have to be taken up by the House and passed before it can be signed into law. It is unclear whether the House will take up the measure before adjourning for summer recess at the end of the week.
The measure would provide $600 million for Afghan refugee assistance specifically, as well as 8,000 new visa slots for Afghans who worked with the U.S. government as translators and other jobs, as the security situation in Afghanistan rapidly deteriorates. It would also expand eligibility to apply for the visa program that has been mired in delays by changing the employment requirement from two years to one year.