National Guard chief says Capitol quick-reaction force better suited for law-enforcement agencies
by
Caitlin Doornbos 
Stars and Stripes
June 23, 2021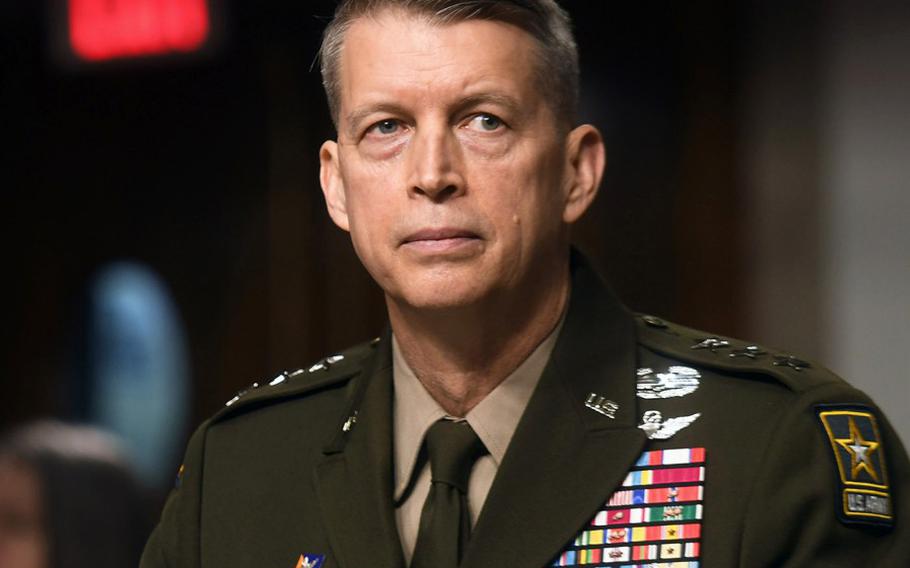 WASHINGTON — The National Guard's top commander on Wednesday said a quick-reaction force to respond to threats on Capitol Hill is a concept better suited for law enforcement, as senators consider a security funding bill that would, in part, create a military unit for the job.
The $1.9 billion bill, passed by the House in May, would set aside $200 million to create a standing force within the District of Columbia Air National Guard to respond quickly to threats like the Jan. 6 riot at the Capitol.
"Many of these [quick-reaction duties] are actually a law enforcement mission set," Army Gen. Daniel Hokanson, chief of the National Guard, told reporters at the Pentagon. "We're not a SWAT team. We're not law enforcement. We're soldiers and airmen trained and equipped to fight our nation's wars."
The Guard sent thousands of troops on a four-month deployment to protect the Capitol after a mob of former President Donald Trump's supporters on Jan. 6 broke in and attempted to disrupt the certification of the results of November's presidential election. Local law-enforcement agencies handled the initial response.
"We can't get into the perception that we're immediate response because we're just not resourced to do that, and so we really rely obviously on local law enforcement," Hokanson said. "If it exceeds their capability, in a timely manner — normally 24 hours — is when we can start marshaling our organization to help support."
That's because, unlike law enforcement, "the majority of (Guard) personnel have civilian jobs," the general said. "For them to leave their civilian job, return to their armory, get their equipment, get a briefing and sometimes last-minute training on what specifically they'll be asked to do, we really look at that as a 24-hour timeframe."
Hokanson's comments echoed the concerns of Rep. Mike Rogers, R-Ala., and Sen. Jim Inhofe, R-Okla., who announced last month in a joint statement that they opposed creating the force.
"Security of the Capitol complex must remain the responsibility of federal civilian law enforcement," the lawmakers said in the statement May 12. "Use of the uniformed military in D.C. and the Capitol complex is subject to complex statutory restrictions, and for good reason. We cannot and should not militarize the security of the Capitol complex."
Instead, Rogers and Inhofe suggested creating a quick-reaction force within a federal civilian law enforcement unit, which they said "would likely cost much less than tapping the National Guard for this purpose."
However, most of the $1.9 billion security funding bill would reimburse the National Guard, Capitol Police and the District of Columbia for costs incurred for their Capitol riot responses — something Hokanson said would affect Guard readiness if not done.
The National Guard spent $521 million during its Capitol-response mission from January to May, using its operations and maintenance funding and pay accounts "to basically front load that money so we could pay our soldiers and airmen while they were here in the nation's capital," Hokanson said.
"If we don't get that funding fairly soon, we'll have to look at not only August but also September — the last two months in the fiscal year — either curtailing completely or drastically reducing our National Guard drill weekends and annual training as well as our operational maintenance," the general said.
Defense Secretary Lloyd Austin and Army Gen. Mark Milley, chairman of the Joint Chiefs of Staff, on Wednesday concurred with Hokanson.
"$500 million in the grand scheme of a $715 billion [overall Defense Department] budget may not seem like a lot but to the National Guard, that is a lot," Milley said during a House Armed Services Committee hearing on the department's proposed 2022 budget. "This is also a year in which … there's a very high op tempo in the Guard, so that $500 million is very important."
In addition to the monthslong Capitol riot response, the Guard has deployed to overseas combat missions, vaccinated 12 million civilians against the coronavirus, responded to natural disasters and supported border patrol and local law enforcement in 2020 and 2021, Hokanson said.
The comments follow Army Secretary Christine Wormuth's appeal Tuesday during a Senate Appropriations Committee hearing, calling for the reimbursement of the Army National Guard's expenses from its Capitol-riot response.
During the hearing, Wormuth said the Army National Guard has already postponed some of its regularly scheduled training because of the Capitol-response expenses and "now is at risk of not being able" to fund the training at all.
Twitter: @CaitlinDoornbos
---
---
---