Luong, handing US Army Japan's reins to Vowell, wraps up his 34-year military career
by
Erica Earl
Stars and Stripes
June 25, 2021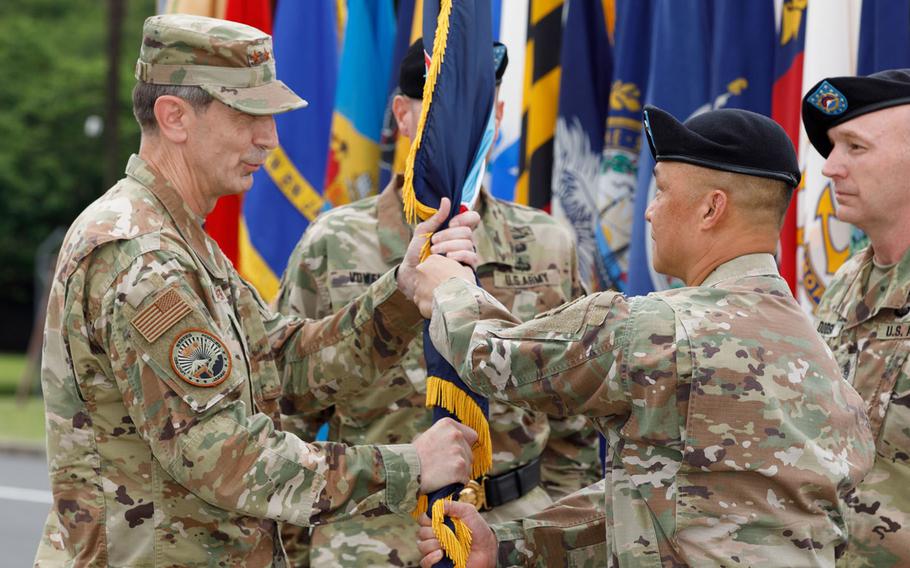 TOKYO – The 34-year career of the Army's first Vietnamese-born general officer came to an end on Friday as Maj. Gen. Viet X. Luong relinquished command of U.S. Army Japan to Brig. Gen. Joel Vowell.
"To quote U.S. Army Pacific commanding general Charles A. Flynn, it has been an honor to serve in the most consequential theater during the most consequential time in our history," Luong said during a change-of-command ceremony at Camp Zama that was broadcast live on Facebook.
"I would say we are in crisis now and the situation remains highly urgent," added Luong, who spent half of his three-year tenure tackling the coronavirus pandemic.
Vowell comes to Japan from Indo-Pacific Command headquarters in Hawaii, where he served as deputy commander of the Strategic Planning and Policy Directorate.
He mentioned during the ceremony that he and Luong have crossed paths a few times in their careers, including serving together in the Middle East.
Vowell served three combat tours to Afghanistan and one to Iraq, according to his Army biography. He was a War College Fellow at Stanford University in 2012 an Army Chief of Staff's Senior Fellow to the Brookings Institution in 2016.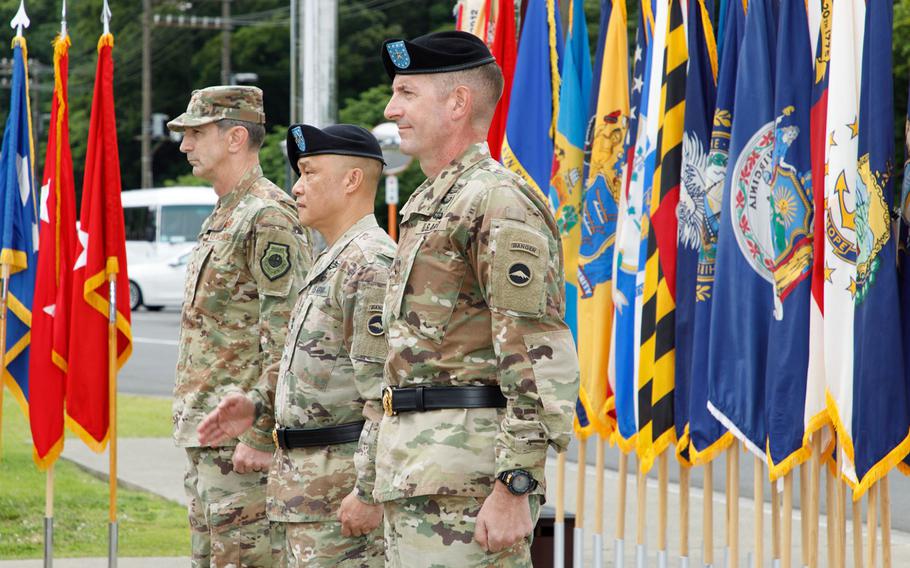 "Our purpose is to work with our allies to make our collective deterrence and our defense during crisis robust and strong," he said as he took command on Friday. "I pledge my best efforts to support the soldiers and families of U.S. Army Japan and our Japan Ground Self-Defense Force partners as we go forward together."
Luong was 9 years old when he fled Vietnam with his family in 1975. He shared his story during a USARJ Facebook Live event on May 18 as part of Asian American and Pacific Islander Heritage Month.
In 1993, he became one of only 27 battalion commanders of Asian descent in the history of the 82nd Airborne Division.
At the time, Luong said, he felt a need to outperform his white counterparts to earn equal recognition.
"Maybe I was too naïve, but I thought if we all just do our jobs and do well, everything will work out," he said during the May event. "But it doesn't work like that. In order to be successful, you need a lot of support, you need mentorship, and you need advocacy."
Twitter: @ThisEarlGirl