US flies Army artillery into Bulgaria in demonstration of mobility and firepower
by
Jennifer H. Svan
Stars and Stripes
June 2, 2021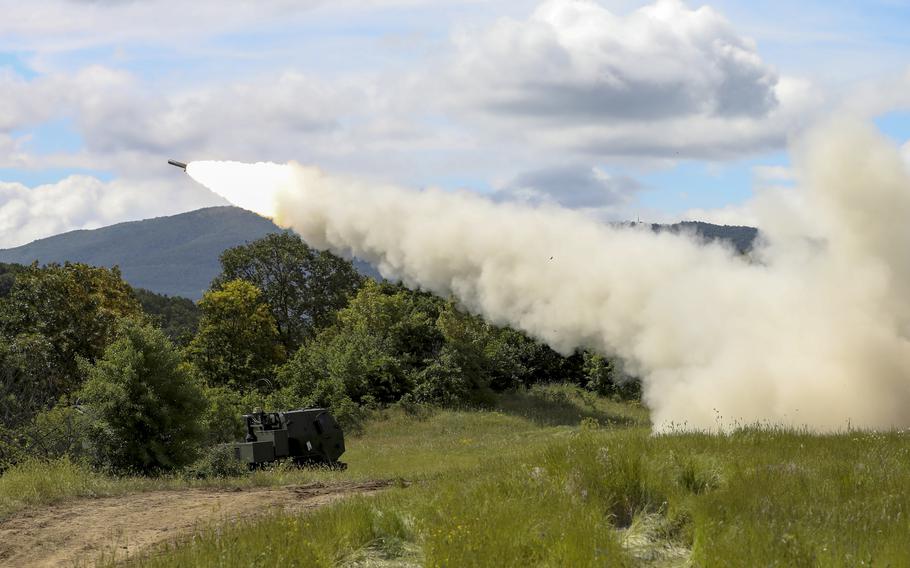 NOVO SELO TRAINING AREA, Bulgaria — The only U.S. rocket artillery brigade in Europe moved rapidly across borders and launched its mobile weapons in Bulgaria, a display of speed aimed at reassuring NATO allies confronted by an increasingly assertive Russia.
About eight hours after departing Germany early Tuesday with its artillery systems, the contingent from the 41st Field Artillery Brigade fired six rockets at targets more than five miles away on a sprawling military range in the Bulgarian countryside.
The soldiers and their two 12-ton wheeled rocket launchers and a support Humvee were gone soon after the smoke cleared. They were back at Ramstein Air Base in Germany before sunset, courtesy of the Tennessee Air National Guard.
The battalion practiced a rapid insertion with the intent to "get in, execute and then get right back out to minimize our signature and risk to the force," said Lt. Col. Anthony Brunner, commander of the 1st Battalion, 77th Field Artillery Regiment.
The operation led by U.S. Army Europe and Africa was part of the "Fires Shock" series of rocket exercises that began last month in Estonia. The command's artillery units are showcasing their long-range precision rocket systems across two continents.
The drills, tied to the large Defender-Europe 21 series, will wrap up later this month in Morocco with the African Lion exercise.
The Grafenwoehr-based artillery brigade returned to Germany in 2018 as U.S. European Command sought to bolster its firepower on the continent to counter more Russian activity and boost NATO's collective defense.
The 1st Battalion employs both the M270 Multiple Launcher Rocket Systems, or MLRS, and the lighter M142 High Mobility Artillery Rocket System, or HIMARS. The unit has deployed the HIMARS three times for a rapid insertion mission since activating last August, including twice to Romania.
Of the two rocket systems, the HIMARS packs less firepower. But it is mounted on an Army truck chassis and light enough to be transported by C-130 cargo plane, making it more mobile.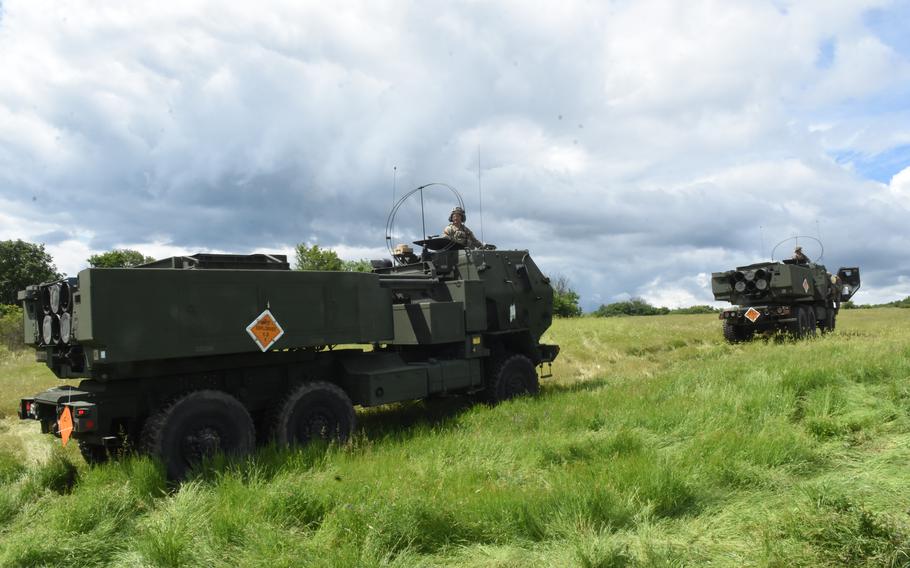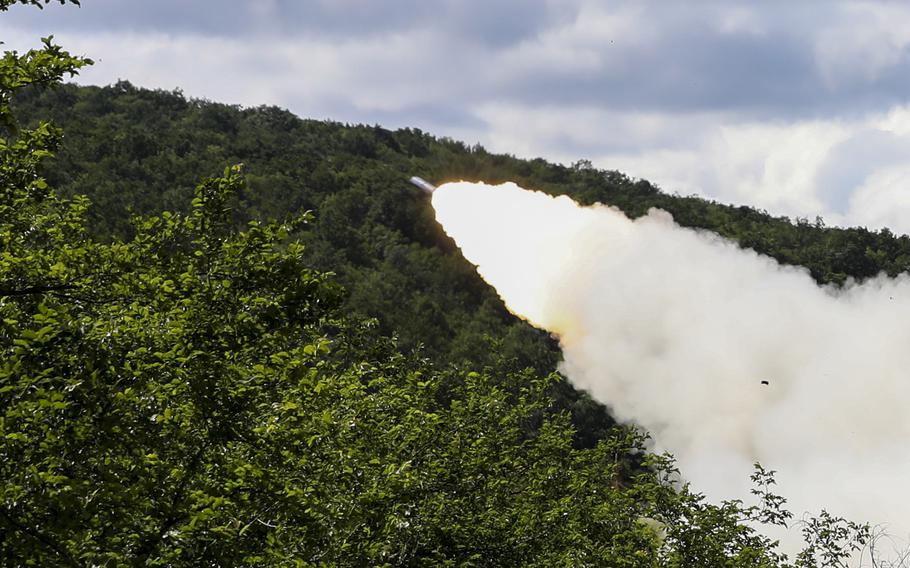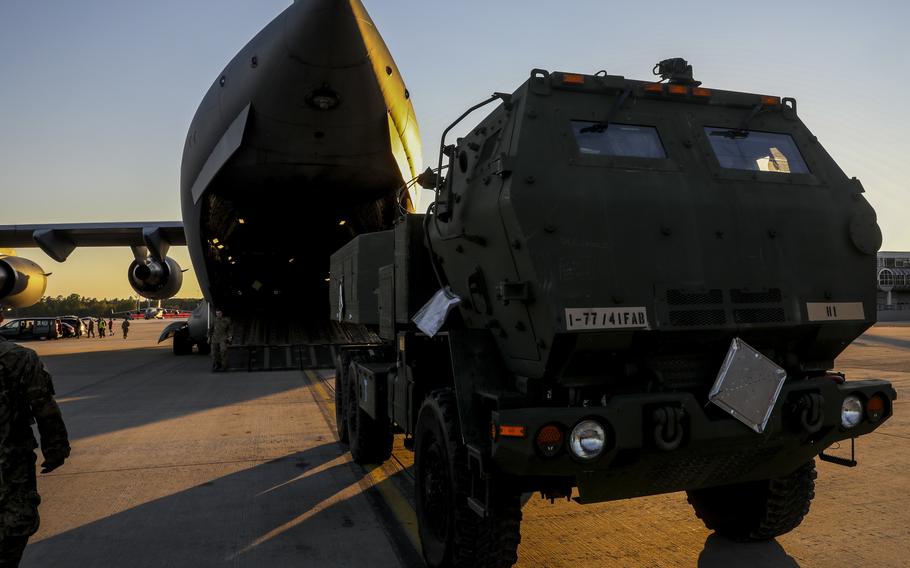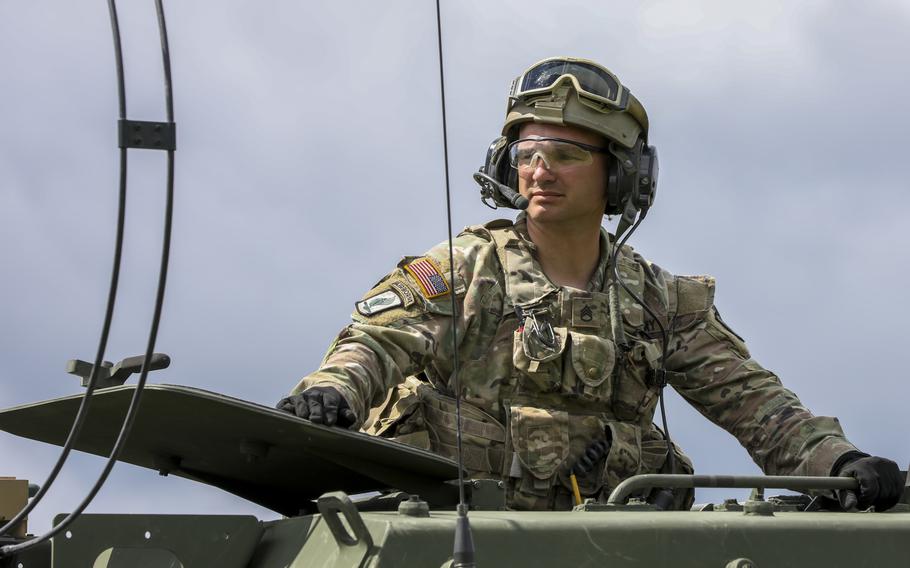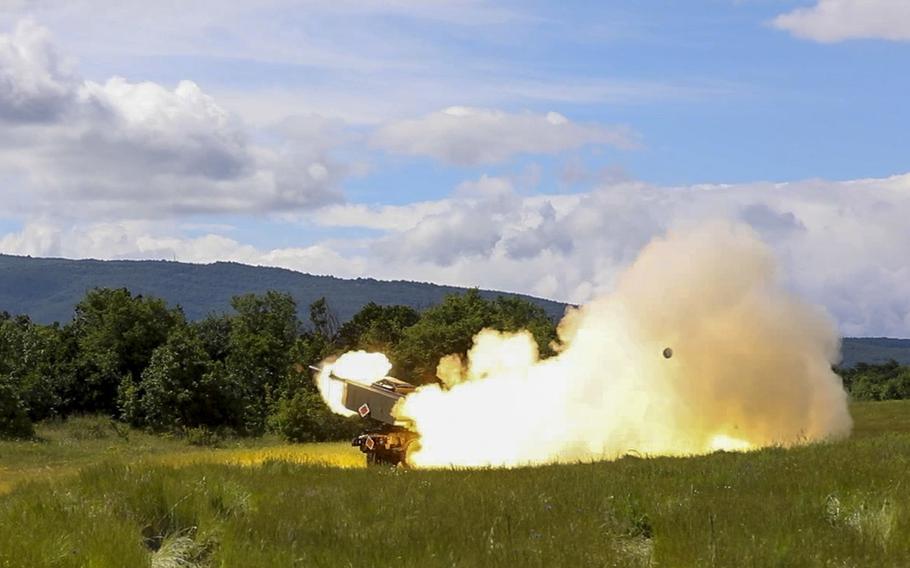 The system can defeat artillery, air defense concentrations and other targets, and move away before enemy forces can locate the launch site, according to Lockheed Martin. The company received a $492 million contract in 2019 to produce the launchers and hardware for the Army, Marine Corps, Romania and Poland.
"It gives our senior commanders and our multinational partners more deterrence options for our regional threats in Europe," Brunner said.
The system can fire a salvo of rockets within minutes of receiving a target location from a forward observer, he added.
On Tuesday, Bulgarian military observers and other spectators at Novo Selo had to wait more than a few minutes to see the artillery display.
Earlier that morning, more than a dozen soldiers along with two HIMARS and a support vehicle hitched a ride aboard a Tennessee Air National Guard C-17 from Ramstein to the military airfield at Bezmer in Bulgaria. They drove to the Novo Selo range, arriving around noon. 
It took a couple hours and much maneuvering around the launch site before the first boom sounded.
The biggest challenge was the ridge the rockets had to clear, Brunner said.
"That was giving us some errors on our fire mission processing," he said. "That's why we had to move a few times to get to where we eventually got to."
One soldier explained to an observer that the system's software has much tighter safety margins in an exercise, referring to it as "a peacetime constraint."
But the display – the loud bangs, the soaring, inert projectiles and the white smoke – was impressive, observers said.
"I'm so pleased because I witnessed for the first time an event that happened on our territory," said Col. Petrov Yuliyan, chief of the joint training department for Bulgaria's joint force command. "It's perfect."
Twitter: @stripesktown