Christine Wormuth confirmed as first female secretary of the Army
by
Sarah Cammarata
Stars and Stripes
May 27, 2021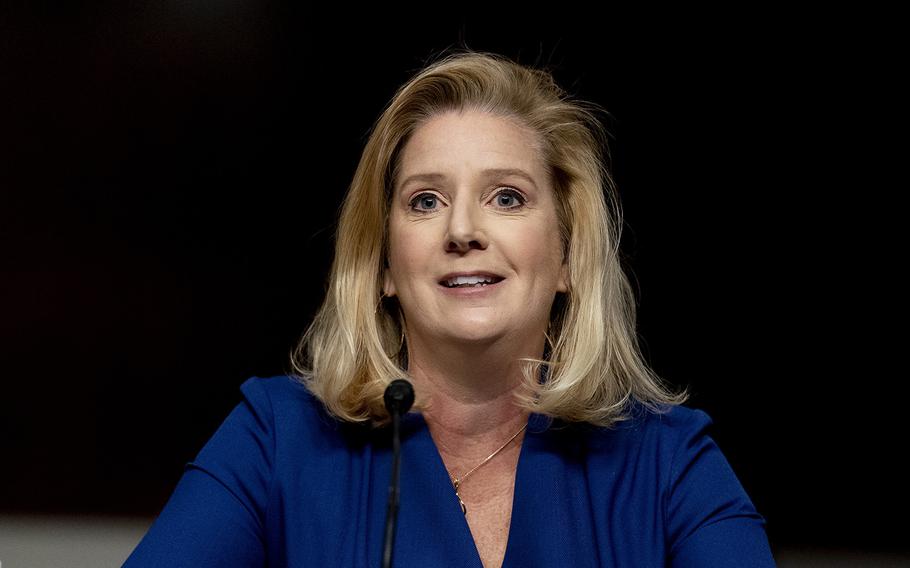 WASHINGTON — The Senate voted Thursday to confirm Christine Wormuth to serve as the Army's top civilian leader, making her the first woman ever to hold the post.
President Joe Biden nominated Wormuth to serve as the Army secretary in mid-April only months after Kathleen Hicks was confirmed in February by the Senate as the first woman to serve as deputy defense secretary.
Wormuth, a former Pentagon official, drew praise throughout her confirmation hearing from Democratic and Republican lawmakers for her long record of service.
She previously worked as the undersecretary of defense for policy from 2014 to 2016 and before that as the deputy undersecretary of defense for strategy, plans and forces. She is now the director of the international security and defense policy center at the Rand Corp., a nonprofit research organization.
The Senate voted in favor of Wormuth for the position Thursday after a procedural snafu late Wednesday night caused her original confirmation vote to be reversed.
A Senate Armed Services Committee aide said there was a "mix-up" on the floor that forced Senate Majority Leader Chuck Schumer, D-N.Y., to undo her confirmation, which occurred just hours before by unanimous consent.
Sen. Jim Inhofe of Oklahoma, the ranking Republican of the Senate Armed Services Committee, congratulated Wormuth in a tweet Thursday morning.
"I look forward to working with her to support our soldiers in Oklahoma, across the U.S. and around the world," the senator wrote.
When she was first nominated, Defense Secretary Lloyd Austin called Wormuth a "true patriot" who has dedicated her career to serving the country.
"I have no doubt that, if confirmed, she will lead our soldiers and represent their families with honor and integrity as the secretary of the Army," he said.
During her confirmation hearing, Wormuth fielded questions about the military's largest branch, including hot-button issues such as sexual assault and prevention efforts, military housing and pressures on the National Guard during the past year.
Wormuth said she would focus on prevention to combat sexual assault in the Army by prioritizing hands-on training and a positive command climate.
"We need to put quite a bit of focus on prevention. Prevention programs, but also really pushing a positive command climate down to the lowest possible level," she told members of the Senate Armed Services Committee.
Readiness and retention issues such as substandard military housing, an increased reliance on the National Guard and the service's fitness test are also priorities that Wormuth said she wants to focus on.
"I intend to prioritize the whole range of people issues. To ensure our soldiers and civilians have the best quality of life possible, I will strive to continue improving our Army housing, health care, child care and spouse employment opportunity," she said.
The Senate Armed Services Committee advanced Wormuth's nomination by voice vote earlier this week.
Wormuth will replace acting Army Secretary John Whitley, who has been in the position since Jan. 20, at a busy time for the service, which plans to release its budget request for fiscal year 2022 on Friday.
Twitter: @sarahjcamm