Libya crash of Air Force drone has military looking into cause
By
Stars and Stripes
August 24, 2022
---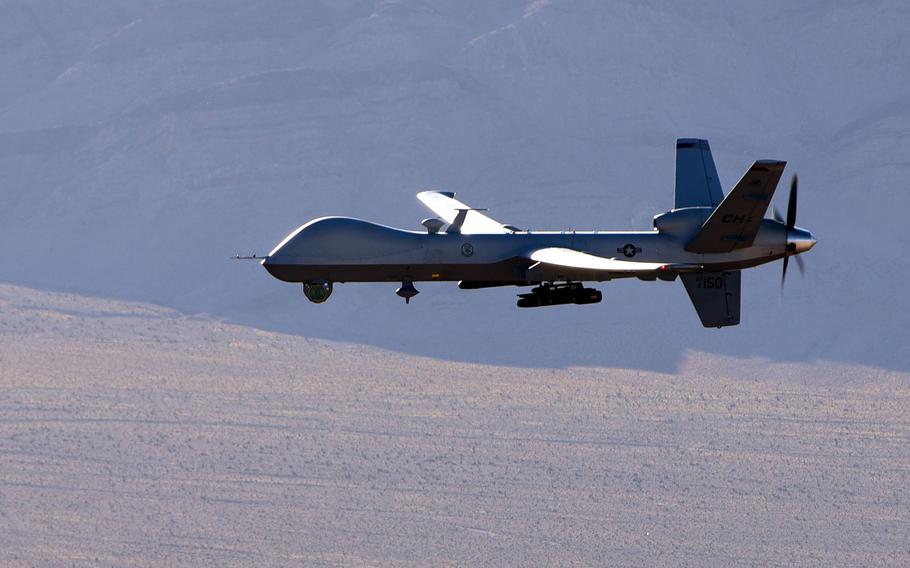 STUTTGART, Germany — U.S. Africa Command is investigating what caused an Air Force surveillance drone to crash earlier this week near Benghazi, Libya, the military said Wednesday.
The drone was surveilling the area Monday ahead of planned diplomatic meetings, AFRICOM said. It did not specify what type of drone was involved or whether the crash was the result of enemy fire.
However, pictures and video of what appeared to be a crashed MQ-9 Reaper were circulating on social media Monday. The Libyan National Army militia group posted a claim of responsibility on its Facebook page.
It wouldn't be the first time a U.S.-operated drone came under attack in Libya. In 2019, the Stuttgart-based AFRICOM accused the militants and associated Russian mercenaries of shooting down an unmanned aircraft over Libya.
The Libyan National Army is led by the warlord Khalifa Hifter, who has been fighting Libya's internationally recognized central government since 2011.
Hifter's fighters also have close ties to the Wagner Group, a Russian paramilitary organization linked to the Kremlin. AFRICOM has raised concerns about Wagner Group operations in Libya, including the deployment of fighter planes and weaponry.
U.S. military officials have been closely monitoring such actives in connection with concerns that Moscow could eventually aim to install long-range air defense systems on Libya's coast, which would be problematic for security on NATO's southern flank.
Libya has been in chaos since the NATO-led intervention in the country in 2011, which led to the overthrow of strongman Moammar Gadhafi. Militias have fought for control while the government struggles to assert itself.
On Monday, U.S. State Department spokesman Ned Price said there were indications of renewed violence in the Libyan capital, Tripoli.
"We call on those who risk once again being dragged into violence to put down their arms, and in particular urge Libya's leaders to recommit themselves without delay to identifying a constitutional basis for presidential and parliamentary elections," Price said.
---
---
---
---