Combined US-Japan air exercise shows response to foreign naval activity, expert says
By
Alex Wilson and Hana Kusumoto
Stars and Stripes
July 15, 2022
---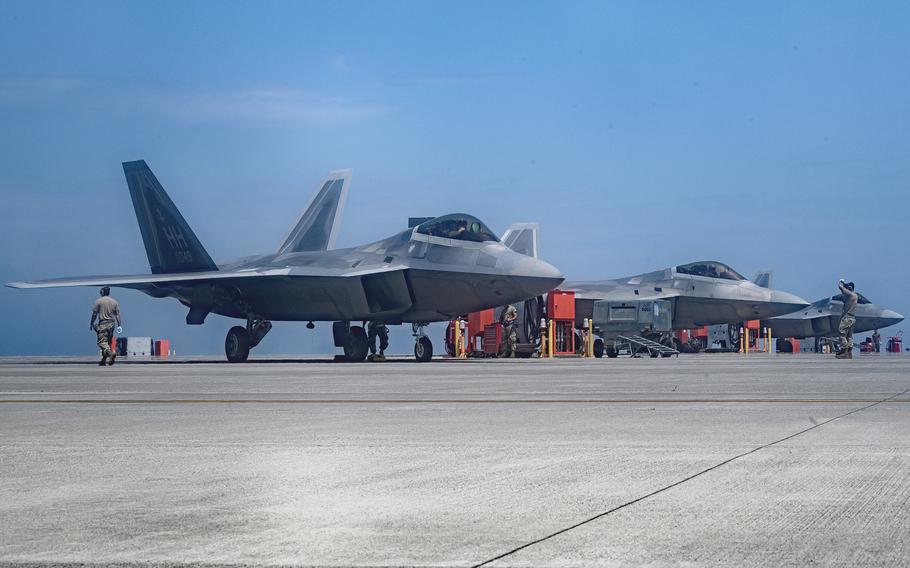 The U.S. and Japan sent 52 military aircraft aloft in exercises over the seas surrounding Japan in the days and weeks after Russian and Chinese warships plied the same area.
Three days of aerial exercises July 6, 11 and 12 demonstrated tactical coordination between the allies, the Japan Air Self-Defense Force said Thursday in a news release. The exercise took place over the Sea of Japan, the East China Sea and the Pacific Ocean, according to the Self-Defense Force.
That's probably no coincidence, James Brown, an international affairs expert at Temple University's Japan campus, said to Stars and Stripes by email Friday.
Between June 12 and July 1, three Chinese naval vessels effectively circumnavigated Japan. A flotilla of seven Russian warships completed a similar journey between June 15 and June 21.
On July 5, two Chinese coast guard vessels came within 12 miles of the Senkaku Islands, a disputed island chain administered by Japan but also claimed by China and Taiwan. Chinese and Russian vessels were also spotted near the Senkakus the previous day.
The Chinese and Russian excursions had "clearly been intended to intimidate Japan," Brown said.
The aerial exercises by Japan and the U.S., while commonplace, demonstrate the ability to respond to intimidation, he said.
"They show that Japan is not isolated and will not be bullied into changing its policy on the issues of Ukraine and Taiwan," Brown said.
Japan backs Ukraine in its war against Russia, which invaded in February. Japan appeared to shift toward clearer support for Taiwan when a deputy defense minister in June 2021 said Japan should help the U.S. defend the island democracy in the event of a Chinese attack.
The recent three-day air force exercise included 31 U.S. Air Force aircraft: 12 F-22 Raptors and four F-35A Lightning IIs, both fifth-generation stealth fighters and bombers; three F-15C Eagles, an E-3 Sentry and a KC-135 Stratotanker. A U.S. Navy P-8 Poseidon patrol and anti-submarine warfare aircraft also took part.
The Japan Air Self-Defense Force sent 20 fighters: 12 F-15J Eagles and eight Mitsubishi F-2s.
On Wednesday, the U.S. Navy and the Japan Maritime Self-Defense Force, conducted a surface warfare exercise with P-8A Poseidon and a P-3C Orion surveillance aircraft near the Ryukyu Islands, which include Okinawa and stretch from Kyushu, the southernmost of Japan's four main islands, toward Taiwan.
"Professional engagement with our long-standing alliances, such as the Japan Self-Defense Force, with our Joint forces allows us the opportunity to build upon existing, strong relationships and learn from each other," U.S. 7th Fleet spokesman Lt. Mark Langford said Thursday in an email to Stars and Stripes.
Beyond Japan, four Air Force B-2 Spirit stealth bombers flew July 10-12 to Royal Australian Air Force Base Amberley, Australia, as a bomber task force.
"It's important for us to demonstrate that we can accomplish that mission from diverse locations in the largest combatant command in the world, and that's exactly what we're doing here," said Lt. Col. Andrew Kousgaard, commander of 393rd Expeditionary Bomb Squadron, in a Tuesday news release from Pacific Air Forces.
---
---
---
---