China rebukes Navy operation in South China Sea as US strike group enters area
By
Stars and Stripes
July 14, 2022
---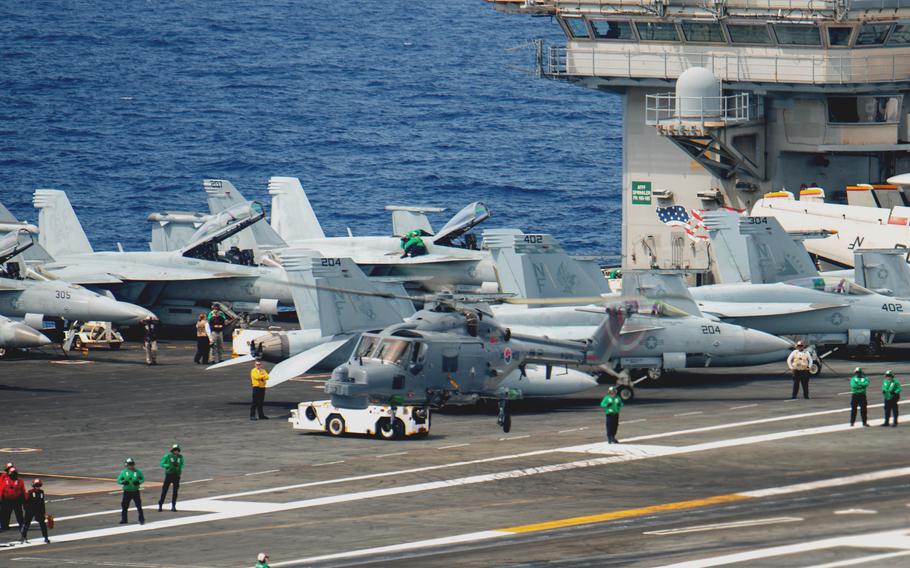 The U.S. Navy "seriously violated China's sovereignty" on Wednesday by sending a destroyer past the Paracel Islands, a disputed chain in the South China Sea, according to the Chinese military command for the area.
The USS Benfold steamed past the Paracels, 200 miles off China's southern coast, on a freedom-of-navigation operation to assert "navigational rights and freedoms," according to the U.S. 7th Fleet. China, Vietnam and Taiwan claim the islands, where China has created outposts.
Naval and air forces of China's Southern Theater Command tracked and monitored the Benfold, said command spokesman Air Force Senior Col. Tian Junli, according to the official China Military Online on Wednesday. Chinese forces warned the American destroyer away from the islands, Tian said.
That claim is false, said 7th Fleet spokesman Lt. Nicholas Lingo in an email Thursday to Stars and Stripes. The Benfold continued into international waters after passing near the Paracels, he said. Even warships have a right to "innocent passage" through territorial seas under the U.N. Convention of the Law of the Sea. 
"The PLA Southern Theater Command's statement is the latest in a long string of PRC actions to misrepresent lawful U.S. maritime operations and assert its excessive and illegitimate maritime claims at the expense of its Southeastern Asian neighbors in the South China Sea," 7th Fleet said in a news release Wednesday.
Also on Wednesday, the USS Ronald Reagan Carrier Strike Group entered the South China Sea for the first time since leaving its homeport, Yokosuka Naval Base, in May on its annual patrol, according to 7th Fleet. The strike group's arrival and the Benfold's operation were unrelated, Lingo said.
The strike group will train in the area and conduct security operations, according to 7th Fleet.
"Our strike group works consistently to stay capable and ready, and we continue that focus during operations in the South China Sea to demonstrate our commitment to the region," said strike group commander Rear Adm. Michael Donnelly in the release. 
The group teamed up with South Korea's navy for an exercise in early June and participated in Valiant Shield, a 12-day U.S. military exercise, later that month.
Beijing regards the South China Sea as its backyard, and mostly its territory. It regularly denounces the presence of U.S. warships there, especially their demonstrations of freedom of navigation and innocent passage that challenge restrictions set by China and other Paracel claimants Taiwan and Vietnam.
"Facts have once again proved that the US is nothing but a 'security risk maker in the South China Sea' and a 'destroyer of regional peace and stability," Tian said after the Benfold's passage.
---
---
---
---