Here's how the Air Force's maternity uniform lending program test will work
By
Stars and Stripes
June 30, 2022
---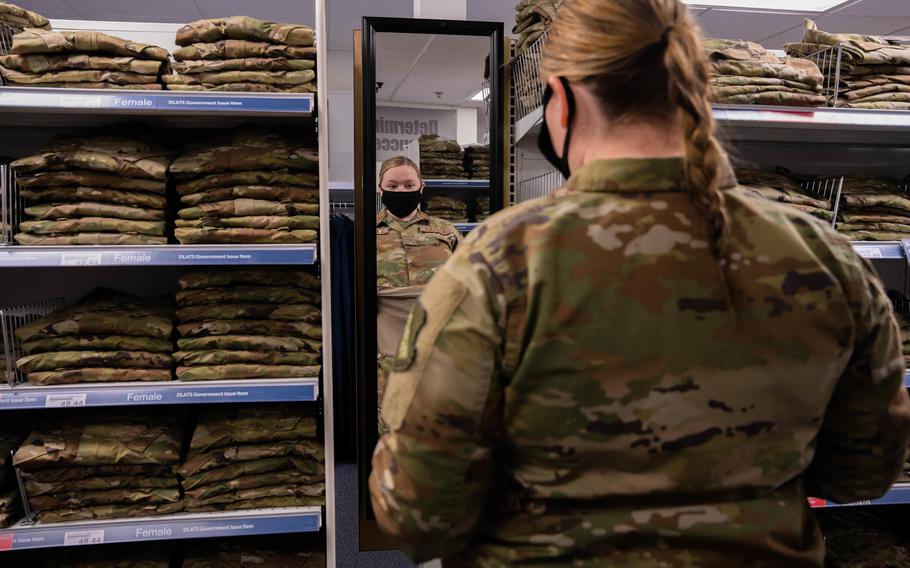 The Air Force will begin loaning free maternity uniforms to pregnant service members this fall at 10 locations, service officials said.
All but two of the 10 bases chosen to demo the "Rent the Camo" program are stateside, and Yokota and Kadena air bases in Japan are the sole overseas locations.
At each of the chosen bases, participation in the pilot program, which was directed by Congress, will be mandatory, service officials said.
Starting around Oct. 1, airmen will be loaned three full sets of maternity coats and trousers with the operational camouflage pattern, said Laurel Tingley, an Air Force spokeswoman. It would normally cost $224.40 to buy all three sets.
Since the program doesn't include maternity service dress uniforms, enlisted members will receive a partial allowance of $145.30 to purchase them, Tingley said. Officers will still have to buy maternity service dress uniforms at pilot locations, she said.
The service aims "to ease burdens where we can and help members balance their call to serve with the demands of growing and caring for a family," according to Tingley.
The U.S. bases selected are Joint Base Elmendorf-Richardson, Alaska; Joint Base Langley-Eustis, Va.; Joint Base Lewis-McChord, Wash.; Joint Base San Antonio, Texas; Joint Base Pearl Harbor-Hickam, Hawaii; Joint Base McGuire-Dix-Lakehurst, N.J.; Pope Army Airfield, N.C.; and Shaw Air Base, S.C.
In regard to the narrow geographic scope of the program, Tingley said the 10 bases the Air Force picked were considered the best testing grounds during the "limited implementation" phase, due in part to having nearby Army installations with central issue facilities. A CIF manages and maintains soldier clothing and equipment.
The Army will maintain a stock of maternity uniforms for the program. The same OCP uniforms are used by the Air Force, the Space Force and the Army.
Expectant mothers in the Army, both officer and enlisted, already are issued three sets of maternity uniforms if active duty, and two sets if National Guard or Reserve.
The initial uniforms for the Air Force test program will be new OCPs, Tingley said, adding that women will have until the end of the seventh-month postpartum to return the items, which will then be inspected, repaired and cleaned.
Currently, pregnant enlisted airmen and guardians receive a clothing allowance of $402.70 once in a three-year period to purchase required maternity items from military clothing sales. Officers pay out of pocket.
Reservists on Title 10 orders also are eligible for the program.
"It's our goal to encourage equity, dignity and respect as reflected through a variety of actions, including this program," Tingley said.
The program was created by Congress in 2020. It directs the Defense Logistics Agency to establish pilot programs in each military branch to issue maternity uniform items to pregnant service members.
The Navy launched its pilot program in January, seeking 400 volunteers from enlisted and officer ranks in active-duty and reserve units worldwide.
The Navy's maternity attire for the program includes the working uniform Type III, service khaki for E-7 and above and the service uniform for E-6 and below.
The pilot program is expected to end in 2026. The services will assess the results and file a report to Congress in 2025, Tingley said.
---
---
---
---