Skulls and scythes: Protesters meet for 'dance of the dead' near Ramstein Air Base
By
Stars and Stripes
June 26, 2022
---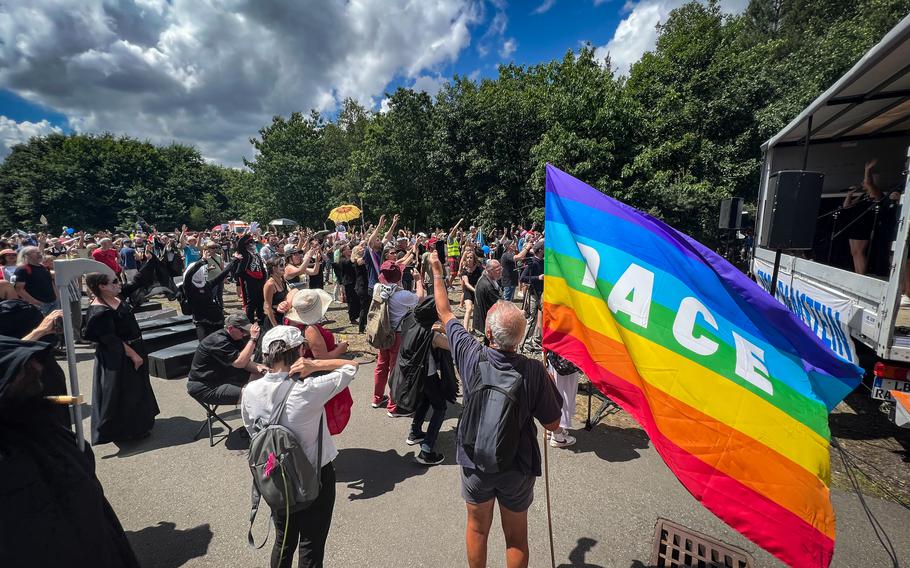 KAISERSLAUTERN, Germany – Around 250 peace activists demonstrated outside Ramstein Air Base on Saturday to protest Western support of the war in Ukraine, German rearmament and the NATO summit in Madrid.
Event organizers called on participants to show up wearing all black, make-up, and skeleton or ghost masks for a "dance of the dead."
The costumes were intended to create a "macabre" and "eye-catching form of protest," organizers said online, calling the event a satirical "homage to those who advocate and profiteer from the war."
The event culminated a weeklong protest organized by German grassroots organization "Stop Air Base Ramstein," which has organized an annual protest since 2015. The anti-fascist activist group said it aims to raise public awareness of the central role of Ramstein in NATO warfare and overseas military operations.
"There are few places that stand for war like Ramstein," said Pascal Luig, an organizer of the event. "It is the largest air base outside the U.S. It's a seat for NATO. Weapons, ammunitions and soldiers are flown from here into combat zones – all from German soil. We'd like to see that end."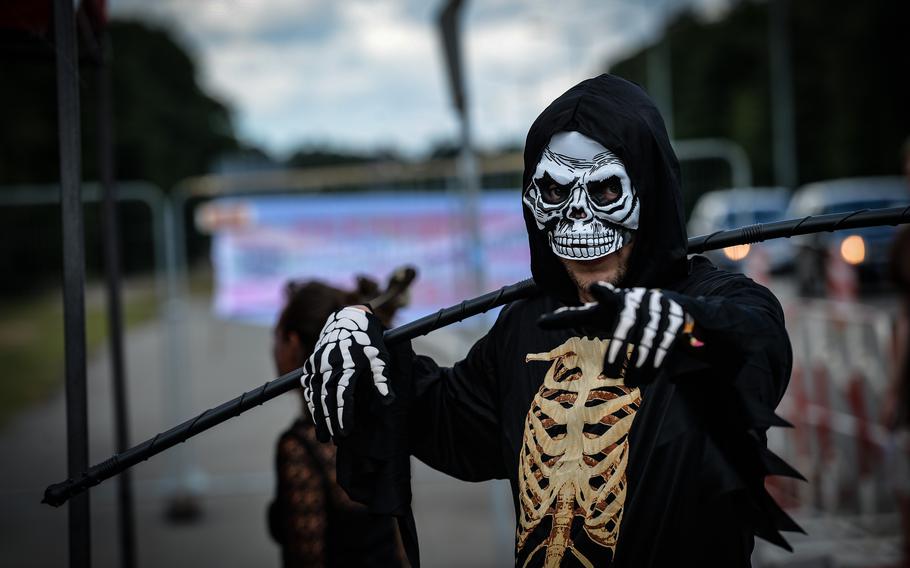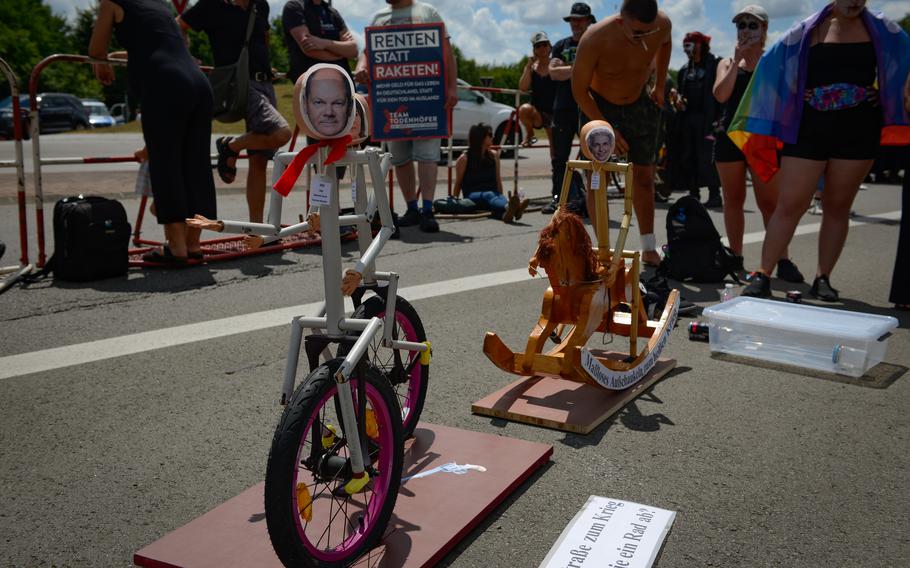 During the campaign, which started June 19, activists stayed at a peace camp in Steinwende, north of Ramstein, for a week of speeches, music, seminars and workshops supporting peace and an end to military proliferation.
One of the events was called "Presence of the US military: Wealth or poverty accelerator in the region," examining the impact of Ramstein on the surrounding economy of Kaiserslautern.
Around noon Saturday, a small caravan set out to march the three miles toward Ramstein Air Base to set up a truck-bed stage in sight of the installation's main gate.
For nearly three hours, musicians played anti-war songs, activists gave speeches and protesters wearing giant masks lambasted prominent politicians, including former U.S. President Barack Obama, his Russian counterpart Vladimir Putin and former German Chancellor Angela Merkel, for their role in recent global conflicts.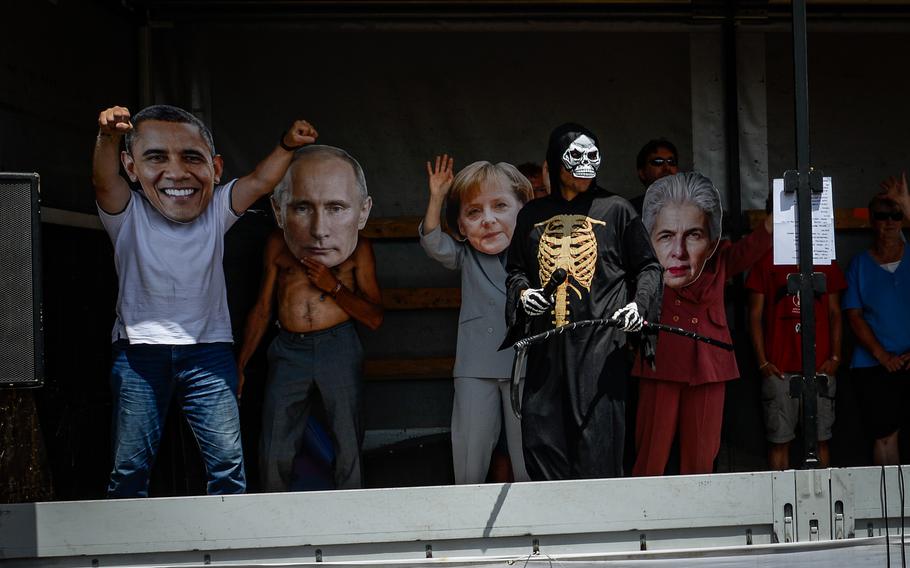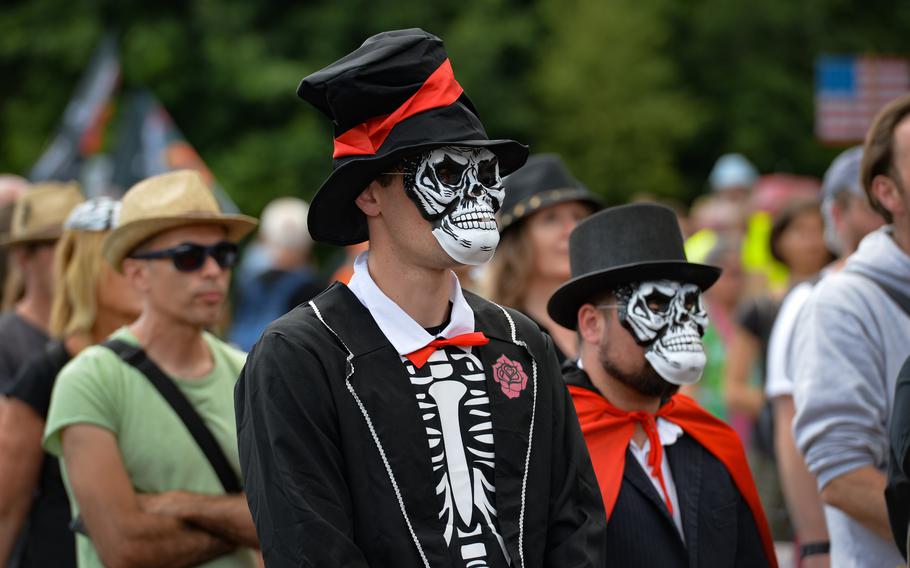 The keynote speaker was Eugen Drewermann, a former Catholic priest and theologian turned church critic, writer and peace activist.
In his speech, Drewermann called out Western governments for hypocrisy in claiming crimes and violations of international law by Russia, while purportedly committing years of their own "extrajudicial" drone attacks on suspected terrorists and militants, he said.
Drewermann recounted the case of Brandon Bryant, a former U.S. Air Force MQ-1 Predator sensor operator turned whistleblower, who went public in 2015 about his regret over participating in drone operations and his resulting post-traumatic stress disorder.
"These wars are making people into mental cripples," he said of the mental consequences of post-traumatic stress. "We have to make an end to war, or we will perish under its burden."
"To protest against Ramstein is an appeal to protect humanity from a future of inhumanity," Drewermann said.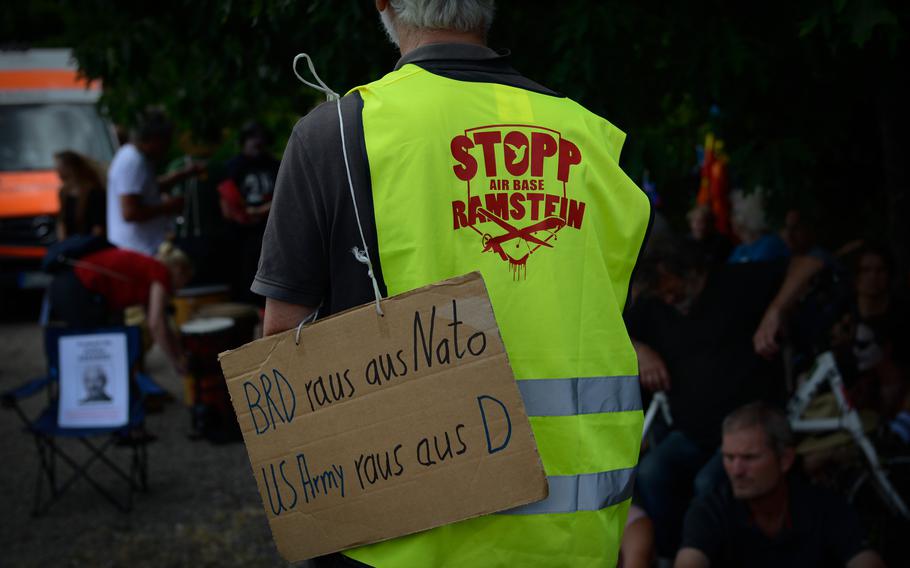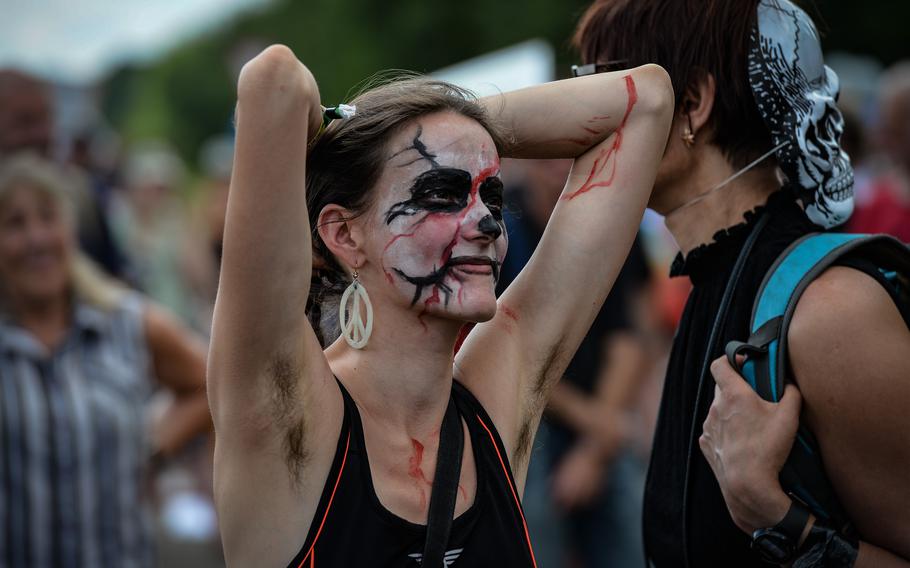 The protest temporarily blocked one access road to the neighboring town of Ramstein-Miesenbach and slowed traffic to the installation's main gate.
While previous years saw human chains, civil disobedience and temporary roadblocks, organizers asked this year's participants to clear the area according to a pre-approved schedule.
First Police Commissioner Siegfried Ranzinger, a spokesman on site, said the protest was peaceful and conducted as planned.
Event organizers, who estimated attendance higher than police with up to 500 attendants, acknowledged that the event drew far fewer visitors than previous protests, which have drawn four-digit participant counts.
The event comes after the German public broadcaster ARD released survey results showing that Russia's monthslong war in Ukraine has swayed a change of public opinion toward supporting U.S. nuclear weapons in their country.
The fear of making Germany a nuclear target with the presence of U.S. nuclear weapons continues to be a matter of concern for protesters.
"If it comes to a conflict between NATO and Russia, Ramstein is one of the first targets in Germany, and we should be conscious of that," event organizer Luig said. "We want to prevent that."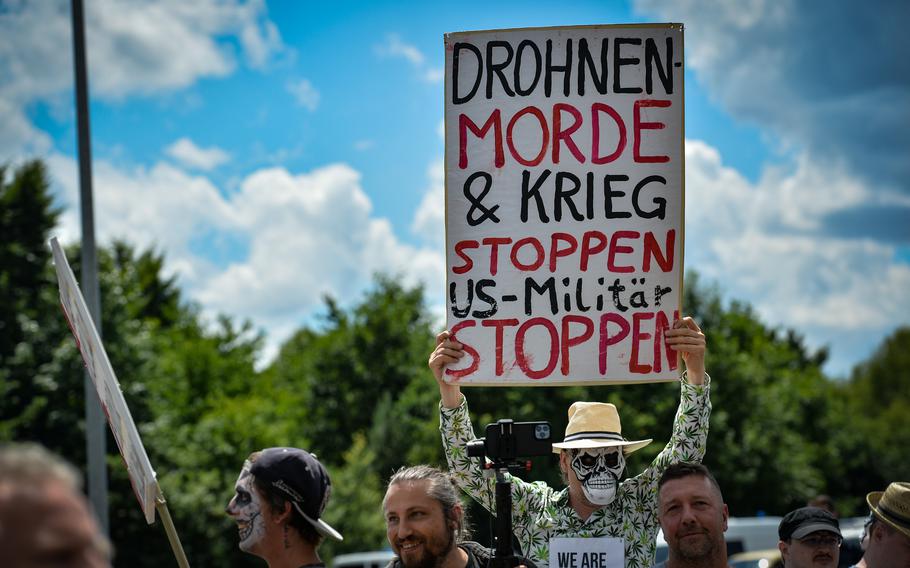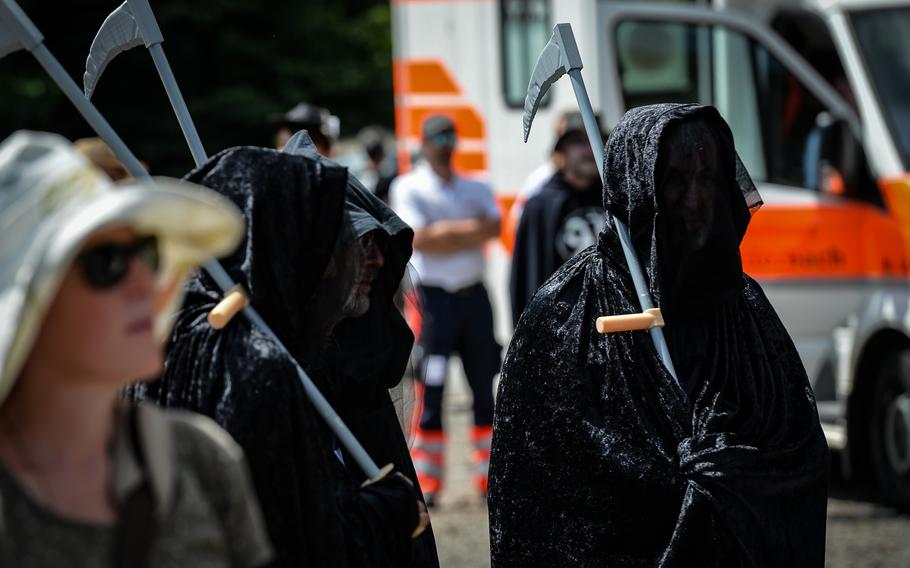 Instead of a military base, Luig said his group would prefer a local airport to support the economy or to turn base real estate into a recreational space for city dwellers.
Luig said that the protest is not aimed at U.S. soldiers and their families and invited service members to meet activists for conversations during future visits to the peace camp and protests.
"During the Vietnam War, we saw tremendous support for the peace movement coming from veterans because soldiers don't want to have to go to war," Luig said. "We have nothing against and are not protesting against U.S. soldiers. We protest against the German and American defense policies that send people to war."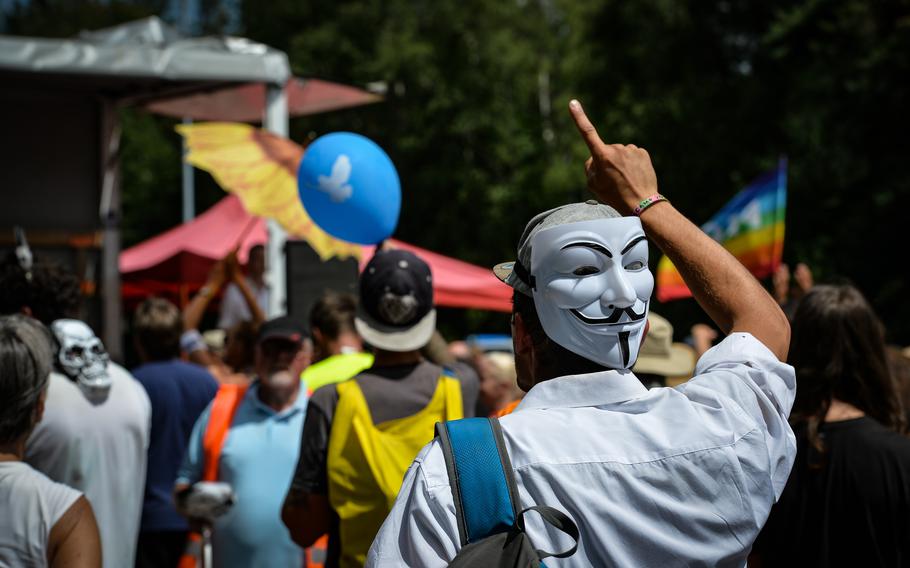 ---
---
---
---