Top Air Force leaders issue open-ended call for 'airmen's time' and 'honest dialogue'
By
Stars and Stripes
April 15, 2022
---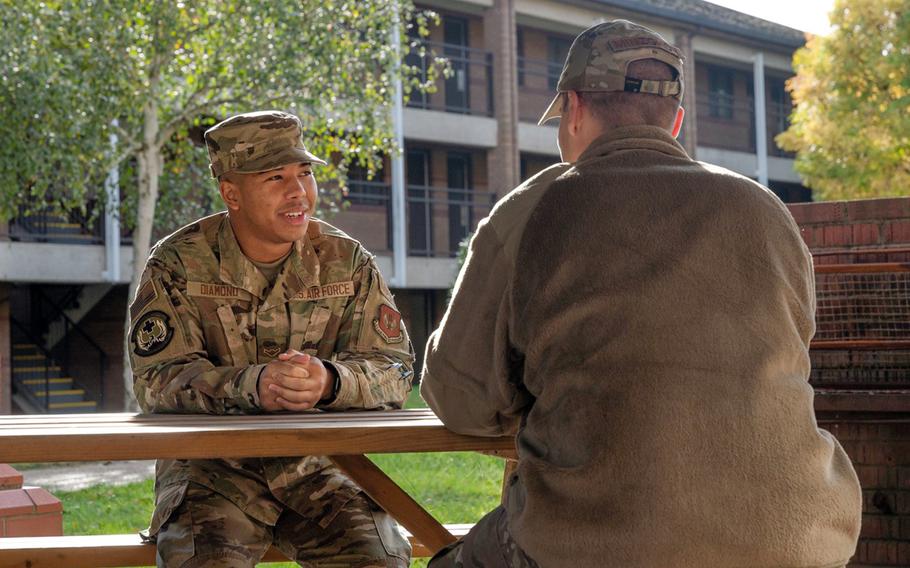 An initiative launched by the top uniformed leaders in the Air Force aims to create a "safe space" where airmen may speak their minds, in "open, honest and transparent dialogue," with their leaders.
Chief Master Sgt. of the Air Force JoAnne Bass unveiled "Airmen's Time" in an April 12 post on her Facebook page. An accompanying memo signed by her and Air Force Chief of Staff Gen. Charles Q. Brown explained its purpose.
"Airmen's Time is a way of life – not a program," the memo states.
The open-ended concept outlined by Bass and Brown drew some skeptical responses.
"This will be hard to accomplish with the current ops tempo," Breana Koughn, a civilian employee at Davis–Monthan Air Force Base, said in a comment on Bass' Facebook post. "Folks are already struggling to get their work done in a normal week and are going to push back against losing some of that time for 'forced fun' or whatever their leadership interprets this as."
That's not the intent behind airmen's time, Bass said in a statement emailed to Stars and Stripes on Friday.
"The concept of 'airmen's time' certainly isn't new – many units have been doing it for years," she wrote. "This memo is meant as a call to action for our leaders to ensure we are devoting the time needed to help deliberately develop our Airmen."
Bass and Brown's memo tasks "leaders at every level" with prioritizing time "to elevate connection, growth and enhance the wellbeing of individual Airmen while building unity within their teams."
"The intent of Airmen's Time is to create a safe space, be present, and ensure that our Air Force culture invites healthy conversation from every Airman," the memo states.
The initiative provides few specific instructions and leaves interpretation up to individual units. Some Air Force units have had airmen's time events for years.
"At its core, Airmen's Time is meant to foster environments that allow for an open, honest and transparent dialogue," Department of the Air Force spokeswoman Tech. Sgt. Deana Heitzman told Stars and Stripes by email Friday. "This encourages leadership, at all levels, to have direct communication with their Airmen and help build a culture based on trust, respect and empathy."
Airmen's time may take place where it's most authentic and genuine, such as small discussions during the duty day, she said.
"Airmen's Time is an initiative focused on prioritizing time at the unit level to increase connection and belonging in the unit, as well as enhance the wellbeing of individual airmen, while building unity within the team," Heitzman said. "For each unit, execution may look different, and some units are already accomplishing this concept."
The initiative was one of the 28 objectives within the Enlisted Force Development Action Plan, which focuses on investing in, and empowering, airmen for the future fight, she said.
Bass, in her email to Stars and Stripes, said the concept may work according to the pace that leaders set.
"As with any new initiative, there are going to be innovators, early adopters, the early and late majority, and laggards," she said. "Right now, the feedback has been largely positive, but these things take time to implement at all levels.
"I would ask that Airmen look at this memo as one step in a larger process toward building the Air Force we need in 2030 and beyond," Bass said.
---
---
---
---