Japanese tactical airlifters eye Air Force base in Tokyo for flight training
by
Seth Robson
Stars and Stripes
November 4, 2021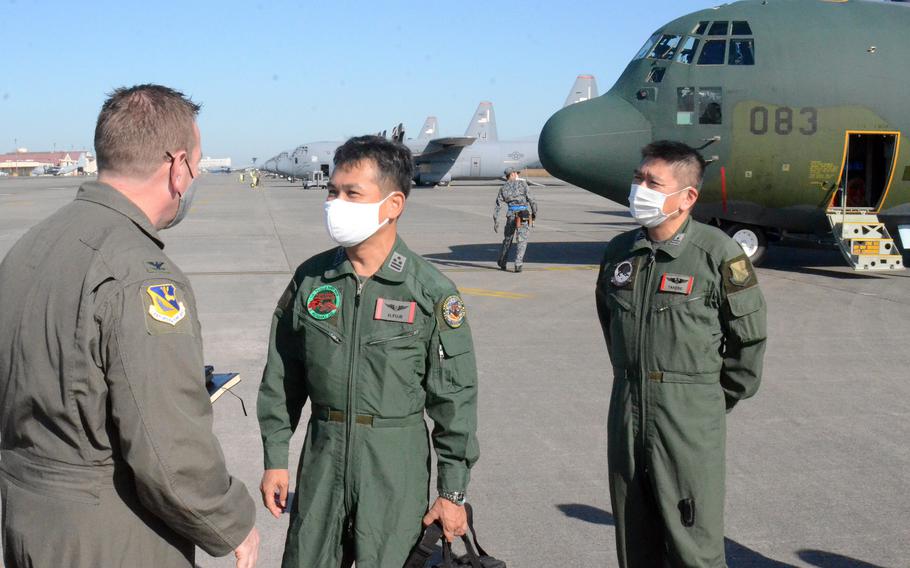 YOKOTA AIR BASE, Japan — The central U.S. airlift hub in western Tokyo could be the right place for Japan Air Self-Defense Force C-130H Hercules crews to practice short takeoffs and landings.
Thirteen Japanese airmen and a U.S. instructor pilot assigned to the 401st Tactical Airlift Squadron at Komaki Air Base, Nagoya, toured Yokota's 36th Airlift Squadron on Thursday.
The Japanese fliers arrived in a green C-130H, a precursor to the C-130J adopted by the Air Force and flown from Yokota, the headquarters of the 5th Air Force and U.S. Forces Japan.
Komaki, 40 minutes by air from Yokota, was home to the 5th Air Force in the 1940s and '50s.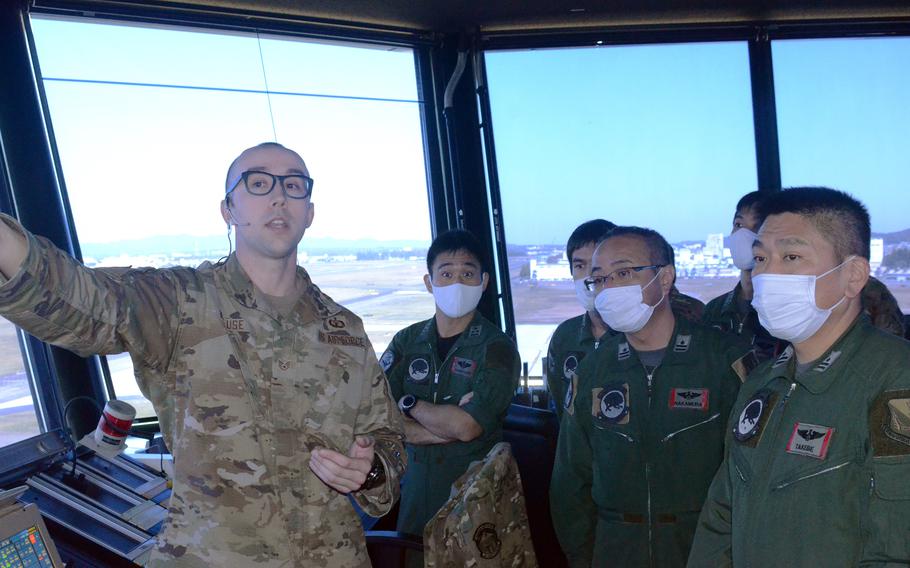 Maj. Lucas Crouch, 39, of Green Bay, Wis., the only American stationed at Komaki, accompanied the Japanese aviators. He did two tours at Yokota and speaks Japanese.
"Their assault training capabilities are very limited" at Komaki, he said. "My idea was, let's see if we can train at Yokota."
The Yokota runway is marked to designate the length of an austere airfield where a pilot may have to land during a natural disaster or conflict, Crouch said.
Marking Komaki's runway would be challenging since the base shares it with civilian airliners, he said.
The 401st is Japan's only Hercules squadron. The unit sent two planes to help evacuate people from Afghanistan this summer and has participated in Operation Christmas Drop since 2015, Crouch said.
The Japanese airmen got a tour of Yokota's air traffic control tower. They were not permitted by their escort to answer questions from Stars and Stripes.
Col. Kevin Martin, commander of the 374th Operations Group, showed Col. Hiroshi Fuji, commander of the 1st Tactical Aircraft Flight Group, the view from the top.
"We welcome the opportunity to work and train with the JASDF," Martin said. "We have had a long-term relationship with them on the C-130 side."
The coronavirus pandemic has meant fewer exchanges between U.S. and Japanese forces since last year, "but now that people are vaccinated, we are trying to continue that," he said.
---
---
---