Eaglin returns to Okinawa to command 18th Wing as Carey heads for job with NATO
by
Matthew M. Burke 
Stars and Stripes
July 16, 2021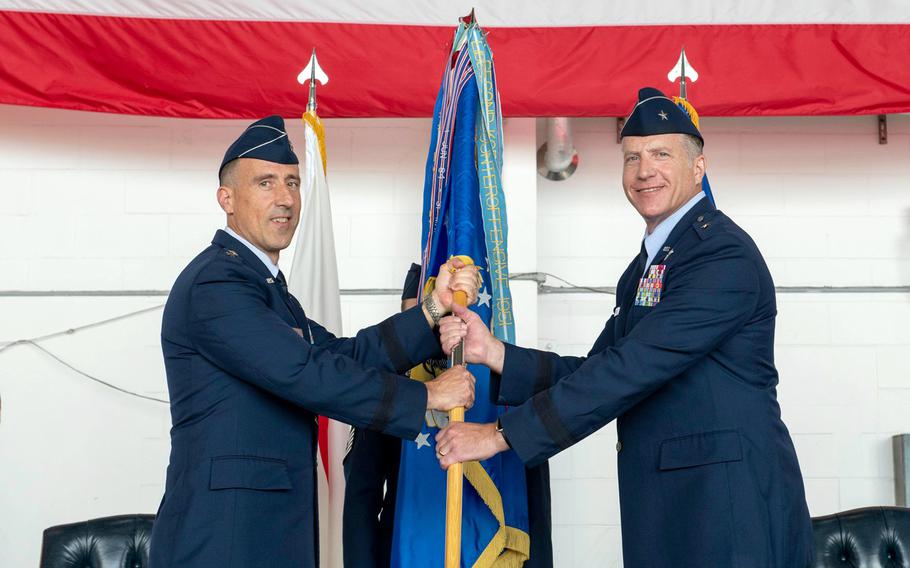 CAMP FOSTER, Okinawa – A new commander returned to Okinawa and took charge of America's largest combat air wing Friday during a ceremony in sweltering heat at Kadena Air Base.
Brig. Gen. David Eaglin took command of the 18th Wing from Brig. Gen. Joel Carey at a hangar ceremony flanked by over 200 airmen and two aircraft, including the iconic F-15C Eagle.
Eaglin arrived from Osan Air Base, South Korea, following a two-year stint as deputy commander of 7th Air Force.
A native of West Memphis, Ark., Eaglin is an Air Force Academy graduate. He previously served on Okinawa from October 2009 to July 2013 as an instructor pilot and flight examiner, according to his Air Force biography.
"To the men and women of the 18th Wing, I personally watched you from a short flight up north in Korea for the last couple of years and I've always been amazed at your sense of pride and professionalism in everything that you do, along with your willingness to adapt to an ever-changing security environment in the western Pacific and northeast Asia," he said.
"The mission here in the 18th Wing and Okinawa is no simple task and I know there's no doubt many challenges that lie ahead of us but there's no reason we can't work through those as a team."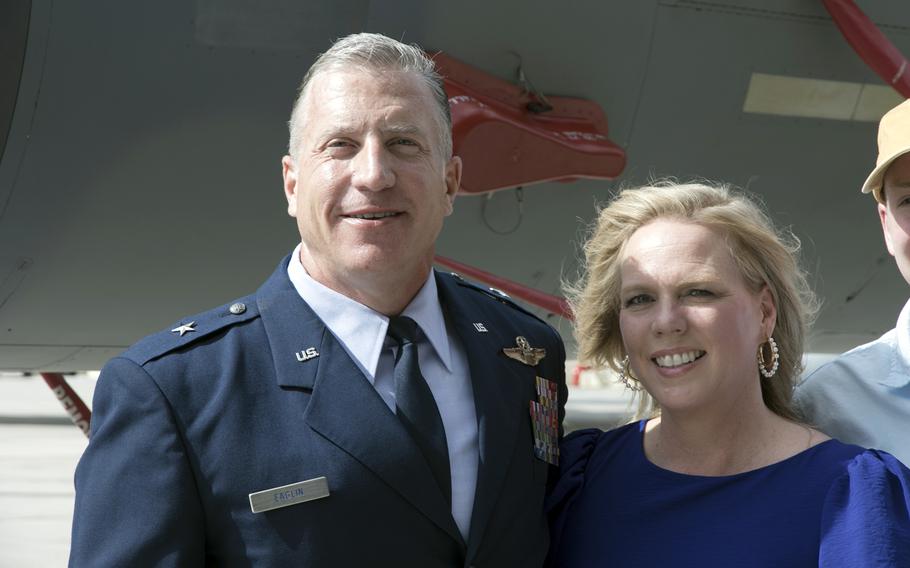 Turning to officers of the Japan Air Self-Defense Force and other Japanese dignitaries, Eaglin said he looked forward to moving the relationship between the U.S. and Japan forward.
The 18th Wing consists of 8,000 airmen and 81 combat-ready aircraft that perform a variety of missions, including air superiority, aerial refueling, airborne warning and control and combat search and rescue in support of U.S. interests, the defense of Japan and peace and stability throughout the Indo-Pacific, according to the wing website.
Eaglin will oversee over $6 billion in assets, including aircraft, equipment and infrastructure.
Carey, a career F-15C pilot who took command in July 2019, heads to NATO Allied Air Command at Ramstein Air Base. An 18th Wing spokeswoman was unsure Friday what his exact job would be once he arrives in Germany.
During Carey's two years, the 18th Wing performed a number of "historic" intercepts of probing bombers from potential adversaries, which also put the wing on its first alert posture in decades, said Maj. Gen. Leonard Kosinski, 5th Air Force deputy commander, during the ceremony.
Carey was part of the command team that set the U.S. military policy and response to the coronavirus pandemic and synchronized it across 12 installations for over 50,000 U.S. Forces Japan personnel, Kosinski said. He was also, as wing commander, the typhoon and cyclone condition of readiness authority for the entire island of Okinawa.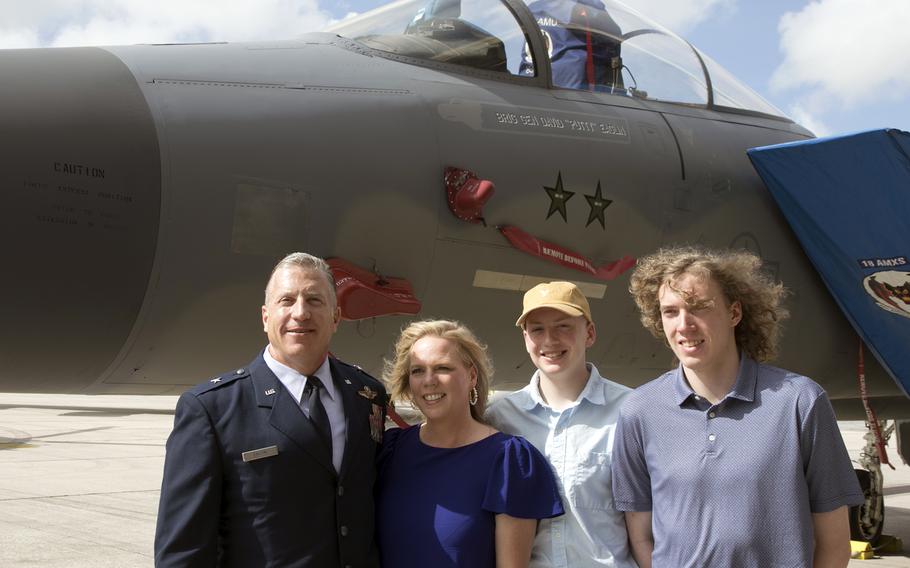 At Friday's ceremony, Carey thanked his subordinates and counterparts and leveled praise on the airmen and women who had been under his command.
"Airmen of the 18th Wing, it's been an honor to serve with you and I'll miss you greatly," he said.
Addressing Eaglin by his call sign, Carey said: "Putty, you're an exceptionally talented leader and officer and you're absolutely ready for this. I'm excited about the days ahead. We'll be cheering from afar."